During your life, you'll sleep about 229,962 hours. Now the new DreamCloud Hybrid Mattress can help make all of those hours more restful, refreshing, and luxurious!
In an announcement that sent shockwaves through the bedding industry, DreamCloud has made an unprecedented promise to consumers who purchase the luxurious DreamCloud Hybrid Mattress in 2021.
"Our promise is simple: we guarantee 365 consecutive nights of the most comfortable and restful sleep of your life on your new DreamCloud Mattress," said company spokesperson Jared Brody. Adds Brody, "If you do not totally agree that you are getting the best sleep of your life on your DreamCloud, just let us know within one year of the date of delivery; we will refund your money – that way, you risk nothing."
DreamCloud Mattress owner Neil W. concurs, "The 365-night sleep guarantee was a great selling point, as we knew there was very little risk in making the purchase."
How can DreamCloud afford to protect the customer's purchase with such an outrageously generous, customer-centric, and risk-free guarantee that remains in force for an entire year? The answer is twofold. First, customers nationwide are pleased, happy, and even ecstatic about the terrific sleep they are getting with their DreamCloud Mattress – reporting greater support and comfort than any other mattress they have ever owned. Here are a few comments from just a handful of the thousands of men and women who have invested in their sleep by purchasing the DreamCloud Hybrid Mattress for better rest, relaxation, sleep, and health since the mattress was introduced in 2017:
"This man is exactly what we were looking for! It's the Goldilocks mattress!"
— Michael S.
"My wife and I both agree this is the most comfortable mattress we have ever owned.The difference in sleep quality is unbelievable."
—John J.
"So comfortable! Molds to my body. Loving it!!"
—Kimber L.
"I've tried at least 5 different mattresses In the past two years.Till I hit this one out of the ballpark. Thank you it's like sleeping on a dream cloud.."
—Leticia C.
"This mattress is top of the line and for the price you can't beat it. It's the perfect amount of soft and firm. It's well made too."
— Alex M.
A Revolutionary Breakthrough In Hybrid Mattress Design and Technology 
The DreamCloud Hybrid Mattress has achieved a floodtide of praise from satisfied owners, who say it delivers a level of comfort and support unduplicated by any other mattress they have ever tried. And the secret to DreamCloud's superior nightly sleeping experience is the company's discovery of a breakthrough hybrid mattress design and technology.
First, DreamCloud's mattress design team examined and tested countless mattress materials, components, configurations, and methods of manufacture – and selected the "best in class" of each for their luxury DreamCloud Hybrid Mattress.
Second, the DreamCloud designers integrated these premium and innovative elements into a unique hybrid mattress delivering an unparalleled sleeping experience on a nightly basis.
Each of the DreamCloud's 5 layers is fabricated, designed, and positioned for maximum plushness, support, contouring, and coolness – from the bottom up. 
Crafted memory foam and individually-wrapped coils cradle you in supportive comfort for a lifetime of sound sleep and pleasant dreams. Total mattress thickness with all 5 layers is a comfy 14 inches.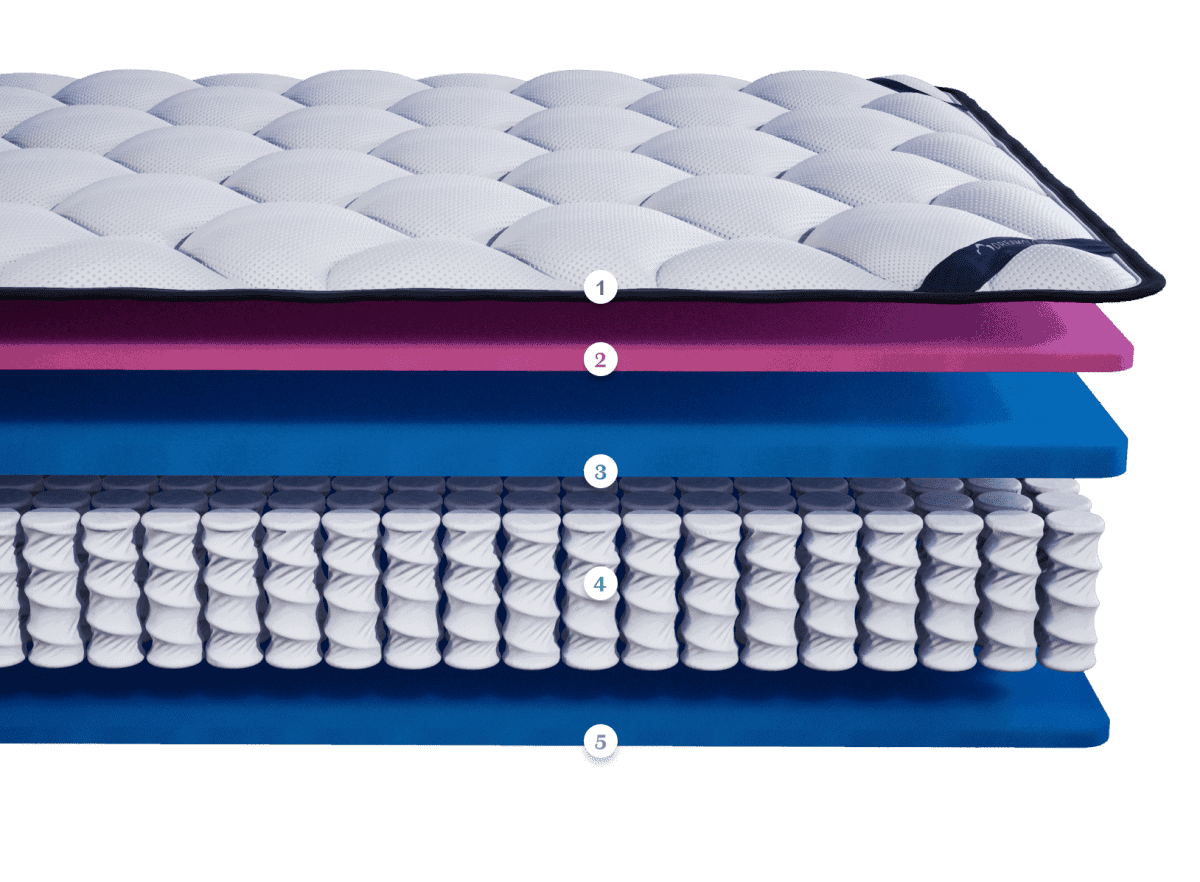 Maximum Support From a Solid Foam Base.
The bottom layer of the 5-layer DreamCloud Hybrid Mattress, the base, is an inch of sturdy foam. This formidable base layer provides structure and stability to enable the 4 layers above it to deliver optimal comfort, support, and flexibility. Importantly, the foams used throughout the DreamCloud mattress are all CertiPUR-US® certified. That means that the  DreamCloud foams have shown low VOC (volatile organic compound) emissions of less than 0.5 ppm for better indoor air quality. In addition, our foams are free of toxins including ozone depleters, PBDEs, TDCPP or TCEP flame retardants, mercury, lead, heavy metals, formaldehyde, CPSC-regulated phthalates, and chlorofluorocarbons.
"Independent Suspension" Coil System
The second layer from the bottom, which is one layer above the base, holds the mattress coils –assembled in an innovative configuration that maximizes both comfort and support. In the DreamCloud Hybrid Mattress, the coil unit boasts an impressive 8" loft and many individually-wrapped innerspring coils. Importantly, the coils are not linked to one another. Rather, they move independently. So when a coil shifts or is compressed, it does not move or drag the other coils with it. As a result, the coils can give maximum cushioning and comfort to pressure points and other sensitive areas of your body – especially those that normally hurt when you lay down. So you can enjoy pain-free sleep.
Meanwhile, the rest of the coils provide a supportive surface that flexes to the contour of your body. Also, the separately wrapped and non-connected coils allow the mattress to better "breathe" and promote cooling airflow through the foam layers above them.
No More "Sinking" Into Your Bed!
Ascending to the third layer of the DreamCloud hybrid mattress, you encounter 2.5 inches of soft foam. This layer helps provide gentle resistance against your body as you lay down – while preventing you from feeling layers underneath or sinking too far into the mattress.
Support—with comfort.
Next, working our way up from the bottom, is DreamCloud's fourth layer – an inch of gel-infused memory foam that is the key to what makes the DreamCloud Hybrid Mattress supportive while also eminently comfortable
Our memory foam feels soft and luxurious, matching the contour of your body. Pressure is relieved. Your body is cushioned and cradled all over for maximum comfort. 
Pure Luxury: Imagine Sleeping On Cashmere!
The fifth, final, and top layer of the DreamCloud Hybrid Mattress is the surface on which your body rests – in the ultimate comfort, coziness, and luxury that gives "DreamCloud" its name! This top layer is a special quilted cover. A 1.5-inch layer of foam is sewn into this layer for added comfort and loft.
Because the mattress cover is the layer you actually feel – through your pajamas and in some places even directly touching your skin – we've made it from a special 3-fabric poly-blend. DreamCloud's signature touch of opulence is our use of cashmere wool — universally recognized as one of the softest fabrics on the planet. Sleeping on cashmere is a level of luxury not everyone gets every single day. But with a DreamCloud mattress, you will!
The cashmere is blended with polyester and rayon, to give the layer strength and durability. That's important, considering that you'll spend about a third of your life resting comfortably on top of it.
Getting the DreamCloud is a Breeze!
The DreamCloud Hybrid can be ordered online or purchased in-store and be shipped straight to your door. So, what to do next? Simple: For more details on the DreamCloud Hybrid Mattress … or to order … just click here now.