Best Mattress Stores in Raleigh, NC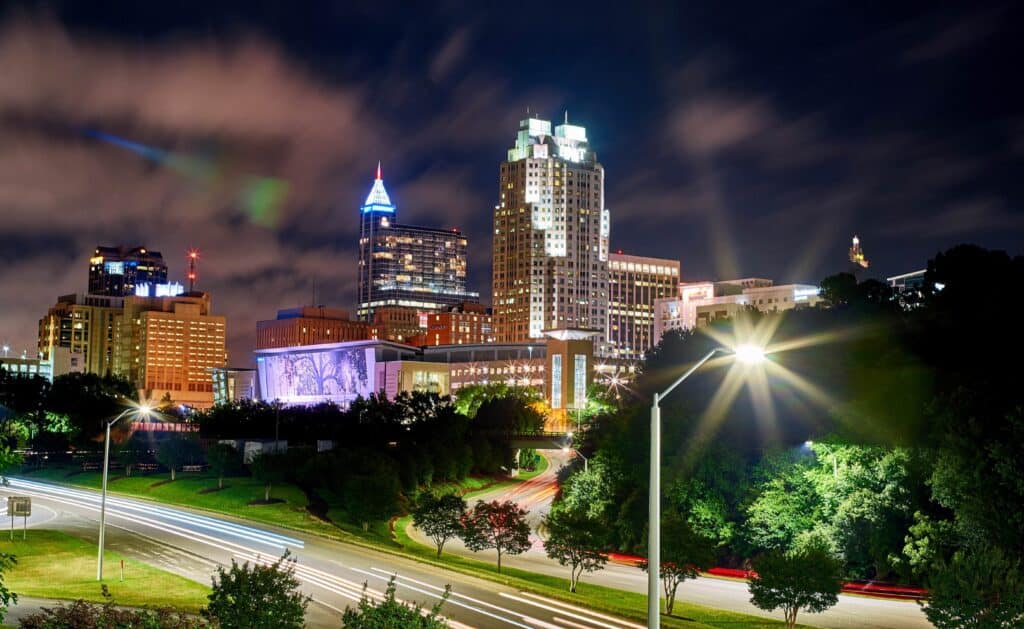 Find the Closest Store Near You
Raleigh was founded in 1792 as North Carolina's state capital. It was named after Sir Walter Raleigh and it's the only capital that's planned and established by the state as a seat of the state government. It lies 434 feet above sea level in the east-central part of NC. A place where the hilly area of Piedmont meets the coastal plain. Raleigh is also known as the "city of oaks" for its dedication to preserving its woodlands and lush grasslands. 
Raleigh has a very diverse climate with hot and humid summers and very cold, short winters. It remains muggy and partly cloudy year-round. That's why most mattress buyers in Raleigh prefer cooling mattresses with special moisture-wicking features. In terms of arts and culture, Raleigh has plenty to offer. You can enjoy their thriving art scene by watching open theaters, listening to NC opera and NC symphony, or amuse yourself with Carolina Ballet. Moreover, Raleigh has more than 9000 acres of parkland, 1300 acres of waterways offering a range of outdoor adventure activities.
Where Are The Furniture / Mattress Stores In Raleigh?
Raleigh has hundreds of furniture and mattress stores spanning all over the city. However, driving to multiple stores, checking their offerings, and still returning home empty-handed isn't a good idea. That's why we searched the entire city of Raleigh, sifted through dozens of mattress stores and picked the top five stores to provide you with the best options. 
Finding a mattress store in Raleigh is easy. But finding the right store with the right options can be challenging. That's why we marked some areas where you'll see most of the good ones. If you locate them on the map, you'll see most of these stores are located on Capital blvd and Glenwood avenue in Raleigh. There are some big names like Mattress Firm and Ashley Store and some local outlets like Aron's and Mattress Maxx.
Mattress Now – Raleigh
Address: 10251 Little Brier Creek Lane, Raleigh, NC 27617
Phone: (919) 294-6513
Directions: 10251 Little Brier Creek Lane, Raleigh, NC 27617, USA
Rating: 5.0 Out of 5 Stars on Google
Mattress Now claims to be the number 1 mattress retailer in Raleigh, NC. With 20 years in business, they have been serving the Raleigh region with top-notch sleep products, exceptional customer satisfaction and unrivaled service. They have 2 store locations in NC and a seamless online store that allows you to shop all top brands and have them delivered at your home. And the best thing is, you can try their mattress for 101 nights and return it if you don't love it.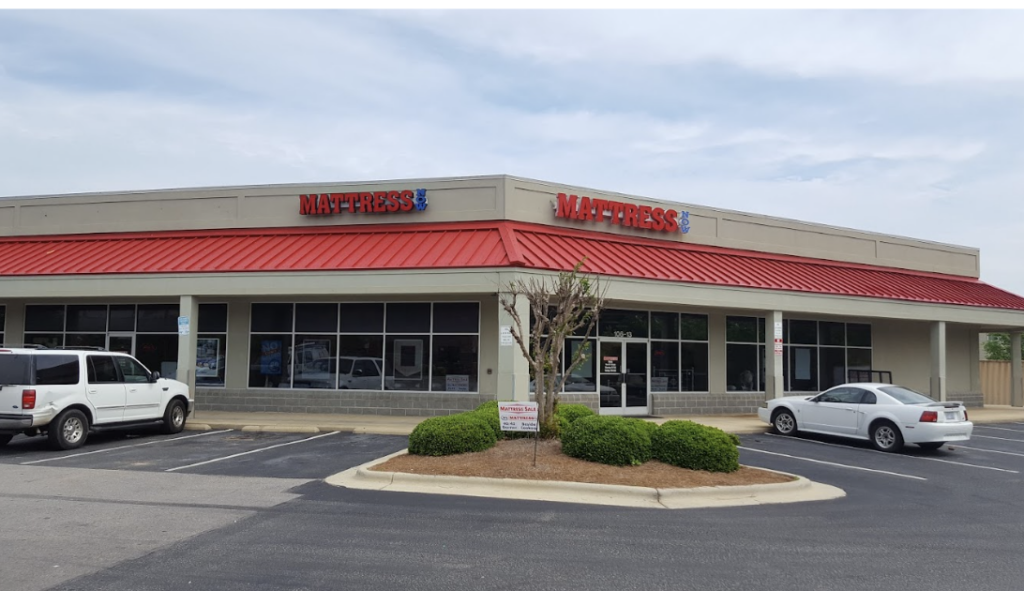 ROOMS TO GO – Raleigh
Address: 5900 GLENWOOD AVE, RALEIGH, NC 27612
Phone: (919)785-2222
Directions: 5900 GLENWOOD AVE, RALEIGH, NC 27612, USA
Rating: 4.5 Out of 5 Stars on Google
ROOMS TO GO is a chain of mattress and furniture stores that was founded by Jeffery Seaman in 1991. Starting with two small locations in Orlando, they have grown into a national retail chain with more than 60 store locations nation-wide. They had a mission to bring new ways of buying furniture, elevate the overall shopping experience, and offer personalized advice to their customers. With their massive lineup of mattresses and other bedding solutions, you'll surely find a solution for your sleep needs.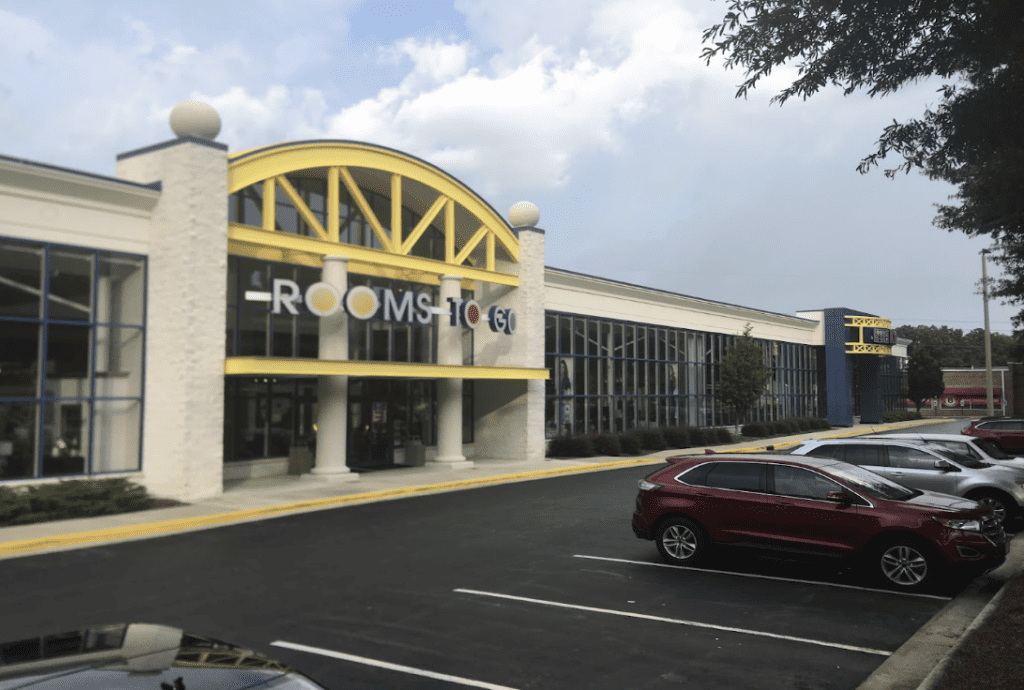 Mattress Firm Clearance Center – Raleigh
Address: 7010 Glenwood Avenue, Raleigh, NC 27612
Phone: (919) 420-7755
Directions: 7010 Glenwood Avenue, Raleigh, NC 27612, USA
Rating: 4.9 Out of 5 Stars on Google
Mattress Firm has been solving America's sleep problems for more than 90 years. With 2300 store locations nation-wide and 6500 thoroughly trained sleep experts, Mattress Firm is committed to changing people's lives through better sleep. Whether you're looking for traditional inner springs, gel-infused memory foam, or hybrid mattresses, they have the solutions catering to varying sleep needs. Check out their outlet in Raleigh or order online from their website.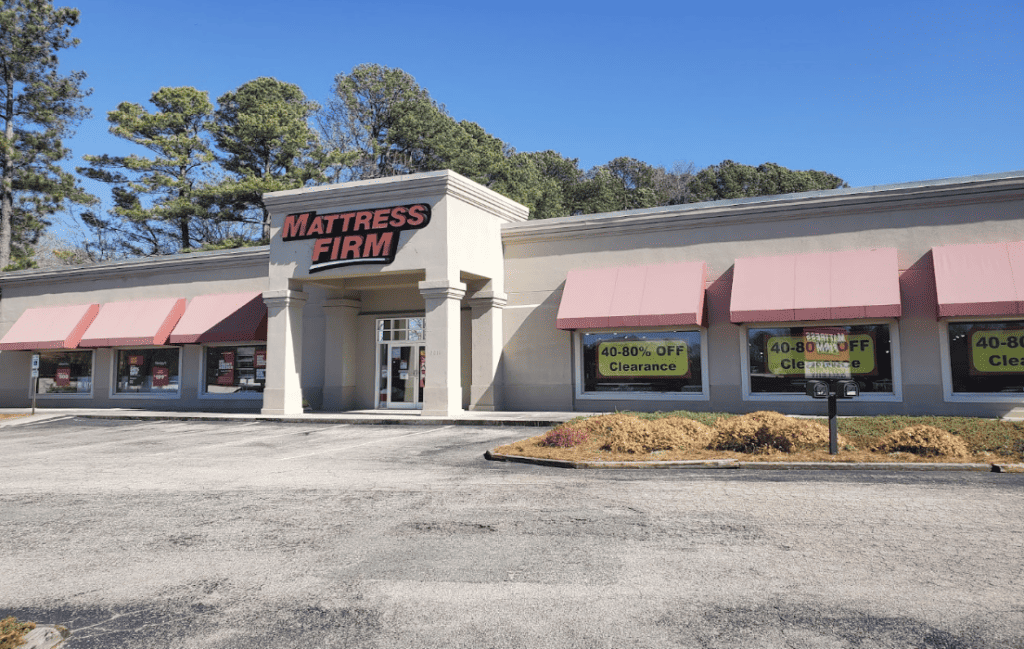 Mattress Firm – Raleigh
Address: 7201 Old Wake Forest Drive, Raleigh, NC 27616
Phone: (919) 872-3501
Directions: 7201 Old Wake Forest Drive, Raleigh, NC 27616, USA
Rating: 4.8 Out of 5 Stars on Google
Mattress Firm is one of the oldest and largest specialty mattress retailers in the US. With a carefully curated selection of mattresses and nation-wide presence, they have been offering customized bedding and furnishing solutions for decades. They have all the top brands, including Nectar, Beautyrest, and Sealy. And their personalized buying process allows you to shop by mattress style, mattress size, or comfort level.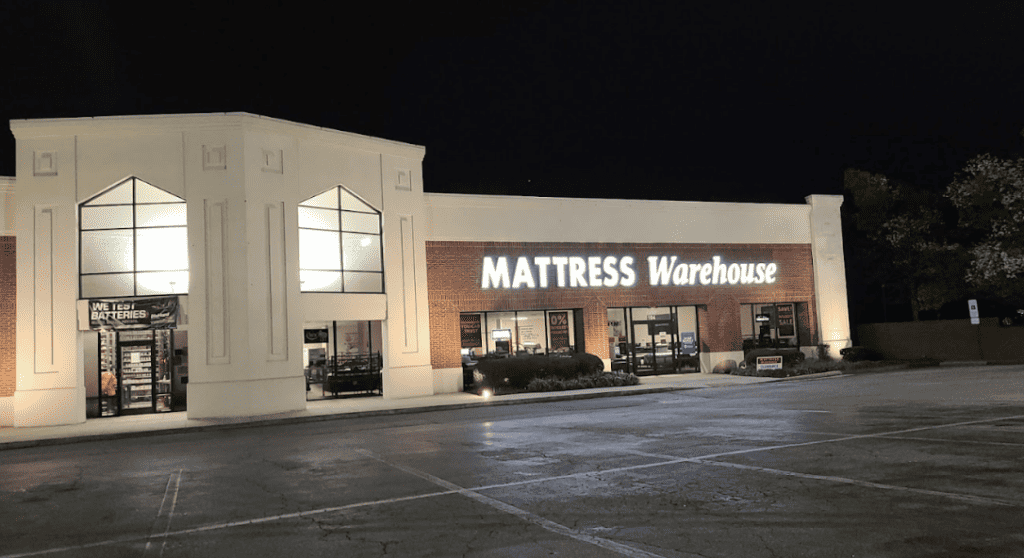 Mattress Warehouse – Raleigh
Address: 7201 Glenwood Ave, Raleigh, NC 27612
Phone: (919) 420-0012
Directions: 7201 Glenwood Ave, Raleigh, NC 27612, USA
Rating: 4.9 Out of 5 Stars on Google
Founded by Frederick MD, Mattress Warehouse is a locally operated mattress store in Raleigh. They started in 1989 and have grown into a chain of 300 stores nation-wide. On top of exquisite bedding and furnishing products, they have a generous 1-year price-match guarantee. If you find a better price at any local store, they'll match that price and cover 50% of the difference. Visit their store outlet on Glenwood avenue or hop on to their e-commerce store.
History of Raleigh Furniture / Mattress Stores
Raleigh has a long history with furniture and mattress stores that dates back to several years. In the early days, there were a few locally owned and operated stores that offered basic bedding and furnishing products. Later on, as the population grew, the demand for better sleep and bedding products increased as well. The growing demand and evolving customer preferences created a massive opportunity for national and local players alike. 
Some major players entered the market with a wide range of solutions. On the other hand, a few brands went out of business and closed their facilities in Raleigh. Jernigan Furniture, Broad River, and Lake Effect are among those who expanded. While Kimbrell's Furniture, Home Comfort, and Whitley Furniture closed their locations in Raleigh. Jernigan Fruniture added a 2,0000 square-foot facility in Smithfield while Broad River leased a 25,000 square-foot space for a new homestore outlet. Overall, Raleigh's furniture and mattress market has evolved a lot in the last couple of years and continues to do so to meet the ever-growing demand of furnishing and bedding products.
What do Raleigh mattress buyers care about? 
We asked Raleigh residents about their top preferences when it comes to buying a mattress. And we got some interesting insights… Just like other mattress buyers, Raleigh's mattress buyers have their own unique priorities in terms of comfort, quality, and durability. Comfort and support are the obvious ones. Most people want their mattresses to be super comfortable and supportive for proper spine alignment. And due to warm and muggy climate, cooling and breathability is highly desirable. Most buyers want mattresses with breathable fabrics and special cooling features. 
Not sure what mattress is right for you? Find your mattress here.