Mattress Sizes Chart And Bed Dimensions Guide
Writers at Sleep Authority are supported by a research team conducting in-depth research about the topics. The editorial team reviews them for accuracy and facts to ensure the most authentic and accurate content is published. Sleep Authority does not offer any medical advice, and you should not rely solely on our content for your course of treatment. Consult your medical professional to discuss any health concerns, chronic conditions, treatment options, or diagnoses.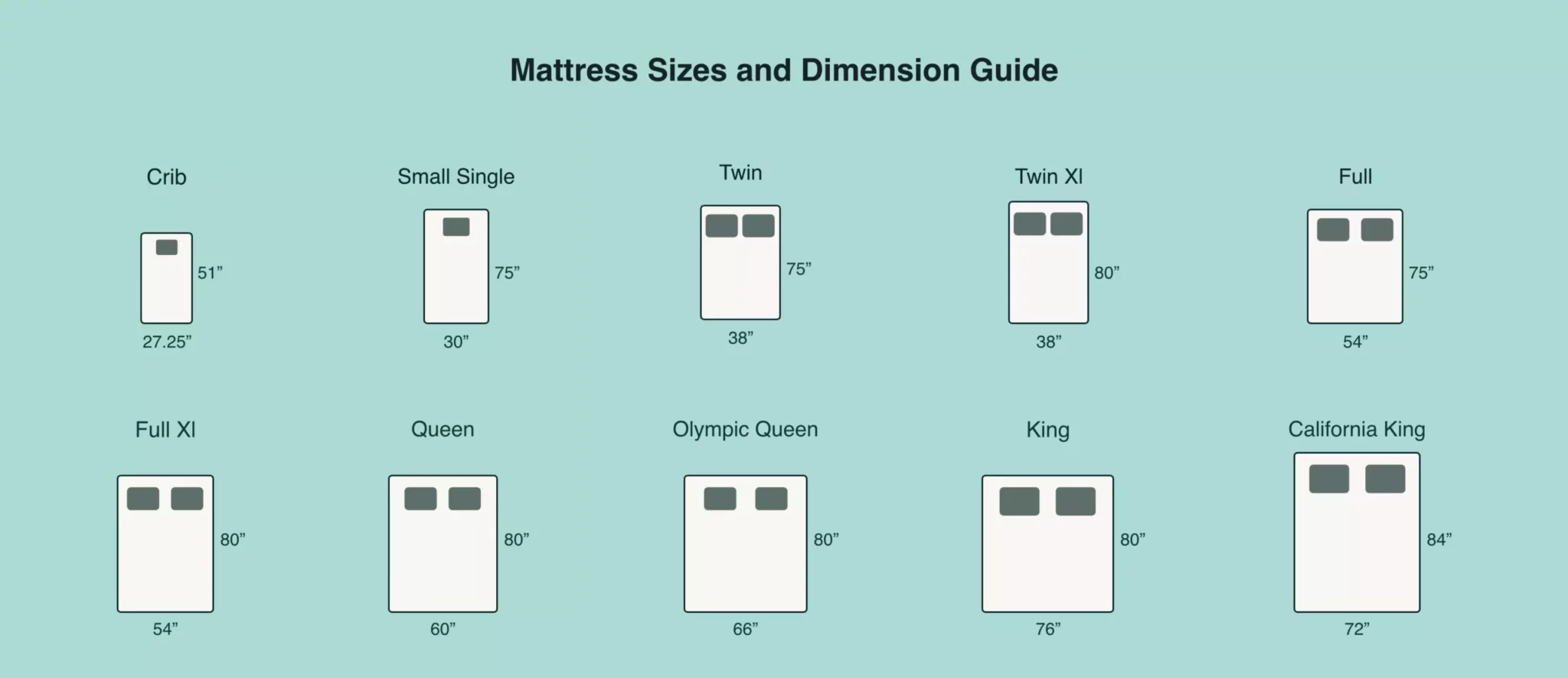 Choosing the right mattress makes all the difference! The right mattress helps you sleep better, understands your body's needs, and gives it the support you need. 
You'll find different mattress sizes, shapes, and dimensions in the market readily available. Some are even tailored for your comfort. Let's explore some mattress dimensions and types to understand them in detail that will help you find the right mattress.  
While comparing mattress sizes, one should know the dimensions properly. This bed sizes comparison guide will help you understand a bit more about mattress sizes and dimensions.
Mattress Size

Dimensions in Inches (Width X Length)

Dimensions in Centimeters (Width X Length)

California King

72" X 84"

183 X 213.5 cm

King

76" X 80"

193 X 203.5 cm

Olympic Queen

66" X 80"

167 X 203.5 cm

Queen

60" X 80"

152 X 203.5 cm

Full XL

54" X 80"

137 X 203.5 cm

Full

54" X 75

134.5 X 190.5 cm

Twin XL

38" X 80"

96.5 X 203.5 cm

Twin

38" X 75"

96.5 X 188 cm

Small Single

30" X 75"

76.2 X 190.5 cm

Crib

27.25" X 51"

69.2 X 129.5 cm
Most mattress manufacturers build mattresses in 6 standard sizes. These mattresses are easily available in markets, and you won't have any issues finding these types of mattresses. Let's explore some of the standard size mattresses, shall we? 
California King Size Bed Dimensions
Measurement: 72'' X 84'' 
Recommended Room Size: 12 Ft. X 12 Ft.
As the name suggests, California king-size mattresses are large in size and offer ample space. It can accommodate up to 2 adults and a child easily or two adults and a side sleeper. The bed measurements of a cal king are a plus point for tall people. With the additional 4 inches, tall people get extra room for leg space. All these points make Cal king great for families. 
Measurement: 76'' X 80'' 
Recommended Room Size: 12 Ft X 12 Ft 
A king-size bed is a sign of luxury and comfort for sure. This is the reason why most families choose a king-size bed for their room. A typical king mattress is 4'' wider & shorter than a cal king. This luxurious bed & mattress has a square shape and is wide enough to accommodate two adults and two children or pets easily. These are the widest available standard mattresses you'll find in the markets.
Queen Size Bed Dimensions
Measurement: 60'' X 80'' 
Recommended Room Size: 10 Ft X 10 Ft 
A queen size mattress or bed is another couple-sized bed that's equally popular as a king bed. Although the dimensions are much smaller than a king-size bed, it is wide enough to accommodate two adults or couples easily. The size difference between queen and king is 16 inches. It is also ideal for a single person with a child or pet. It can be placed in the guest bedroom and will accommodate more than one guest easily. 
Another plus point of having a queen-sized bed is keeping it in any room, but the minimum room size should be 10 ft. x 10 ft. The queen mattress also comes in a split form giving more privacy to couples.
Measurement: 54'' X 75''
Recommended Room Size: 9.6 Ft X 10. 6 Ft
A full-size mattress/bed, also called a double bed, is another popular choice after a queen bed. While its dimensions are less than a queen bed, it can also easily accommodate two adults. This isn't considered an ideal choice for couples as it might not give them the space they need. It is also a good choice for singles as they seem to enjoy the extra space double mattresses provide. 
Twin XL Size Bed Dimensions
Measurement: 38'' X 80'' 
Recommended Room Size: 9.6 Ft X 10.6 Ft
A twin XL size mattress is 5 inches longer than a standard twin-size mattress. These mattresses are great for teenage children. However, it cannot accommodate more than one person, but it can be a great bed for the guest house. The bed doesn't take up much space and comes in handy when you have to attend to a guest. 
Measurement: 75'' X 80'' 
Recommended Room Size: 7 Ft X 10 Ft 
A twin-size mattress or bed is 5 inches shorter than twin XL mattresses. This is the smallest standard mattress size available in the market. A twin bed is ideal for single children and single people. These types of beds are great for growing children and single people. However, a twin bed may not be great for a full-grown adult as it offers less space than a queen or full mattress. 
Apart from the standard mattress sizes, there are other sizes available in the market that can be tailor-made for your comfort. These sizes of beds might be hard to find as not every brick and mortar store keeps them. 
Olympic Queen Bed Dimensions
Measurement: 66'' X 80'' 
Recommended Room Size: 10 Ft X 10 Ft 
An Olympic Queen mattress does not fall into the standard sizes, but it can be comforting with the extra 6 inches. This is the perfect choice for couples who want more space and don't want to spend too much money. Finding the right accessories for an Olympic-sized mattress can become an issue. Therefore you should go for brands that can give you a custom-made mattress with its accessories. 
Another thing to consider is the room size. This can be placed in the master bedroom easily as it offers extra space.
Full XL Size Bed Dimensions
Measurement: 54'' X 80'''
Recommended Room Size: 9.6 Ft X 10.6 Ft
A full XL mattress gives you 5 inches of extra space and comfort. It makes a great single bed. While this mattress does not fall in standard sizes, you can still get custom mattress sizes at online shops. It makes a good fit for taller people. Another plus point of having a full Xl bed is you don't really need a bigger room to store it. It is an ideal bed size for a single person and goes very well in guest or dorm rooms.
Small Single Size Bed Dimensions
Measurement: 30'' X 75'' 
Recommended Room Size: 7 Ft X 10 Ft
Similar to a twin mattress, a small single-size mattress is 8 inches narrower than a twin bed. These types of mattresses are perfect for a kid. As the size of the mattress is small, it won't take up much space, and you can place it easily in your kid's room.
Measurement: 27.25'' X 51''
Recommended Room Size: Any room 
Most babies sleep in a cot or crib. If you are looking for a crib-size mattress, then you'll find these easily available in the market. These are super easy to place and fit beautifully in the crib. These mattresses have a thickness of 6 inches and not more than that. 
How To Choose A Mattress Size
Buying a mattress is a long-term investment, and one should make a wise decision, not a haste one. There are various factors to consider before deciding which mattress to purchase and which to ditch. Let's take a look at some of the important factors to consider before buying a mattress.
Occupancy
How many people can rest on the mattress you're eyeing is kind of an important factor to consider while buying a mattress. Some mattresses like an Olympic queen mattress or a king mattress are great for families, while twin mattresses are great for kids. You should know which mattress can accommodate how many people to make your mattress buying experience hassle-free. 
Usage
Who is using the mattress is another important question you should be asking yourself when purchasing a mattress. Many times the choice becomes clear when you ask for a specific mattress. If you are looking for a solo mattress, you need not consider a Cal king or king mattress. A queen mattress or full mattress would be ideal for a single sleeper. 
Price
Your budget matters a lot when purchasing a mattress. There are a lot of mattresses available in all different ranges. You can choose from a wide range and even get a better price when comparing mattress sizes. You can choose wisely from all the available options and pick a bed that matches your budget. To get the best price, you can check the online sales and offers. Who knows, you might end up saving a lot more than usual. 
Room Size
The size of the room plays an important role while choosing a mattress. If you do not have spacious rooms, then you can roll out the options of a king-size mattress or Olympic queen mattress as these require more space. 
The bedroom is your place to relax, and hence it should be comforting as well. An overcrowded bedroom might not be comfortable hence you should choose a mattress accordingly. There are a lot of compact mattresses available, like a queen mattress that can save you a lot of space. 
Comfort
When it comes to finding a comfortable mattress, the firmness and softness of a mattress play an important role. You should ask about the firmness of the mattress and choose wisely before picking one. In most brick-and-mortar stores, you can lay down and check the firmness of the mattress for yourself.  
You should remember that firmness and softness are two different things. If you do not know the difference between them, you can always ask the salesperson to help you out with the details. 
Delivery
Where you live and how far the shop is is an important factor to consider. You should also keep in mind that the floor number also matters. You should check what delivery options the shop or brands are providing, and according to that, you should decide from which shop you would buy a mattress. 
You buy a mattress once every 8-10 years, and with time, many new features and brands emerge. Make sure you choose the best mattress before buying one. Mattress or Bed sizes vary from largest bed size to tailor-made and are available with various features. Understanding the differences in mattress sizes will help you pick the right mattress for you. 
Other things to consider include price, availability, comfort, accommodation, and the mattress's features. Considering each feature and understanding the benefits of each mattress in detail is a must when purchasing a mattress. 
This website does not offer medical advice nor professional medical services; rather, it is provided solely for educational, informational, and/or entertainment purposes. Individuals seeking medical advice should consult a licensed physician. The information provided should not be used for diagnosis or treatment of any condition, disease, or injury. When you have a medical condition, you should always talk to licensed doctor or other certified medical professional.  You should never delay seeking professional medical advice or treatment based on the contents of this website.  Call 911 or immediately go to the nearest emergency room if you think you may have a medical emergency.  The contents of this website are provided "as-is", Sleep Authority and its parent, subsidiaries, affiliates, employees, contributors disclaim any warranty of the information contained herein. Please contact using contact form to report any errors, omissions, misinformation, or abuse.