Alaskan King Bed – Sizes, Dimensions
Writers at Sleep Authority are supported by a research team conducting in-depth research about the topics. The editorial team reviews them for accuracy and facts to ensure the most authentic and accurate content is published. Sleep Authority does not offer any medical advice, and you should not rely solely on our content for your course of treatment. Consult your medical professional to discuss any health concerns, chronic conditions, treatment options, or diagnoses.
As the name suggests, the Alaskan King Bed happens to be the "king" of all mattresses. The giant bed got its name after the largest state in America – Alaska. 
But the question appears, why would anyone need a bed as big as Alaskan King? Isn't the King size or California King size bed big enough? 
Well, they are (for most people). But, believe us when we say that an oversized bed can sometimes be a game-changing addition to your room, especially for co-sleeping families and overly tall individuals. 
Keep on reading to discover all things Alaskan king bed and understand how it differs from other giant bed sizes. To know more about quality sleep, beds, mattress guide and dimensions, click here to explore the slumberous world of Sleep Authority.
What Is an Alaskan King Bed?
Alaskan King bed is the biggest bed size amongst all commercially made beds, which means an Alaskan king size bed happens to dwarf all the rest of the existing bed sizes available in the market!
However, it has not always been like that. It was only after the 1960s that bigger bed sizes like the king and California king started getting standardized. As people's homes and rooms grew, the demand for ultra-large beds also hiked. And that's how the Alaskan king bed size came into the picture.
How Big Is An Alaskan King Bed Mattress?
You might be wondering– "How big is an Alaskan king bed mattress exactly?" 
This monster measures about 9 feet by 9 feet, meaning 108 inches by 108 inches! Needless to say, this makes it the biggest mattress size one can ever buy. Think about it this way – an Alaskan king bed mattress can accommodate four grown-ups comfortably while still leaving enough space for a doggo! It's that big!
eo.
What Are the Benefits Of Alaskan King Bed?
Below, we list a few benefits of Alaskan king beds:
These gigantic beds are brilliant for families who practice some kind of co-sleeping arrangement. Co-sleeping promotes restorative sleep cycles, but it also helps working parents reconnect with their babies. Also, sleep-sharing makes it easier for parents to respond to their babies if they need something in the middle of the night. 
Imagine having a huge centralized and comfy place for your family to spend their best time! Be it gossip sessions, storytimes, cousins' nights, movie nights, or playing cards together – the Alaska king bed can be your go-to place for all the fun times. 
Couples who move a lot at night, plus-sized couples, those who enjoy more personal space, and those who do not like motion transfer – all can have access to sufficient space in an Alaskan king bed. 
As a pet owner, you cannot predict when your four-legged friend will come and start cuddling over. The Alaskan king bed dimensions will allow you to enjoy a sound sleep with your pets.
Things to Consider When Buying an Alaskan King Bed
Before you go ahead and buy an Alaskan king bed, don't forget to consider the following things: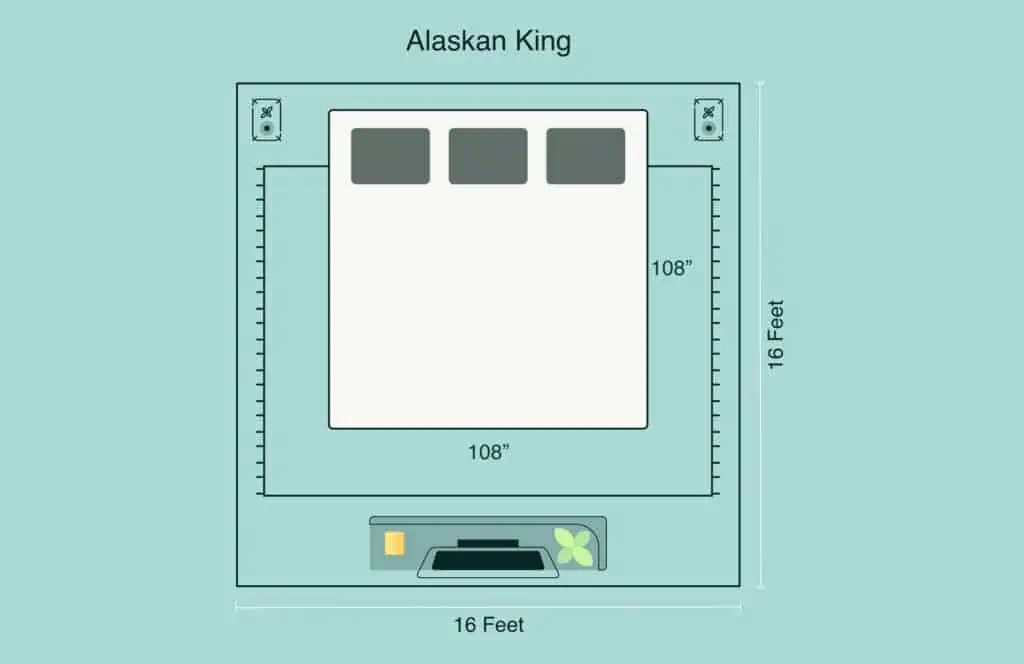 Your room must be spacious enough to lodge an Alaskan king mattress conveniently. Introducing these mattresses in rooms measuring less than 16 feet by 16 feet will block space and make it difficult to move around. So, keep in mind the Alaskan king bed measurements. 
An Alaskan king bed is not your regular bed. Hence, you will not easily find a ready-made Alaskan king bed frame or foundation. Therefore, it is advisable to plan a custom foundation or bed frame to avoid misfits.
As with any other mattress size, you need to decide which mattress material is best suited for you before purchasing. For instance, if you plan to sleep on your bed daily, you'll want a more comfortable and supportive material. On the flip side, if you wish to convert your basement into a lounge area, a cheaper foam variant might do the trick. 
Make sure you consider your budget because different Alaskan king beds cost you differently. Depending on their thicknesses and quality, the Alaskan king bed mattress prices vary distinctly (by thousands of dollars).
Giant Mattresses Comparison Chart
Let us now compare the dimensions of the three most popular giant mattress sizes via this Alaskan king bed size chart:
| Dimensions | Alaskan King | Wyoming King | Texas King |
| --- | --- | --- | --- |
| Width (inches) | 108 | 84 | 80 |
| Length (inches) | 108 | 84 | 98 |
| Width (cm) | 274.32 | 213.36 | 203.2 |
| Length (cm) | 274.32 | 213.36 | 248.92 |
Have a look at the Alaskan king bed comparison below with the other two giant bed sizes:
Alaskan King – Pros and Cons 
The pros and cons of an Alaskan king bed are listed here: 
Pros
Largest oversized mattress; spacious enough for accommodating co-sleeping families. 
Suitable for extra-tall sleepers – up to 7 feet in height. 
Best suited for plus-sized couples who like having their personal space while sleeping. 
A perfect choice for extra-large master bedrooms. 
Cons
Most pricey oversized mattress. 
Needs abundant space. 
Other Giant Mattress Options
If you are looking forward to buying a giant mattress, know that the Alaskan king is not the only option. You can also go for a Wyoming king bed (also known as an emperor size bed), Texas king bed, and Alberta king bed mattresses. Even though nothing is bigger than the Alaskan king bed mattress, they are all over large to be categorized as standard mattress sizes. 
Wyoming King – Pros and Cons
Here are the pros and cons of a Wyoming king bed:
Pros
The best option for smaller families who prefer sleeping together. 
An ideal choice for taller couples who need significant space – both lengthwise and widthwise. 
Cons
Do not fit inside smaller bedrooms. 
Costlier than standard mattress sizes. 
Texas King – Pros and Cons
The pros and Cons of a Texas king bed are as follows:
Pros
Works well for tall single sleepers who do not mind the (comparatively) lesser width. 
An appropriate choice for narrow bedrooms. 
Sufficient space for two adults plus one or two children. 
Cons
Narrower than other oversized mattresses. 
Co-sleeping with more than two small kids might feel cramped.
Two other commonly preferred giant bed sizes are – California kings and double kings. Below, we compare them both with the Alaskan king:
Alaskan King Bed vs California King Bed 
The most significant difference between an Alaskan king bed and a California king is – that while the former is the largest bed size ever created in the history of beds, the latter is the largest amongst all standard bed sizes. 
The Alaskan king bed measures about 108 inches by 108 inches. However, the California king measures 72 inches by 84 inches. So the major difference between an Alaskan king bed vs California king is that an Alaskan king has sufficient space for an entire family. In contrast, the California king is suitable only for taller couples. 
Alaskan King Bed vs Double King Bed 
A double king mattress is essentially the widest of all mattress sizes. With dimensions of 152 inches by 80 inches, it surpasses the Alaskan king considerably in terms of its width. So basically, a double king bed is 44 inches wider and 28 inches shorter than the Alaskan king. Remember, you need to have an exceptionally wide space to fit this one inside your room.
All in all, an Alaskan king bed could sometimes be precisely what your huge bedroom needs. So if you are planning to go for a king size bed, hold on! Maybe you and your family can benefit more from an Alaskan king bed vs a king bed. Give it a thought!
The question "Where to buy an Alaskan king bed?" will pop up as soon as you make up your mind to go for an Alaskan king. Let us tell you; it's not gonna be as simple as buying your regular mattress sizes. Most brick-and-mortar retailers do not sell these. You will probably find them at specialty retailers, boutiques, and companies that sell custom-made beds online. 
We hope that our guide answers all your queries and helps you decide on your best mattress!
This website does not offer medical advice nor professional medical services; rather, it is provided solely for educational, informational, and/or entertainment purposes. Individuals seeking medical advice should consult a licensed physician. The information provided should not be used for diagnosis or treatment of any condition, disease, or injury. When you have a medical condition, you should always talk to licensed doctor or other certified medical professional.  You should never delay seeking professional medical advice or treatment based on the contents of this website.  Call 911 or immediately go to the nearest emergency room if you think you may have a medical emergency.  The contents of this website are provided "as-is", Sleep Authority and its parent, subsidiaries, affiliates, employees, contributors disclaim any warranty of the information contained herein. Please contact using contact form to report any errors, omissions, misinformation, or abuse.