California King vs Full: What Is the Difference?
Writers at Sleep Authority are supported by a research team conducting in-depth research about the topics. The editorial team reviews them for accuracy and facts to ensure the most authentic and accurate content is published. Sleep Authority does not offer any medical advice, and you should not rely solely on our content for your course of treatment. Consult your medical professional to discuss any health concerns, chronic conditions, treatment options, or diagnoses.
While looking for the perfect mattress for yourself, you might have gone through the dilemma of choosing between a full vs California king mattress. The mattress dimensions of a full mattress are one of the shortest sizes of beds on the market. On the other hand, a California king mattress is the longest mattress size among all the other mattresses in the market. Therefore, for average heighted single sleepers, full-size mattresses are better, and for taller sleepers and couples, the cal king bed is perfect.
In this article we will discuss what California King and Full Size mattresses are, what are their dimensions and whom are they best suited for. Read more below…
What is the Difference Between Full vs California King?
With extra 18 inches of length and 9 inches of space than a full-size mattress, a California king bed is perfect for couples and tall people. A full-size mattress isn't ideal for couples as it doesn't provide sufficient space, but it is a wise option for solo sleepers.
Size matters and this rings true in the case of mattresses and their dimensions. Below added is a table for your reference to understand the fundamental differences between Full vs California King mattresses. Have a look:
| Parameters | California King | Full Size |
| --- | --- | --- |
| Length | 72 inches | 54 inches |
| Width | 84 inches | 75 inches |
| Recommended Room Size | 12 x 12 sq.ft | 9 x 9 sq.ft |
| Recommended for | Tall People (6"+) / Couples | 5'5" + height / Single sleeper |
| Surface Area | 6,048 sq. inches | 4050 sq inches |
| Also Known As | Western King | Double Size |
| Price | $900-$1000 | $1100-$1400 |
Buying a mattress amid a gamut of options and varieties can be confusing. However, one must opt for a mattress that best suits their requirements and not as per what others say and do. In order to know more about mattress sizes, dimensions, and whom they are meant for, read our blog on Mattress Guide. Click here to learn more.
What is a California King Size Mattress?
The California King mattress is 4 inches narrower and 4 inches longer than a standard mattress. It measures 72 inches by 84 inches. For taller people, the cal king bed is an ideal choice. The name of this mattress has been associated with the bed sizes from the time a Los Angeles mattress merchant manufactured it. Since the California king mattress originated on the west coast, it is also given the name of the western king.
Comparing a cal king bed to a full mattress, a cal king bed is more expensive. The price depends on the quality of the material that has been used to make the mattress. This mattress is found to be more spacious than others. It has the space to accommodate parents along with their children. 
Other than that, split versions of this mattress are also available. The split feature allows the sleepers to choose the level of firmness they need on their side of the bed. The option of adjusting the elevation of your feet or head without disturbing the other person sleeping on it is also available.
Pros
Let us go through the pros of a California king mattress:
To allow comfort for both sleepers, this mattress has split versions.
It is a better choice for tall sleepers.
It can fit parents as well as their children comfortably.
Cons
Let us go through the cons of a California king mattress:
It can be costly as compared to other mattresses.
It is difficult to fit this mattress in smaller rooms.
What Is a Full-Size Mattress?
A full-size mattress, also known as a double bed. The measurements of a full bed are 54 inches by 75 inches. It is not as spacious as a cal king bed. It can't accommodate children along with their parents due to its limited bed space. This mattress got the name double bed since it became popular before the king, queen, and cal king beds and was used by couples.
The buying power of Americans enhanced in the late 1940s when the country witnessed a growth in its economy. As a result, larger beds were required to furnish the bigger rooms of the American people. This led to the demand for bigger beds in the coming years.
Since bunk beds optimize space, children can use these to play in the extra space. These are also used in children's rooms because they can accommodate more than one child. Full bed mattresses can be used by people who sleep alone too. Full-size mattresses can be used in rooms or spaces that have fewer spaces. These can also be used in smaller beds, studios, or guest rooms. Even though the price of this mattress depends on its quality, on average, it costs around $1000.
Pros
Let us go through the pros of a full-size mattress:
These are available for bunk beds too.
If your rooms or living spaces have limited space, it can be a better option.
Cons
Let us go through the cons of a full bed:
It can't accommodate two adults on it properly.
This bed can't accommodate tall sleepers comfortably.
Factors to Consider While Buying a King or a Full Mattress
If you're looking for a luxurious touch to your bedroom, the California king mattress will be perfect for you and your family. But you must question and undermine factors like the room size, costing, requirements, and the sleeping requirements – how does each element when choosing between these two sizes matter.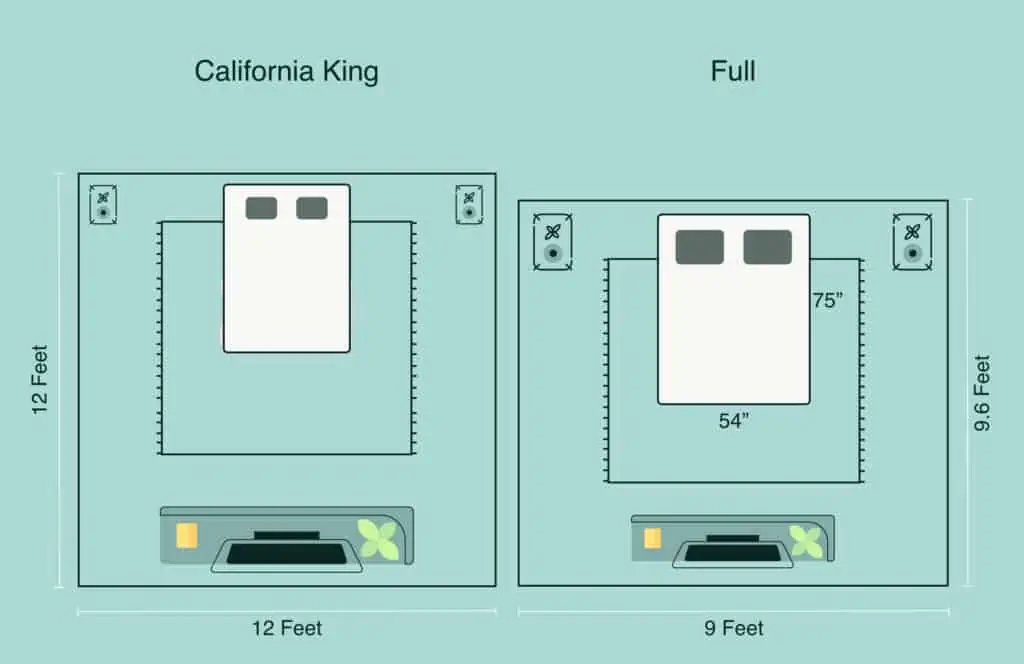 Room size stands still amongst one of the most critical aspects of deciding between mattresses. In such scenarios, always measure your room before finalizing a bed. If you're two people accomodating on one bed (refer to the table above), then California King is worth an investment. The required room size to fit a Cal King mattress is 13 x 12 ft minimum.
However, a full mattress will make the most sense if you have a comparatively smaller room. The required room size to fit a full bed is 10 x 11 ft. Recent graduates and young adults are ideal candidates for a full size mattress. 
Investing in a California King bed or a full size mattress isn't an expensive affair. Both mattresses come at a reasonable price which will not seep a hole in your pocket. A California King mattress ranges from $800 and may go up to $1000. At the same time, a Full Size mattress ranges from $1100 and will go up to $1400. Notably, the prices may vary from brand to brand and as per your preference for additional bedding accessories.
When it comes to California King and Full Size mattresses, one thing you definitely cannot compromise upon is the length. For taller people who don't want their legs to hang off the bed, which may lead to discomfort, cold, and unrest of sorts… California King single-handedly wins the show. With a massive difference of 18 inches, Cal King makes an ideal bed for tall people– 6"' ft and above. In contrast, full size may only suit someone with a moderate height of 5″ 5′ ft and below.
Another aspect to consider while deciding between a Cal King and Full mattress is the sleeping style of you and your partner. Ideally, if you prefer sleeping tight while snuggling and being cozy, a Full mattress may help! But it's best suited to single sleepers who like to spread out nicely and sleep like a king– all alone.
Whereas a California King is apt for couples who like their own space on the bed, prefer some extra room, and want to sleep comfortably. The extra length and width give you the freedom to rule the bed on your distinctive sides handsomely.
Other Standard Mattress Sizes
If your requirements are not fulfilled by a California king vs full mattress, there are ample options available in the market that may fit your list of requirements. Many mattress sizes are available. These options are available in various dimensions, price ranges, and sizes, both online and offline. 
Having at least 2 to 3 feet extra space on the sizes of your bed makes it look tidier. For a cleaner look at your room, don't forget to leave some extra space. This space allows people to move freely around the room. Other than that, it allows people to set up essential items around their bed, be it a dresser, nightstand, or lamps. Let us now go through the standard size mattresses available in the market:
King Size Bed Dimensions
Dimensions: 76 inches by 80 inches For comfort and luxury, most families get king-size mattress dimensions. It is 4 inches shorter and wider than a king mattress. It can easily accommodate two children or pets along with two adults. It is one of the widest mattress sizes available in the market. It is in the shape of a square. Due to its aspect of comfort and luxury, it is chosen by most individuals for their master bedroom.
Twin XL Bed Dimensions
Dimensions: 38 inches by 80 inches
It is a perfect mattress choice for teenagers since it is 5 inches longer than a twin size mattress. It can be an ideal choice for your guest bedroom too. Having a guest over for a night becomes easier with a twin XL bed. A twin XL bed can not accommodate more than one person, so it does not take up a lot of space. 
Queen Size Bed
Dimensions: 60 inches by 80 inches
It can accommodate a couple or two adults easily, even though it is smaller than a king-size mattress. It is found to be just as famous as a king bed. It is 16 inches smaller than a king size bed. It can be the perfect addition to your guest room for accommodating more than one guest. A single person who is a pet owner or someone who sleeps with their child can sleep on this mattress conveniently. 
Twin Size Bed
Dimensions: 75 inches by 80 inches
As compared to a twin XL mattress, a twin size bed is 5 inches shorter. It is found to be the smallest standard size mattress. A twin size bed is a perfect choice for a single adult or a single child. For children that are growing, single people, teenagers, it is found to be an ideal choice. It offers less space than a California king vs full and a queen, so it might not be able to fit a full-grown adult comfortably.
California king vs full mattresses have their own pros and cons. In terms of their features, they cater to the requirements and demands of different individuals. If we talk about average-height single sleepers, a full-size mattress can be a perfect choice. For taller sleepers, the California king mattress is the better option since it is longer, so your feet won't keep on dangling. A mattress has an important role in helping you have a good night's sleep. Being able to find the mattress that fits your set of requirements while allowing you to relax and stretch your muscles is crucial. In this article, you learnt how to differentiate between full vs California king and which mattress you should choose for yourself.
This website does not offer medical advice nor professional medical services; rather, it is provided solely for educational, informational, and/or entertainment purposes. Individuals seeking medical advice should consult a licensed physician. The information provided should not be used for diagnosis or treatment of any condition, disease, or injury. When you have a medical condition, you should always talk to licensed doctor or other certified medical professional.  You should never delay seeking professional medical advice or treatment based on the contents of this website.  Call 911 or immediately go to the nearest emergency room if you think you may have a medical emergency.  The contents of this website are provided "as-is", Sleep Authority and its parent, subsidiaries, affiliates, employees, contributors disclaim any warranty of the information contained herein. Please contact using contact form to report any errors, omissions, misinformation, or abuse.