Twin vs Twin XL: What Is the Difference?
Writers at Sleep Authority are supported by a research team conducting in-depth research about the topics. The editorial team reviews them for accuracy and facts to ensure the most authentic and accurate content is published. Sleep Authority does not offer any medical advice, and you should not rely solely on our content for your course of treatment. Consult your medical professional to discuss any health concerns, chronic conditions, treatment options, or diagnoses.
Picking out the most up-to-the-mark mattress from a sea of varieties in the market is not as simple as it may appear at first. That's why when you're at it, it's more than crucial to figure out which size should go well with your purpose.
If you're looking to cut down on some space and want a smaller size mattress, you have limited choices to consider. Here's when the twin vs twin XL debate begins. You may now wonder how exactly the two are different? Well, the only difference between a twin and twin XL mattress is their lengthwise expanse – a twin XL size mattress measures 38 by 80 inches, whereas the twin mattress measures 38 by 75 inches. 
Read on to know more about both the mattress sizes and their differences so you may determine which one is your best bet.
What is the Difference between Twin vs Twin XL Mattress?
The key and the only difference between a Twin vs Twin XL mattress lies in its length. With the width of 38-39 inches for both the models, the length of the two mattresses differs by 5 inches full. 
The following table comparing twin and twin XL beds will help you understand more about the two mattress types:
| Parameters | Twin Mattress | Twin XL Mattress |
| --- | --- | --- |
| Length | 38 inches | 38 inches |
| Width | 75 inches | 80 inches |
| Surface Area | 2850 square inches | 3040 square inches |
| Recommended Room Size | 7 feet x 10 feet | 7 feet x 10 feet |
| Ideal For | Kids room / Guest room / Adults with average height | Singles / Tall people / Bedrooms |
| Price | $100-$1500 | $300-$2000 |
To learn more about Twin Mattresses and their types, here's a comprehensive mattress guide for you to consider before investing in one. Have a look here.
What Is a Twin Size Mattress?
A twin size mattress is the smallest mattress size available on the market – having a width of 38 inches and a length of 75 inches. Owing to its small size, it works fine for single, petite sleepers, which is why it is sometimes also called a single bed.
A twin mattress is ideal for kids' rooms and guest rooms. They also work well for adults with moderate heights living in compact spaces like studio apartments. Also, twin mattresses are the most commonly preferred sizes for families with more than one child because they are the most compatible with bunk beds. 
Bedrooms measuring 7 feet by 10 feet can easily accommodate twin beds while still providing enough space to roam about or add furniture. 
Pros
Most compact mattress size on the market, making it the go-to choice for children, especially toddlers. 
Easy to carry and relocate. 
Compatible with bunk beds. 
Most affordable option of all standard sizes.
Widely available, which means finding bedding, bed frames, and other accessories would be easy peasy. 
Cons
Too narrow to accommodate more than one sleeper. 
Not suitable for active or combination sleepers. 
Not enough leg space for people over 6 feet.
What Is a Twin XL Size Mattress?
A twin XL mattress is 38 inches wide and 80 inches long, meaning it has the same width as a regular twin but comes with an additional length of five inches. Because of this, they are a comparatively more suitable option for growing children and teenagers. 
Twin XL beds give the necessary legroom for taller individuals, so their feet do not have to project outwards, and they can sleep comfortably. Hence, twin XL mattresses are considered best for extra-tall sleepers, be they college students or single adults. Like twins, these can also fit inside rooms with dimensions 7 feet by 10 feet. 
Pros
Excellent choices for overly tall sleepers who need more legroom; or teens who may outgrow their beds soon. 
Best suited for college dorm rooms and studio apartments. 
Pocket-friendly options for budget-savvy people. 
Cons
Too small to make room for couples. 
Not appropriate for sleepers who toss and turn a lot.
Not as commonly available; hence it might be somewhat harder to find sheets and accessories that pair well with them.
Factors to Consider When Choosing Between a Twin and Twin XL Mattress
You must have understood that there's not much difference between twin xl vs twin mattresses. On that note, it can be even more challenging for you to pick the right one between the two sizes. Therefore, you must consider the following factors before making your decision. 
Bedroom Size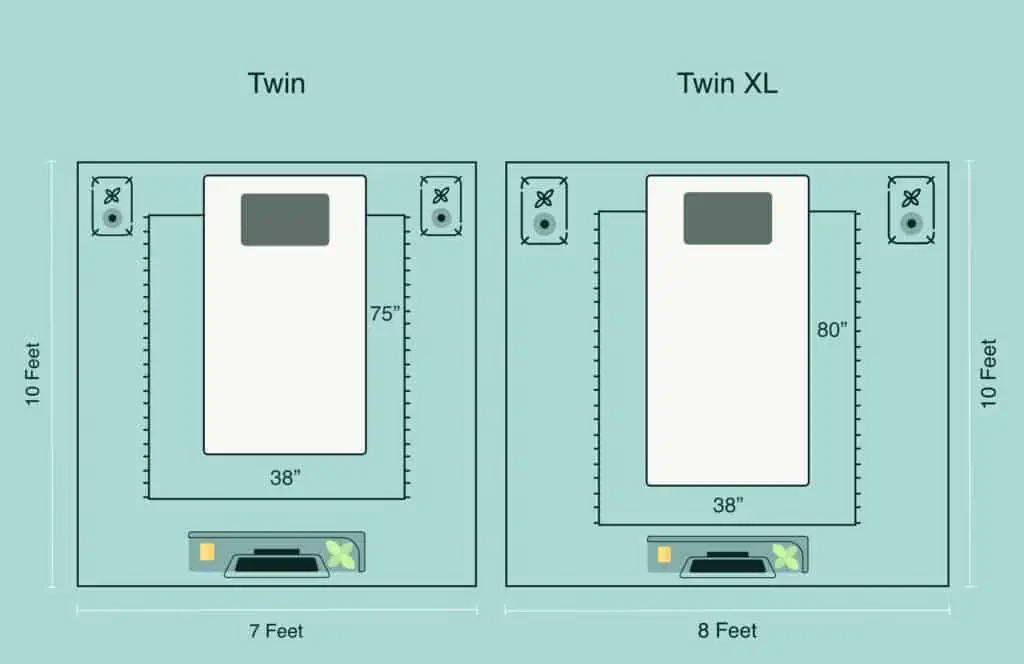 Both twin or twin XL size beds are small enough to lodge comfortably inside most rooms. However, if the room you're planning to fit in your mattress is too compact, a twin mattress might be just right for you. So, if your bedroom size is on the smaller side, a standard twin shall make sure there's still enough space to walk around. 
Cost
Compared with twin XL mattresses, regular twin mattresses are relatively cheaper (by 100$ or so). This is so because twin mattresses have a higher demand and are more commonly available. 
Additionally, twin XL accessories being not that common, add up to the overall cost and make twin XLs a more expensive choice. So, if you have a tighter budget, you might want to go with a twin size mattress. 
Sleeping Position
You must remember that both these mattresses feature quite a small width. Hence, these can be way too narrow for you if you are a restless sleeper or probably sleep like a starfish. So, don't forget to consider your sleeping position before choosing your mattress. 
Also, if you like to sleep with oversized pillows that take up too much space towards the head of your bed, you may require more space lengthwise. That being so, a twin xl will suit you better. 
Your Height
Your height is inarguably the most crucial consideration when choosing between twin and twin XL mattress sizes. The extra legroom on a twin XL mattress easily takes up taller individuals over 6 feet. 
Age:
If you're buying a mattress for children or teenagers who might experience sudden growth, a twin XL could be better. These extra-long mattresses will ensure they do not outgrow their beds too early.
Is Twin XL Better Than Twin?
No, certainly not! This is not a better-or-worse scenario at all. A twin or twin XL mattress is each designed to suffice for different purposes. The only thing that separates them both is their length. Although it may not seem like much, these extra five inches can sometimes make all the difference! Especially when you are more than 6 feet tall. We hope that our guide helps you make your final call without any confusion. 
Happy Sleeping!
Two twins do not make a king because both the length and width of a twin mattress are lesser than that of a king. However, when put together, two twin XL mattresses can result in a king-size mattress. This is because a twin XL mattress is longer than a twin mattress and equal to a king and a queen mattress in its length. But, the width of a twin mattress is half that of a king mattress. Therefore, two twin XLs combined make a king mattress.
A twin XL sheet is about 5 inches longer than a twin sheet or bed. Hence, twin sheets would not fit well, and you'll have to buy a twin sheet that is shorter than a twin XL.
A twin XL measures 38 by 80 inches in width and length, respectively. On the contrary, a full mattress measures 53 by 75 inches. Thus, a twin XL is about 5 inches longer and 15 inches wider than a full.
This website does not offer medical advice nor professional medical services; rather, it is provided solely for educational, informational, and/or entertainment purposes. Individuals seeking medical advice should consult a licensed physician. The information provided should not be used for diagnosis or treatment of any condition, disease, or injury. When you have a medical condition, you should always talk to licensed doctor or other certified medical professional.  You should never delay seeking professional medical advice or treatment based on the contents of this website.  Call 911 or immediately go to the nearest emergency room if you think you may have a medical emergency.  The contents of this website are provided "as-is", Sleep Authority and its parent, subsidiaries, affiliates, employees, contributors disclaim any warranty of the information contained herein. Please contact using contact form to report any errors, omissions, misinformation, or abuse.