Short Queen vs Queen: What Is the Difference?
Writers at Sleep Authority are supported by a research team conducting in-depth research about the topics. The editorial team reviews them for accuracy and facts to ensure the most authentic and accurate content is published. Sleep Authority does not offer any medical advice, and you should not rely solely on our content for your course of treatment. Consult your medical professional to discuss any health concerns, chronic conditions, treatment options, or diagnoses.
One of the most popular choices in the 'kingdom' of mattresses is, inarguably, the queen-size mattress. And, why shouldn't it be? After all, this is the size that offers enough room to accommodate couples while also saving plenty of floor space!
However, there exists another lesser-known substitute for a queen called the 'short queen' that fits in even less area while being equally wide. Although it's not as versatile as the standard queen, the short queen does have its plus points. 
In this short queen vs queen comparison guide, we'll discuss in detail their dimensions and uses, along with the ways they differ in. So, brace yourself and read on!
What is the Difference between Short Queen vs Queen?
A Queen mattress is 60″ x 80″ whereas a Short Queen mattress measures 60'x 75″. The extra 5 inches in Queen makes all the difference. It is best suited for taller people who need extra space to stretch out. The Short Queen mattress is ideal for anyone with a height of 5'5″ and below.
Another key difference between short queen vs queen mattresses is the price. Queen mattresses are often more expensive than their shorter counterparts. However, this price difference is not always significant, so it's important to compare prices from different retailers before making a purchase. Short queen mattresses may also be more difficult to find than queen mattresses, as they are not as common. But with a little bit of research, you should be able to find a short queen mattress that fits your needs and budget.
| Parameters | Short Queen Mattress | Queen Mattress |
| --- | --- | --- |
| Length | 60 inches | 60 inches |
| Width | 75 inches | 80 inches |
| Minimum Room Size | 9.6 X 10 ft. | 10 X 10 ft. |
| Surface Area | 4500 inches | 4800 inches |
| Recommended for | Tall people / Couples | Height below 5'5" / Singles |
| Price | $600 – $1500 | $1000 – $1800 |
What Is a Short Queen Mattress?
A short queen mattress is exactly like you'd expect it to be – identical to the standard queen in its width (nearly 60 inches), but slightly less tall. In short, it is almost like a 'mini-queen'. The fact that it maintains the same width as a regular queen while slotting into tinier spaces, allows it to act as a great alternative to the former size.
Shorter lengths enable them to work best for campers and RVs. For this reason, short queens are quite popular among travelers and people consumed by wanderlust. However, for people taller than 6 feet, this may not be a feasible option (because who'd want to keep their feet hanging halfway off the mattress while sleeping?)
Dimensions 
While it may not seem to make much sense, a short queen mattress happens to be only 5 inches shorter than the conventional queen. Yes, that's it. That's the difference between queen and short queen. And, that's what makes it special.
With the dimensions of 60 by 75 inches (meaning an area of 4500 square inches), a short queen is almost like the blend of a queen-size and a full-size mattress. For people living in smaller spaces, this 5-inch difference can certainly mean a lot. Some less marketable versions, however, come with a length as less as 70 inches. One can opt for these to make room for two people, while still allowing some mobility in congested spaces.
Ideal Room Size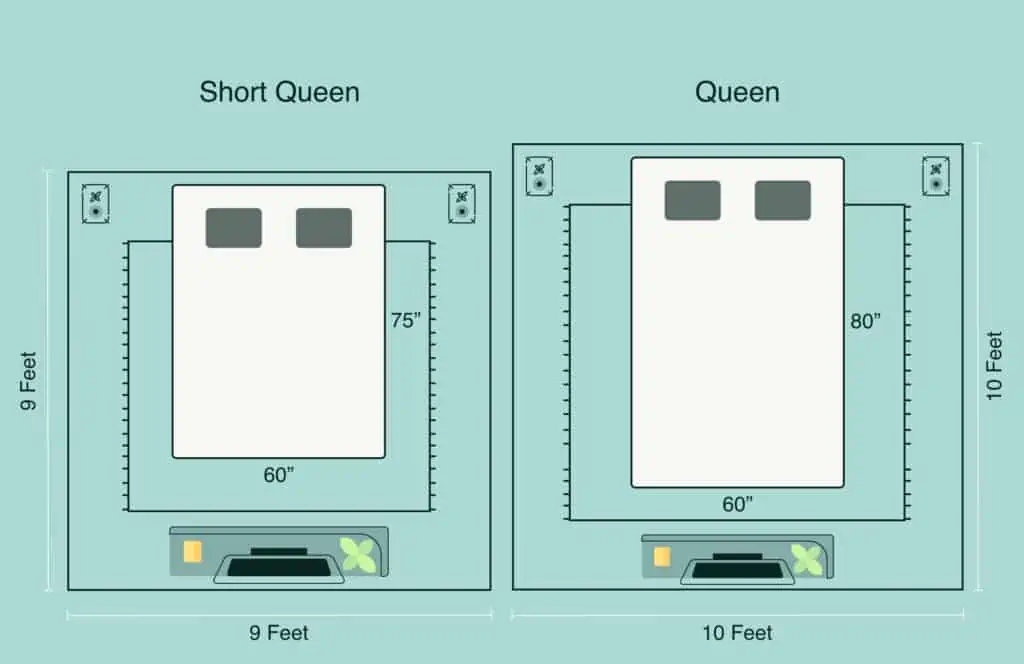 So, what could be the ideal room size for a short queen? Well, maybe a relatively smaller one. The short queen being as wide as a queen requires equal room width to lodge inside your space. Having said that, the room can be somewhat shorter than the one that can take in a queen-size bed. 
To allow easy movement, most people prefer to have a minimum of 2 feet of space around their beds. Considering this, one may insert short queens into rooms that have dimensions of at least 9 by 8 feet (which is quite a small size).
Uses
With its comparatively miniature size, a short queen mattress can do wonders in compact spaces. That's why the most widely known use of a short queen is inside a camping tent or an RV.
An RV short queen mattress works as an excellent space-saver owing to its lighter weight and smaller size. RVs being narrow and stuffed, get to free up sufficient space by trimming merely 5 inches off a mattress. For similar reasons, people living in smaller homes (a few hundred square feet), can also consider buying a short queen. 
Those who live in older houses (probably built in the 60s or before) often struggle with space issues. Their bedrooms are generally not as spacious as those of modern housings. A short queen mattress may fit just right in such cases. The reason is simple – it provides a comfortable width without taking up much room.
Sometimes, people go for a short queen bed frame simply to enhance their room designs. Whether you are to introduce more furniture in your bedroom.
What is a Queen Mattress?
A queen mattress is a reliable enough choice when it comes to choosing the right mattress size. Not only does it accommodate taller folks, but is also a lot more easily available in the market or online mattress stores in comparison to the short queen. Also, due to its higher demand, one can pick sheets, toppers, and other accessories from a wide variety of accessible options for a queen mattress. 
Dimensions
The standard queen mattress is 60 inches wide and 80 inches long in general. That means it offers a sleeping area of about 4800 square inches in total. This slight difference in dimensions makes it a suitable pick for multipurpose reasons. It works superbly for two adults including tall individuals. 
The dimensions of queen make it a practically superior choice for all types of sleepers – especially active sleepers who keep tossing and rolling over their beds at night. And, the best part is that all of it comes without a huge price tag! Of all bed sizes, the queen-size comes off as a much more affordable option that still does its job just right. 
Ideal Room Size 
Queen-size beds can fit just about anywhere. Since a minimum of 2 feet of space is required around the three sides of a bed to ensure clearance, one needs to take this space into account while introducing a queen-size mattress in a room. This means that the size of your room shouldn't be, by any chance, less than 9 by 9 feet. 
However, the ideal room size to accommodate a queen mattress for a well-furnished bedroom will be approximately 10 by 10 feet or 10 by 12 feet. This is because one would have to make extra room for the dressers, closets, nightstands, and other furniture pieces. 
Uses
With mind-blowing versatility, the queen mattress is a go-to solution for most people who are on the lookout for an ideal mattress size. It can be used in multifunctional hallways, small guest rooms, cozy bedrooms, stowaway beds, murphy beds, kids' or teens' rooms, and much more. 
A queen-size mattress is a cost-effective option for couples since it's the first size that fits them. So, if you want a mattress that may not dig too deep into your pocket, while still providing you and your partner a good night's rest, a queen mattress may be exactly what you need! The 80-inch length caters to all heights, and the 60-inch width allows enough sleeping area for each partner.
Or if you want a mattress that's somewhat midway between a full-size and a king-size one, a queen may end up winning the battle. So, all things considered, a queen mattress can be used anywhere and everywhere, provided that it leaves out a significant space for movement as well.
Other Queen Mattress Variations
What if we tell you there's yet more to delve into when it comes to the queens? Yes, the short queen is not the only variation in the standard queen mattresses. Additionally, there are also certain other alternate sizes available for the queen-size mattress. 
So, you may consider exploring a bit with the queens in case you have certain specific requirements. Below, we'll discuss the other variations.
Olympic Queen 
An Olympic queen mattress is typically 66 inches wide and 80 inches long. This means it offers a good deal of 6 extra inches of sleeping space through its width in comparison to the standard queen. Olympic queens are perfect options for couples who lack enough room to bring a king-size mattress to their bedroom. Also, when compared to the traditional queen, the two aren't much different in their prices. 
However, owing to its lesser popularity, there may be limited choices available for one to try. On the same grounds, it would be a little hard to find compatible bedding or bed frames for an Olympic queen mattress. 
California Queen 
A California queen mattress is another variation of a queen-size mattress. Contrary to the Olympic queen, this variant doesn't come with any additional width. Instead, it adds some more length to it. So, to all the overly tall people out there struggling with insufficient sleeping space, here's your pick!
The California queen is 60 inches wide and 84 inches long. This extra-long mattress serves as an excellent alternative to the regular queen by adding four extra inches to its length without altering its breadth. This way, one may use these in bedrooms that offer limited overall width and cannot lodge in wider mattresses. 
But again, one won't find enough brand or material choices in this category as they would do with the regular queen mattress. Only a few private manufacturers may have these in their size runs due to their lesser demands.
So, who wins the queen vs short queen battle? The answer is, you! That's right. Your preferences and individual concerns again outweigh everything else. Because ultimately, that's what matters.
Both queen and short queen offer different advantages and are outstanding options for specific purposes. You may choose the one that best suits your needs, provides you with maximum comfort, and lets you sleep peacefully all through the night. And, you may do so simply by going through the differences between the two outlined in this guide. 
Yes, a short queen mattress provides a comfortable width without taking up too much of your room's space.
The two are different in size. A full-size sheet is about 55 by 76 inches long. Whereas, a short queen mattress is about 60 by 75 inches long. Hence, the full-size sheet would be shorter for a short queen mattress.
This website does not offer medical advice nor professional medical services; rather, it is provided solely for educational, informational, and/or entertainment purposes. Individuals seeking medical advice should consult a licensed physician. The information provided should not be used for diagnosis or treatment of any condition, disease, or injury. When you have a medical condition, you should always talk to licensed doctor or other certified medical professional.  You should never delay seeking professional medical advice or treatment based on the contents of this website.  Call 911 or immediately go to the nearest emergency room if you think you may have a medical emergency.  The contents of this website are provided "as-is", Sleep Authority and its parent, subsidiaries, affiliates, employees, contributors disclaim any warranty of the information contained herein. Please contact using contact form to report any errors, omissions, misinformation, or abuse.