What Is the Best Bed Size for Couples?
Writers at Sleep Authority are supported by a research team conducting in-depth research about the topics. The editorial team reviews them for accuracy and facts to ensure the most authentic and accurate content is published. Sleep Authority does not offer any medical advice, and you should not rely solely on our content for your course of treatment. Consult your medical professional to discuss any health concerns, chronic conditions, treatment options, or diagnoses.
If we go by the popularity and the preference of the people, then the Queen size bed is the popular choice and the best bed size for couples available in the market. It is ideal for those who need plenty of space to themselves. It has its full-sized counterpart (5″ longer and 7″ wider). Still, it provides 30 inches to the duo for extra comfort and space.
Physical intimacy is among the most crucial factors for a happy and successful relationship. You and your partner understand it pretty well, and you have decided to move in together. 
Now that next step, and an important one we must add, is finding a bed size that fits your habits and comfort level as a couple. 
The ideal bed size for a couple varies depending upon the couple's size, sleeping habits, personal preferences, and the room's size.
If you wonder about the best bed size for couples, there is certainly no objective answer. But going by popular culture, the queen mattress is the best for couples as it allows the perfect mix of intimacy and space, and it fits well with contemporary room sizes. 
By the time you complete reading this blog, you shall know more about why queen mattress size is the perfect pick!
When Should You Consider a Full Mattress?
A full mattress is an ideal choice for young adults. With a dimension of 54×75 inches, they would also help create extra space for stuffing your room with other furniture and personal belongings. A full-size mattress is larger than a twin but falls shy of a queen-size mattress.
But if you're a couple and planning to bring home a full mattress, you must be a cuddle-craving couple. On the other side, you might have to check your movement if you're a couple that prefers some space to feel at ease while in bed. So, choose wisely!
When Should You Consider a King Mattress?
A king-size mattress is a popular mattress with couples who love to enjoy a tad of room sideways. It also makes a perfect match for a spacious room having a dimension of at least 12×12 feet. The king mattress dimension is 76×80 inches, giving a larger feel than a queen size. It also lets you sneak in a child that doesn't want to sleep alone.
The king-size bed for couples helps them manage if anyone or both have a potentially irritating tendency to kick or roll when asleep.
A notable variation of the king mattress is the California king, which is probably the lengthiest you can probably find. It adds 4 inches to your legroom compared to a normal king. The extra length helps with taller individuals. It also allows room for your pet, who loves to tuck in below your feet.
Lastly, you must be aware of the flexibility of your pocket as the mattress is more expensive than a queen size.
When Should You Consider a Queen Mattress?
The queen mattress is the go-to mattress size among couples for good reasons. Almost a half of the American population sleeps on a queen mattress, according to a study by Statista in 2017. So, what makes it so popular?
The queen size bed for couples is big enough to let them enjoy their space but at the same time creates the need to get cozy with its perfect narrowness. The mattress dimensions are 60×80 inches, which goes well with a room that is not large enough or is a tight squeeze (sort of). However, the most common bed size for couples is its flexibility. 
If you are a couple taller than 6 feet, you should consider a California queen. A California queen comes with a length of 84 inches equal to that of a California king-size mattress. The width, however, remains the same as the standard queen size. With the newfound leg space, your dear furry can also enjoy some coziness and warmth while lying along the edge of the mattress.
Another variation in queen mattress is the Olympic queen. While its length is identical to a standard queen (80 inches), the catch is in its wideness. It is wider by 6 inches horizontally compared to a standard queen mattress. It is ideal if you are looking for slightly more lateral maneuverability, but your room size doesn't allow a king version of mattresses.
Benefits of Having a Perfect Sized Mattress for Couples
Finding the perfect mattress size for couples is no less a perfect hunt, a dream come true. It has several benefits:
It offers a perfect blend 
It allows couples to achieve the perfect blend of intimacy and space. You don't want to jeopardize your relationship by drooling over the hair or snoring into your partner's nose, who just finds such habits gross and unbearable.
Having an optimum amount of sleep lets you feel rejuvenated and recharged when you get up in the morning. In addition, a healthy amount of sleep enriches your mood. We are sure you don't want to wake up with a headache and fight over petty things simply because you are frustrated with how you feel.
A perfect-sized bed and mattress add to the room's aesthetics and let couples create positive and romantic vibes.
It makes room for everyone
If couples have kids or pets who have a nag of sneaking in between, the situation becomes suffocating. An ideal mattress should accommodate all the occupants and keep them at ease simultaneously.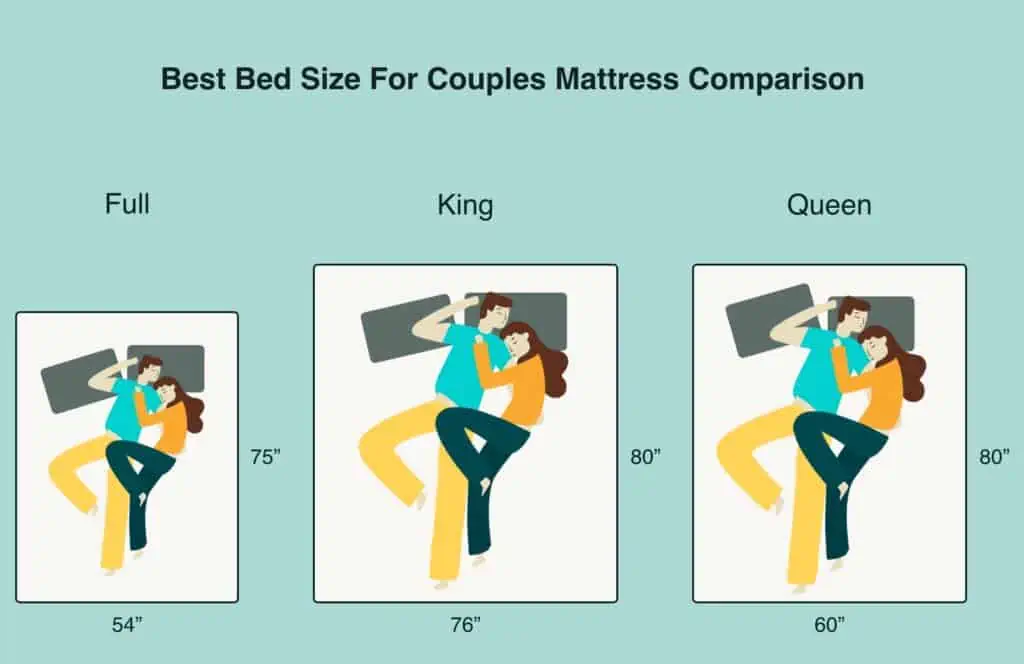 Yes, it does! Correct bed sizes are critical for an exciting time in bed and a sound sleep later on. A short couple should be fine with a full-size or twin bed. If you are a couple over 5'5″, queen size should be your ideal pick. Taller couples can opt for a king-size or California king-size, depending on specific requirements. 
Squeeze the space if you are more into intimacy through the night or broaden it; any or both of you needs the extra space to feel at ease. Choosing a bed size that's too tiny or too large may create unwanted fuss between you. Not to forget the pain of exchanging the mattress for a new one again. You can check out different bed sizes here. 
Is a Smaller Bed Better in a Relationship?
The answer to this is perhaps ambiguous. There's nothing like an outright yes or no. While a smaller bed has proven benefits such as physical closeness, building up sexual tension, and a place to sort out your differences over a cuddly night, in some cases, it may not be as beneficial as you think.
Choosing an ideal bed size for a couple is a subjective topic. The limiting factors are— age, size, and personal preferences.
While the bed size is only one of the various factors that can determine the fate of a relationship, it certainly is a potent one and cannot be taken lightly. It is better to discuss yourself to reach a fitting consensus on the matter.
The best mattress size for couples is the one that enables them to perform best as a couple. More than hearsay, couples should consider carefully while choosing the perfect mattress dimension or bed size. The options are many, but so are your requirements. While a bed is not everything for making a relationship successful, it certainly may become a make or break factor as you spend about one-third of your day in bed.
This website does not offer medical advice nor professional medical services; rather, it is provided solely for educational, informational, and/or entertainment purposes. Individuals seeking medical advice should consult a licensed physician. The information provided should not be used for diagnosis or treatment of any condition, disease, or injury. When you have a medical condition, you should always talk to licensed doctor or other certified medical professional.  You should never delay seeking professional medical advice or treatment based on the contents of this website.  Call 911 or immediately go to the nearest emergency room if you think you may have a medical emergency.  The contents of this website are provided "as-is", Sleep Authority and its parent, subsidiaries, affiliates, employees, contributors disclaim any warranty of the information contained herein. Please contact using contact form to report any errors, omissions, misinformation, or abuse.