California King vs Alaskan King: What is the Difference?
Writers at Sleep Authority are supported by a research team conducting in-depth research about the topics. The editorial team reviews them for accuracy and facts to ensure the most authentic and accurate content is published. Sleep Authority does not offer any medical advice, and you should not rely solely on our content for your course of treatment. Consult your medical professional to discuss any health concerns, chronic conditions, treatment options, or diagnoses.
The confusion between Alaskan king vs. California king increases when the time comes to pick a king-size bed. As per a market research report, the queen-size mattress is the most purchased in the USA. Well, that can prove the point that people do not usually buy a king-size mattress
But when you do so, you can easily get confused between the two. The basic difference between the two is the size. An Alaskan king bed is the biggest size among the king mattresses available in the market. Whereas, California Kings vs Alaskan King mattresses differ by 24 inches of width and 36 inches of width.
Before you pick up size, you should know the difference between an Alaskan king bed and a California king. Read on to know everything about oversized mattresses and how to choose between a cal king size bed and Alaskan king beds.
What is the difference between California King vs Alaskan King?
An Alaskan King bed is bigger than a California King with a difference of 24 inches longer and 36 inches wider. The California king bed measures 72 inches wide and 84 inches long, making it perfect for tall people and couples. But it is not big enough to accommodate large families or pets. On the contrary, an Alaskan King-size bed measures 108 inches wide by 108 long, an ideal fit for bigger families (with more than 2 kids). The Alaskan King bed also happens to be the biggest mattress available.
Below added is a table to give you a better understanding of the differences between the two mattresses. Have a look:
| Parameters | California King | Alaskan King |
| --- | --- | --- |
| Length | 84 inches | 108 inches |
| Width | 72 inches | 108 inches |
| Recommended Room Size | 12 Ft. by 10 Ft. room | 16 Ft. by 16 Ft. room |
| Ideal For | Tall People Couples with small families (1-2 kids/ no pets) | Tall People Couples with bigger families ( 2+ kids or pets) |
| Price | $800 – $3000 | $2000 – $6000 |
Alaskan King vs. California King
Before you go ahead with a California King or Alaskan King, it would be great if you knew a bit more about these bed sizes. Let's start with the most basic information about them. 
California King
A California king is a great option for most people with bed dimensions of 84 inches wide and 72 inches long. It gives ample space for you and your partner. What's more, the bed is perfect for sharing the space with your four-legged friend too. That is why most families choose this mattress size. 
Since the mattress has ample space it makes it super comfortable for tall people to sleep and stretch their legs too. Apart from that, it can also accommodate 1 or 2 children along with 2 adults easily. 
Alaskan King
The Alaskan king bed dimensions are 108 inches wide and 108 inches long. It makes a perfect large square, and for that reason, these mattresses should be placed in master bedrooms or super-spacious rooms. 
An Alaskan King is the largest king mattress available in the market. This is also the reason, these mattresses are not easy to find. You'll have to get it made from a manufacturer as their demand is not that high. 
Alaskan King Bed: Pros and Cons
No matter however perfect a mattress is, it will always have its pros and cons; Let's dive into them. 
Pros
An extra big dimension is great for families and couples
It can accommodate 4 people easily
Ideal for master bedrooms
These beds are ideal for tall people who are near 6 feet
Cons
It's very heavy to move
It occupies a lot of space
These beds can be pretty expensive
These are not easily available in the market and you'll have to get them custom made
California King Bed: Pros and Cons
Before you pick a California mattress, be sure to know their pros and cons; Let's dive into them.
Pros
It can accommodate 3 people easily
These beds are easily available in the market
Ideal for master bedrooms
These beds are ideal for tall people who are near 6 feet
Cons
It's very heavy to move
It occupies a lot of space
These beds are not that expensive as compared to Alaskan king beds
How to Choose Between a California King and an Alaskan King Bed?
People probably decide to go for a king-size bed because they need more space and comfort. While keeping that in mind, there are other factors that one needs to consider before choosing between Alaskan king bed vs. California king bed. Let's explore these factors in detail, shall we? 
Room Size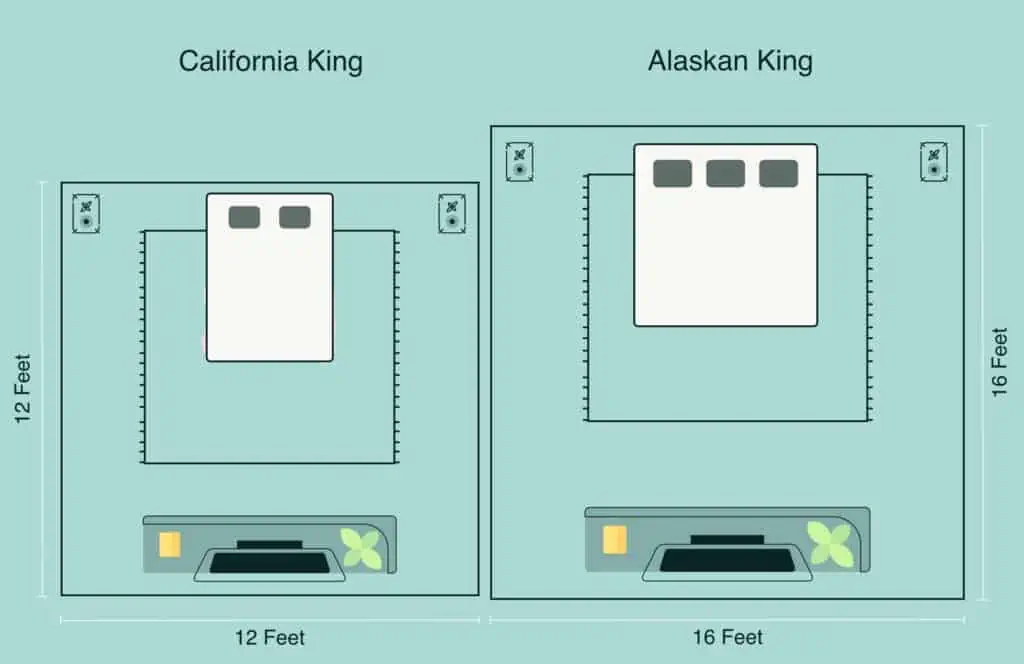 The first most important factor when choosing a bed is the room size. Understanding your room size and what kind of bed will fit into it will make it easier to find a bed. For an Alaskan king bed, the ideal room size should be 16 feet x 16 feet and above. 
As for a California king-size bed, the ideal room size would be 13 feet x 13 feet. It is important to get the room size right, otherwise, you'll end up feeling blocked by your bed. 
Budget 
It is the second most essential factor or rather the first thing people notice about a mattress. Remember, when buying an Alaskan King mattress you'll have to spend more than other mattresses. These beds are custom made and are not easily available at every brick and mortar store or online store for that matter. 
If you have a tight budget and wish not to spend more on a mattress, then a California king is the best choice for you. It will make it super easy for you to find the right bedroom accessories for a California king rather than an Alaskan King, which can burst your budget easily. 
Usage & Needs
Who is going to sleep on the mattress simplifies the type of mattress you are looking for. You should know who is going to sleep on the bed? What is the height of the person(s)? 
Do they need extra space? Are you looking for a family mattress? And so on. 
Once you know the answers to these questions, narrowing down your mattress will be very easy. According to the needs you can choose between a Cal king and an Alaskan king mattress. If you have 4 members in your family, then you can easily choose an Alaskan king-size bed to comfort everyone. 
A California king-size bed is ideal for couples with 1 child or a fur-friend. Another plus point of choosing a Cal king mattress is that you'll have ample space in your bedroom and wouldn't need to live congested.
The Alaskan King bed size is the largest king-size bed available in the market. If you wish to get a bigger bed than this, you'll have to get it customized by a manufacturer.
An Alaskan king bed can accommodate up to 2 adults and 2-3 children easily. It is a super-spacious bed that is perfect for a family who likes to sleep together.
The other types of king beds available are, Standard king, California king, Texas King, and Alaskan King beds. You'll also find a split king mattress easily available in the markets. All of these beds are suitable for different people and families. 
A standard king-size bed can accommodate a couple and a small child, while Texas and California king beds can accommodate up to 2 adults and 1 child. As the king-size grows, it can accommodate taller individuals including 2 adults and 2-3 children.
This website does not offer medical advice nor professional medical services; rather, it is provided solely for educational, informational, and/or entertainment purposes. Individuals seeking medical advice should consult a licensed physician. The information provided should not be used for diagnosis or treatment of any condition, disease, or injury. When you have a medical condition, you should always talk to licensed doctor or other certified medical professional.  You should never delay seeking professional medical advice or treatment based on the contents of this website.  Call 911 or immediately go to the nearest emergency room if you think you may have a medical emergency.  The contents of this website are provided "as-is", Sleep Authority and its parent, subsidiaries, affiliates, employees, contributors disclaim any warranty of the information contained herein. Please contact using contact form to report any errors, omissions, misinformation, or abuse.