California King vs King: What Is the Difference?
Writers at Sleep Authority are supported by a research team conducting in-depth research about the topics. The editorial team reviews them for accuracy and facts to ensure the most authentic and accurate content is published. Sleep Authority does not offer any medical advice, and you should not rely solely on our content for your course of treatment. Consult your medical professional to discuss any health concerns, chronic conditions, treatment options, or diagnoses.
When it comes to California King vs King, people tend to get confused and assume that a California King is bigger than a standard king. However, that's not it. The differences between the two lies in their dimensions. While standard king beds measure 76 X 80 inches and 6,080 square inches, a California King bed is 72 X 84 inches and the surface area is 6,048 square inches.
If you are on the lookout for a new mattress and are confused between California King beds and a king, then just keep reading ahead. We bring you everything you need to know about the two! 
What is the Difference Between California King and King?
The basic difference between a standard California king vs King is the width. California King sized beds are 76 inches long but narrower than King, whereas King sized beds are shorter with 72 inches measuring a difference of 4 inches.
Here's a table added below for your reference to understand the basics of both the mattresses. Have a look.
California King vs King Mattress Comparison 
| Parameters | California King | King |
| --- | --- | --- |
| Length | 72" | 76" |
| Width | 84" | 80" |
| Surface Area | 6,048 sq. inches | 6,080 sq. inches |
| Other Names | Western King | Eastern King |
| Recommended For | Couples with Kids/Tall People | Couples/Couples with Kid |
| Price | $900-$2000 | $600-$2000 |
What Is a King Size Mattress?
A king size mattress measures 76 X 80 inches. It is exactly equal to two twin XL mattresses put together. Also known as an Eastern King mattress, it is a great option for couples and couples with children or pets. It is one of the largest standard mattress sizes available in the market with a total surface area of 6,080 inches. 
A king size mattress is a great option for master bedrooms or rooms that measure at least 12 X 10 feet. But, the best room dimensions for a king are 13 X 13 feet. This offers individuals enough space to move around without feeling congested and uplifts the room aesthetically.
What Is a California King Sized Mattress?
Also known as Western King or nicknamed Cal King, a California King mattress measures 72 X 84 inches. It is a great choice for taller individuals who are over 6 feet tall. Since it is a narrower option when compared to a king-size bed, it is the second-largest mattress size available. However, since a Cal King bed is not very wide, it can only fit one or two children along with a couple otherwise, it can become slightly congested. 
A Cal King mattress is an ideal choice for large rooms or master bedrooms that measure at least 12 X 12 feet. However, a 14 X 14 feet room is the perfect fit as there will be enough room to move around even after placing the bed. 
King vs California King: Pros and Cons
Now that you are familiar with all the basic information about king and California King mattresses, let's take a look at all the advantages and drawbacks they offer. This will help you make a better decision. 
King 
Pros 
It is a great mattress size for couples who toss and turn or like to stretch and sleep. 
It is suitable for large bedrooms and also looks aesthetically pleasing. 
The option is easily available in the market.
You can also find split king mattresses which is ideal for couples with different sleep needs. 
Cons 
When compared to a queen, a king bed size is slightly expensive. 
If you don't have large rooms, the regular king can feel overcrowded. 
Due to their size and weight, it is not very easy to move them around. 
California King
Pros 
It is perfect who tall sleepers. 
The mattress dimensions are ideal for a couple who wants to sleep with their child or pet. 
You will also find a split Cal King mattress, which is ideal for couples with different sleep needs. 
Cons 
It is not very easily available. 
A Cal King can be an expensive choice. 
Not very easy to move it around.
What to Consider When Choosing Between a King or California King Size Mattress?
Now you know all the pros and cons and the necessary information about a king and a Cal King. So here, we bring you all the other factors you must consider before choosing between a king and a California King mattress.
Room Dimensions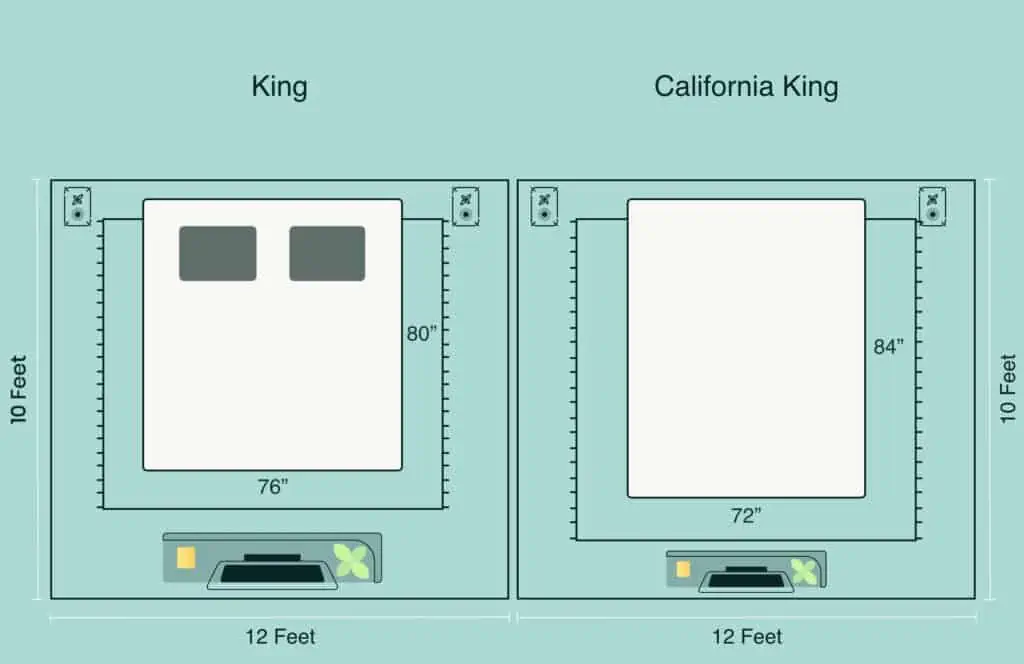 While both king and California King mattresses are ideal for large bedrooms, they each have ideal room dimensions you must consider. While a king seamlessly blends into a 13 X 13 feet room, the ideal choice for a Cal King is 14 X 14 feet. 
The thumb rule you need to follow here is to let a minimum of 2 feet of space on all three sides of the mattress. Why? This will make it easier for you to walk and move around in your room without it feeling overcrowded. 
However, if you have a smaller bedroom, you can always opt for a queen-size bed, which is again suitable for couples. 
Cost 
While a king is the largest bed in the market, a Cal King is the second largest. So, they are both expensive choices. But, when it comes to a Cal, it is slightly more expensive because it is a variety that's not very easily available. Also, you may end up paying more for the accessories as it is not very easy to find them either. 
Height 
Your height is a crucial deciding factor between a king and a Cal King. If you are someone who is taller than 6 feet then a Cal King is the ideal choice for you, while for people who are under 6 feet, a king is a suitable choice. 
Sleeping Partner
Are you someone who loves tossing and turning in their slumber or attempting gymnastic poses? If it's a yes, a wider option, which is a king-size bed is more suitable for you. However, if you cuddle and sleep, a Cal King is perfect. 
Mattress Foundation 
When it comes to choosing the ideal mattress foundation, the type of mattress comes into the picture and not the size. However, you will find all the popular mattress foundations for both king and California King easily. 
Both king and a California King mattress offer ample space for couples. Now that you are familiar with all the information there is between the two, we hope it's easier for you to make a decision.
Happy Mattress Shopping! 
This website does not offer medical advice nor professional medical services; rather, it is provided solely for educational, informational, and/or entertainment purposes. Individuals seeking medical advice should consult a licensed physician. The information provided should not be used for diagnosis or treatment of any condition, disease, or injury. When you have a medical condition, you should always talk to licensed doctor or other certified medical professional.  You should never delay seeking professional medical advice or treatment based on the contents of this website.  Call 911 or immediately go to the nearest emergency room if you think you may have a medical emergency.  The contents of this website are provided "as-is", Sleep Authority and its parent, subsidiaries, affiliates, employees, contributors disclaim any warranty of the information contained herein. Please contact using contact form to report any errors, omissions, misinformation, or abuse.