California King vs Queen: What Is the Difference?
Writers at Sleep Authority are supported by a research team conducting in-depth research about the topics. The editorial team reviews them for accuracy and facts to ensure the most authentic and accurate content is published. Sleep Authority does not offer any medical advice, and you should not rely solely on our content for your course of treatment. Consult your medical professional to discuss any health concerns, chronic conditions, treatment options, or diagnoses.
A comfy mattress is the abode of peaceful sleep and sweet dreams. Choosing the right mattress determines your new bed, and it needs to suit your bedroom and bring you comfort. While looking at different bed sizes for the master bedroom, people often get confused between a California king vs queen. The tension is evident because the major difference between a queen and a California king is the cost and space. 
But the question remains, which one is better? 
Here's the mattress guide with extensive points to help you make the best choice between queen and California king mattresses for your home.
What is the Difference between California King vs Queen Mattress?
A California King mattress is bigger, longer and wider than a Queen mattress. One can save space in their room by getting a queen mattress. It's 60″ wide, and 80 inches long, with a 6,800 sq inch surface area as compared to Cal king, which measures 76″ Wide by 80″. Despite being 16″ wider than its counterpart; reduced width makes it easier to manage different living areas without sacrificing comfort and support. Both the mattresses are ideal for couples and adults.
Here's a table for better understanding between the suggested two mattresses.
| Parameters | California King | Queen |
| --- | --- | --- |
| Length | 76 inches | 60 inches |
| Width | 80 inches | 80 inches |
| Room Size | 10 × 12 feet | 10 × 10 feet |
| Recommended For | Couples or adults with larger bedrooms | Couples or adults with small bedrooms |
| Price | $800-$1000 | $700-$900 |
What Is a Queen Size Mattress?
Queen size mattress is one of the most popular mattress choices, and this 60 inches wide, and 80 inches long mattress is well-suited for single sleepers and couples. There are three different sizes available in queen mattresses: standard, split, and Olympic queen mattresses. 
The variation in Cal queen mattress offers 30 inches wide and 80 inches in split queen and 66 inches wide and 80 inches in Olympic queen mattress. It is a cheaper option than a Cal king mattress and can be accessorized with two pillows. 
It is the perfect bed size for small apartments and houses. It fits beautifully in your room and gives you the luxury of space in your bedroom for other decorative. 
Pros 
The queen mattress is ideally suited for a queen bed, and there are many more pros to this mattress. 
It is the most popular choice for single adults. 
It is affordable and looks great. 
It offers great legroom. 
A queen mattress is ideal for couples. 
It has extra width and length. 
A queen mattress is affordable.
It leaves enough space for other things in the room. 
You can easily move it from one place to another.
It is an ideal choice for kids' rooms.  
Cons 
Queen-size is a great choice, but there are some drawbacks to this mattress bed size: 
A queen-size mattress does not suit tall people who are above 6 feet. 
It can be small for some couples. 
It does not go well for couples with children and pets. 
It will not look good in a big apartment. 
Most queen-size bed does not have availability for bedding accessories.
What Is a King Size Mattress?
The California king size mattress is the largest mattress on the market. This 72 inches by 84 inches offers ample space, looks majestic in your master bedroom, and blesses you with a comfortable and relaxing sleep. 
Cal King mattress is also known as the western king as it was first developed in Los Angeles. It is a lavish choice that brings out the whole look of your room. These are longer and narrower than a standard king size, making them an ideal option for all tall people worldwide. 
The California king size mattress or oversized mattress is also available in split size, which works wonders for individual sleepers without compromising the quality and comfort. 
Pros
It is difficult to summarize the mesmerizing experience of a cal king mattress in words. 
California king mattresses are best for couples. 
This mattress offers great comfort and enough legroom and width. 
It makes the best choice for front sleepers. 
A California king size mattress is perfect for people with children and pets. 
It is ideal for tall people – basketball players and other sportspeople. 
It adds a lush beauty to your master bedroom.
Standard king size is the luxurious option for a master bedroom. 
It gives enough room to accessorize the bed. 
Cons
With a big bed comes big responsibility. 
A California king bed is hard to maneuver because of its large size. 
Standard king size is more expensive than a queen size mattress. 
It does not fit well in all the apartments. 
It looks good in only spacious rooms. 
The accessories for the standard king size also cost more than the queen size.
Factors to Consider When Deciding Between a California King and Queen
After reading the key difference between a Queen and a California king, you must have gained a clear perspective. However, if you are still pondering, we can give you a helping hand. Choosing your bed size and mattress depends upon four primary factors that will help you select the perfect size and a non-regrettable mattress. 
Your apartment size
Your body structure 
Your lifestyle
Your budget 
1.It is essential to leave adequate space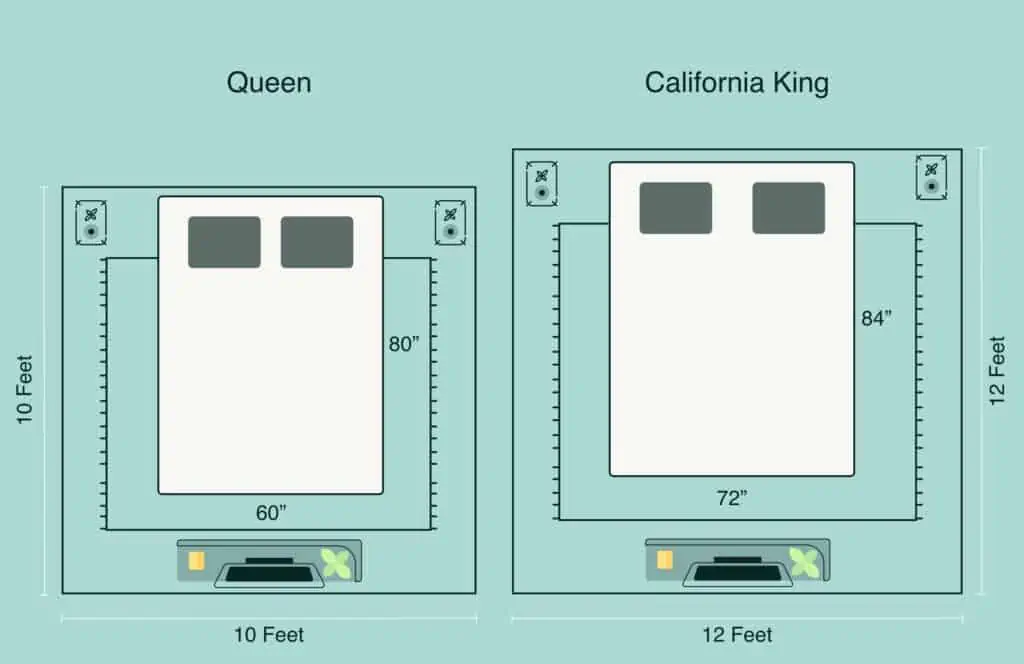 In your room after bed. Sit back and calculate which bed will fit better and look nice in your apartment. For example, queen size is wider and shorter, whereas a Cal king size is longer and narrower. So, the one that suits your body type will bring you the best good night's sleep or afternoon naps.
2. The next thing to consider is your lifestyle.
Are you a single sleeper or have a partner or kids? A Queen mattress is the best bed size for couples, making it easier for you to reach out to your partner.
3. Finally, the budget.
A Cal queen-sized bed mattress is cheaper than a Cal king bed mattress. Stretching your financial muscle in the wrong direction could be non-beneficial for a long time.
By reading our queen and king mattresses analysis, you can decide which one caters the best to your desire.
Hunting for a new mattress can be a rocky road, but we assure you that both California queen and king mattresses will bring you only happiness. All that you have to do is calculate all the factors involved and plan accordingly for your home. 
Hope we helped!  
To know more about all things sleep, visit our website on sleepauthority.com
This website does not offer medical advice nor professional medical services; rather, it is provided solely for educational, informational, and/or entertainment purposes. Individuals seeking medical advice should consult a licensed physician. The information provided should not be used for diagnosis or treatment of any condition, disease, or injury. When you have a medical condition, you should always talk to licensed doctor or other certified medical professional.  You should never delay seeking professional medical advice or treatment based on the contents of this website.  Call 911 or immediately go to the nearest emergency room if you think you may have a medical emergency.  The contents of this website are provided "as-is", Sleep Authority and its parent, subsidiaries, affiliates, employees, contributors disclaim any warranty of the information contained herein. Please contact using contact form to report any errors, omissions, misinformation, or abuse.