Full vs Double Bed: What's the Difference?
Writers at Sleep Authority are supported by a research team conducting in-depth research about the topics. The editorial team reviews them for accuracy and facts to ensure the most authentic and accurate content is published. Sleep Authority does not offer any medical advice, and you should not rely solely on our content for your course of treatment. Consult your medical professional to discuss any health concerns, chronic conditions, treatment options, or diagnoses.
When we talk about mattress sizes guide, two sizes, double bed and full size mattress are often used synonymously. However, if you ask if a double bed is the same as a full, the answer is yes. They both have the same dimension, each 75 inches long. However, a double bed size mattress is a foot wider than a single mattress size.  
Double mattresses are touted as one of the first standardized mattresses. In the US, manufacturers call it a full size mattress, while it is referred to as a double mattress in the rest of the world. As manufacturers started crafting more standard mattresses, single and double beds were named twin and full beds. 
In this article, we have shared our lowdown on the size of double beds and full beds. So, if you want to know more, give it a read!
What's the Difference Between a Double Bed and a Full-Size Mattress?
There is no difference between a double bed and a full size mattress. They are the same mattresses with the exact bed dimensions measuring 54 x 75 inches.
What Is A Double Bed Mattress?
In the early 1900s, the mattress manufacturers curated standardized mattress sizes, and so there were only two sizes available- single and double. Single mattresses were specifically designed for couples.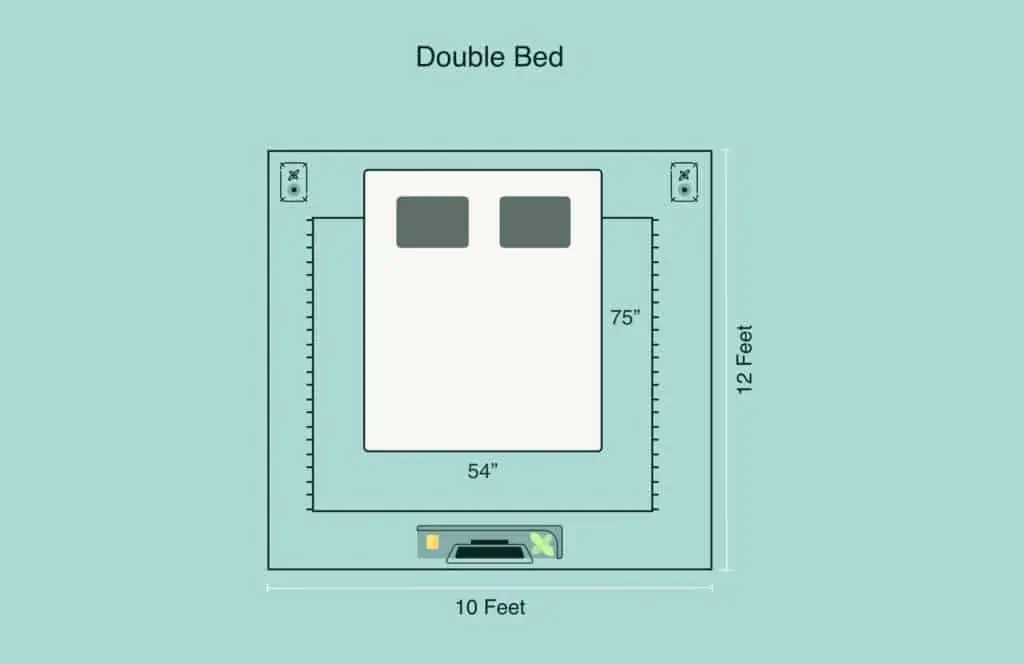 After World War II, the boom in the American economy led to the unfolding of queen and king size beds. With more spacious rooms, the need for larger mattress sizes was felt. Soon double size beds lost their name to queen and king size beds as they offered extra length. 
Today, double mattresses are hardly manufactured, especially in the United States. However, countries in Europe still make double bed dimensions of 54 by 75 inches.
Full size bed mattress measures 54 inches wide and 75 inches long. If you ask how big a full-size mattress is, then know it is the same as a double bed. It easily fits two adults. 
A full size mattress best accommodates in a room 10 feet by 10 feet easily while leaving space for bed frame and furniture. They make the perfect fit for studio apartments or where the space is restricted. 
Pros

Fits in easily in a compact room
Accessories and headboards are easily available in the market due to their mass popularity
Ideal for single sleepers and college students
Budget-friendly
Cons

Tossing and turning can be hard
Not suitable for taller people (6″ ft above)
Variations in Full-Size Mattress
If you need a smaller mattress size than a queen but bigger than a full, the best go-to option is a full XL mattress. A full XL measures 54 by 80 inches.
Other Standard Mattress Sizes
Twin Size Mattress
This twin size mattress measures 38 inches by 75 inches. As the size goes compact, it is the best fit for children and teenagers. An adult can also sleep on this mattress, but there won't be much space to stretch position. 
Best suited: Children and teenagers
Twin XL Size Mattress

The twin XL size mattress measures 38 inches by 80 inches. As the name suggests, twin XL is longer than twin size mattresses by 5 inches. The extra length provides space for growing teenagers. Usually, it is ideal for children's rooms, but adults can also use this mattress. If we compare twin XL and full size beds, the difference goes by 5 inches and 16 inches in length and width. 
Best suited: Children, growing teenagers, and adults. 
Queen Size Bed

A queen bed size mattress is 60 inches wide and 80 inches long. It is bigger than a full-size mattress by 6 inches and 5 inches in width and length. The extra length and width make the difference between a double bed and a queen bed. 
Best suited: Ideal for couples or two adults.  
King Size Bed

The spacious of all the mattress sizes is the King size bed. It is 66 inches wide and 80 inches long, making ample space for two or more people. A king bed is 12 inches wider and 5 inches longer than a full-size or double mattress. It can easily accommodate a room measuring 13 feet by 13 feet. 
Best suited: Ideal for couples and children or a pet.  
California king size

The largest in the standard mattress sizes is a California king mattress. Cal king measures – 72 inches wide and 84 inches long. As it makes the longest bed size of all, it is best suited for master bedrooms. 
Cal King mattress is 9 inches larger and 18 inches wider than the full mattresses. However, it is heavier in weight, so make sure you have enough space left in the room to move the bed around. 
Best suited: Ideal for tall people and couples.
If you want to buy a new mattress and don't know where to get started, here is our guide on mattress sizes. Learning about the mattress size guide will help you make the right decision about the mattress based on your requirements.
| Mattress | Size Dimension (in inches) | Dimension (in cm) |
| --- | --- | --- |
| Crib | 27.25 X 51 in | 69.2 cm X 129.5 cm |
| Twin | 38 X 75 in | 96.5 cm X 190.5 cm |
| Twin XL | 38 X 80 in | 96.5 cm X 203.5 cm |
| Full | 54 X 75 in | 134.5 cm X 190.5 cm |
| Full XL | 54 X 80 in | 137 cm X 203.5 cm |
| Queen | 60 X 80 in | 152.5 cm X 203.5 cm |
| King | 76 X 80 in | 193 cm X 203.5 cm |
| California King | 72 X 84 in | 183 cm X 213.5 cm |
We hope this guide has brought some clarifications on the double bed vs full bed dimensions. There is only so much difference between full and double bed sizes. If you want to explore more about full-size mattresses, check out Nectar's Gel Foam Mattress collection. 
This website does not offer medical advice nor professional medical services; rather, it is provided solely for educational, informational, and/or entertainment purposes. Individuals seeking medical advice should consult a licensed physician. The information provided should not be used for diagnosis or treatment of any condition, disease, or injury. When you have a medical condition, you should always talk to licensed doctor or other certified medical professional.  You should never delay seeking professional medical advice or treatment based on the contents of this website.  Call 911 or immediately go to the nearest emergency room if you think you may have a medical emergency.  The contents of this website are provided "as-is", Sleep Authority and its parent, subsidiaries, affiliates, employees, contributors disclaim any warranty of the information contained herein. Please contact using contact form to report any errors, omissions, misinformation, or abuse.