What Is an Eastern King Bed?
Writers at Sleep Authority are supported by a research team conducting in-depth research about the topics. The editorial team reviews them for accuracy and facts to ensure the most authentic and accurate content is published. Sleep Authority does not offer any medical advice, and you should not rely solely on our content for your course of treatment. Consult your medical professional to discuss any health concerns, chronic conditions, treatment options, or diagnoses.
An eastern king size bed is a type of King-sized mattress. Eastern Kings have no major difference in features or measurements compared with other types, such as California King or Western King. This article will tell you everything you need to know about these humongous king size beds – what makes one better than another? What's the difference between them and much more.
An Eastern King Bed measures 76″ by 80″, which means it may take up more space in your room with its 12′ x12' requirements! These types of beds are best suited for couples or a family of 3-4. Tall and heavy people may also find the Eastern King bed satisfactory.
What is the Difference Between Eastern King Bed vs California King Bed?
A California king bed is longer and skinnier, at 84 inches by 72 inches, while an eastern king bed's dimensions are 80 inches by 76 inches. In addition, the size of an eastern king bed is 6,080 square inches, while the size of a California king is 6,040 square inches.
The difference between a California king and an eastern king bed is that a California bed is skinnier and longer than an eastern king bed.
| Parameters | Eastern King Bed | California King Bed |
| --- | --- | --- |
| Length | 80 inches | 80 inches |
| Width | 76 inches | 72 inches |
| Surface Area | 6,048 sq. inches | 6,080 sq. inches |
| Dimensions | 6,080 sq inches | 6,040 sq inches |
| Best Suited To | 5'5" + height / People with kids / Bigger rooms / Side Sleepers | Tall people / People with pets / Narrow rooms / Side sleepers |
| Price | $900 – $2000 | $800 – $1700 |
To know more about different types of mattresses, their purpose and size guides, click here to dive deeper into the world of all things sleep.
Why Is It Called Eastern King Bed?
The eastern king size bed has nothing to do with its name. Many mattress experts state that it was believed to oppose the California King after World War II. The Eastern King bed was created in Los Angeles by an entrepreneur who had lost his home during The Fire Of 1933.
The differentiating idea between the two types was their size. The eastern bed is more square-shaped as compared to the California bed. Perhaps, it was the shape of the prior that led to the ditching of the California bed in the after years of its manufacturing.
Which One is Better: Eastern King vs California King?
Let us find out which mattress is better in terms of the following points:
If you have a taller height or your pet sleeps with you at the foot of the bed, it would be better to have a longer bed, the California king bed. People sharing the bed with their partners or parents with children could benefit from a wider bed, an eastern king bed.
Dimensions of your bedroom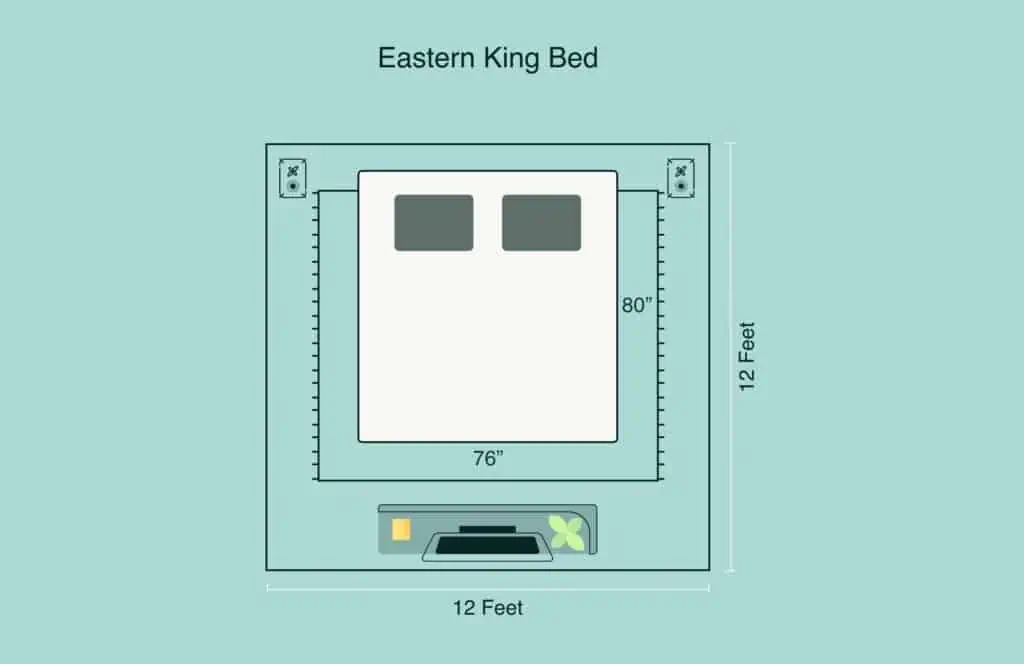 For a long yet narrow room, a California king bed is better. For a wide room, an eastern king size bed would be better. You will have to find out whether your room is narrow or broad. It should be big enough to fit your mattress comfortably. 
Due to the less availability of California kings, they are pricier than the eastern king beds. The space parts of the California bed are expensive too. 
While choosing the mattress based on the side of the bed is important for a bed that is 76 inches by 80 inches, an eastern king is better. A California king is better for a bed size 72 inches by 84 inches.
Other King Sized Mattresses
A few other mattresses larger than a California or an eastern king bed frame include Alaskan, Texas king, and Wyoming. The Alaskan king is nine feet in each direction, measuring 108 inches by 108 inches. The Texas king has 14 inches on top of the California king with a similar width. The Wyoming king is wider and longer than an eastern king bed frame.
Standard king beds and eastern king beds are similar sized and require a bedroom of 12 feet by 12 feet. Two young children and two tall adults can accommodate themselves on an eastern king bed. This article aims to help you understand what an eastern king bed is, along with its specifications, to help you make a more informed decision while buying your next bed.
This website does not offer medical advice nor professional medical services; rather, it is provided solely for educational, informational, and/or entertainment purposes. Individuals seeking medical advice should consult a licensed physician. The information provided should not be used for diagnosis or treatment of any condition, disease, or injury. When you have a medical condition, you should always talk to licensed doctor or other certified medical professional.  You should never delay seeking professional medical advice or treatment based on the contents of this website.  Call 911 or immediately go to the nearest emergency room if you think you may have a medical emergency.  The contents of this website are provided "as-is", Sleep Authority and its parent, subsidiaries, affiliates, employees, contributors disclaim any warranty of the information contained herein. Please contact using contact form to report any errors, omissions, misinformation, or abuse.