Full vs Queen: What Is the Difference?
Writers at Sleep Authority are supported by a research team conducting in-depth research about the topics. The editorial team reviews them for accuracy and facts to ensure the most authentic and accurate content is published. Sleep Authority does not offer any medical advice, and you should not rely solely on our content for your course of treatment. Consult your medical professional to discuss any health concerns, chronic conditions, treatment options, or diagnoses.
The Queen mattress is one of the most popular mattress sizes, especially for couples and master bedrooms. But, a full size bed could also be your go-to option if you have limited space in your room and don't want to burn a hole in your pocket. 
If both options are good then which one should you be investing in? What is the difference between queen vs full? Questions could be many but their answers are simple. 
Our detailed guide below about the differences between Full vs Queen mattresses will help you undermine all the insights related to them. Have a look.
What is the Difference Between Full vs Queen Mattress?
The difference between a Full vs Queen mattress is– A queen mattress size is 6 inches wider and 5 inches longer than a full mattress and is ideal for couples. 
Added below is a table for your reference to understand the fundamentals of the two.
| Parameters | Full Mattress | Queen Mattress |
| --- | --- | --- |
| Length | 75 inches | 80 inches |
| Width | 53 inches | 60 inches |
| Surface Area | 3,975 sq. inches | 4,800 sq. inches |
| Recommended Room Size | 10 feet by 12 feet | 10 feet by 14 feet |
| Recommended For | Single Sleepers / Kids' Room / Guest Room | Room Single Sleepers / Couples / Master Bedroom |
The dimensions of a queen-size mattress are bigger than a full mattress. For example, the length of queen size bed is 5 inches, and the width is 7 inches more than the full bed.
To learn more about our mattress guides and bed dimensions as per your needs and preferences, visit sleepauthority.com or click here to get redirected.
Full vs Queen Mattress: Pros and Cons
Both queen and full beds come with advantages and disadvantages that may not suit your sleeping style. Therefore, it is always better to understand the pros and cons of both these beds before buying a mattress.
Full Mattress
Full mattresses or double beds are smaller than a queen mattress and broader than twin or twin xl beds. It can be easily used in college dorm rooms, guest rooms, and smaller bedrooms.
Pros
A full bed is cheaper than a standard queen size mattress
Shifting and relocating the bed is easy
Bedding accessories are readily available
Ideal for smaller rooms
Cons
Space constraints for couples
You may not be able to sleep with your pets or toddler
Queen mattresses are bigger than a full mattress and twin beds but smaller than California king beds.
Pros
Queen beds are suitable for couples
An excellent option for single adults who want more leg space
Ideal for master bedrooms
Bedding accessories are readily available 
Cons
Expensive than a full mattress
Much heavier and difficult to move
Factors to Consider Before Deciding Between Full vs Twin
Here are some of the factors you should consider before deciding whether to go for a full or a queen-size bed.
Sleeping Partner
An essential factor to consider is sleeping alone or with a partner. If you are sleeping alone, both full and queen mattresses will provide you with a good sleeping space. However, if you are sleeping as a couple or with a pet or a kid, you should consider a queen bed as it is much broader and longer than a full bed.
Cost 
If you are tight with your budget, you should consider a full XL mattress. A full bed is around $50-$250 less than a queen mattress for the same size. Also, the bedding accessories cost less for a full mattress than for a queen bed. Therefore, the cost of a full bed is less than a queen mattress but more than twin xl mattresses.
Versatility
Although size is a significant factor to consider while deciding on your mattress, a mattress might last for 7-10 years, and you may need to consider your futuristic plans. For example, if you are sleeping single right now but might sleep with a partner 2-to 3 years down the line, you may consider a queen mattress. 
Height & Sleep Positions
The most visible difference between a full and queen mattress is the breath; however, you also need to consider the 5-inch difference in lengths of both beds. If you are more than 6 feet, those extra 5 inches will help you get a good leg space and sleep comfortably without getting restricted. Queen beds are also suitable for stomach and back sleepers as it helps in pressure relief when they stretch their legs.
Bedroom Dimensions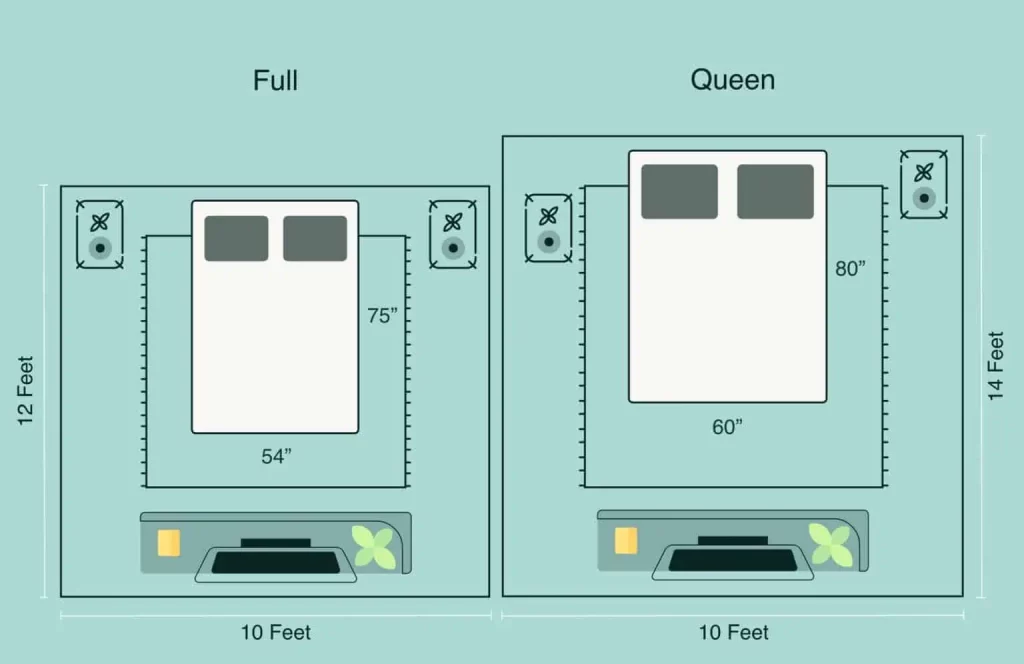 If your bedroom is compact and you need a bed that occupies less space, you may consider a full-size mattress. Full beds occupy significantly less space compared to a queen bed. For smaller rooms, a queen bed may restrict the bedroom space substantially.
Ease to Move
Like a twin-size mattress, both full and queen beds are easy to move. However, full mattresses are much more manageable through the corners, stairs, and during transportation.
Although deciding on a mattress size is challenging, having accurate information regarding their differences makes the process simple. Both full and queen beds come with many benefits, and we recommend you go with the one that fits all your sleeping requirements. Hopefully, our detailed guide on queen vs. full with the comparison chart, pros and cons, and the factors to consider will help you decide on the perfect mattress for your sleep time.
This website does not offer medical advice nor professional medical services; rather, it is provided solely for educational, informational, and/or entertainment purposes. Individuals seeking medical advice should consult a licensed physician. The information provided should not be used for diagnosis or treatment of any condition, disease, or injury. When you have a medical condition, you should always talk to licensed doctor or other certified medical professional.  You should never delay seeking professional medical advice or treatment based on the contents of this website.  Call 911 or immediately go to the nearest emergency room if you think you may have a medical emergency.  The contents of this website are provided "as-is", Sleep Authority and its parent, subsidiaries, affiliates, employees, contributors disclaim any warranty of the information contained herein. Please contact using contact form to report any errors, omissions, misinformation, or abuse.