Olympic Queen vs Queen: What's the difference?
Writers at Sleep Authority are supported by a research team conducting in-depth research about the topics. The editorial team reviews them for accuracy and facts to ensure the most authentic and accurate content is published. Sleep Authority does not offer any medical advice, and you should not rely solely on our content for your course of treatment. Consult your medical professional to discuss any health concerns, chronic conditions, treatment options, or diagnoses.
Having a good mattress is an essential key to your overall well-being. And if you feel dizzy, tired, or weary even after spending long hours on the bed, then tis' time for you to analyze your mattress and change it too. But before picking between an Olympic Queen vs Queen mattress, you must consider your bed requirements. Do you sleep alone or share your bed with your partner? What is the size of your room? What's the bed's space availability ratio, excluding the bedding accessories? These are some factors you must consider before investing in a mattress. So, here's a quick mattress guide between Olympic Queen vs Queen to help you make a sound decision.
What is the Difference Between Olympic Queen vs Queen?
The Olympic Queen mattress measures 66×80 inches, offering 6 inches of extra space than a queen mattress, making it ideal for couples. The Olympic Queen mattress is wider than a queen bed and doesn't need space like a king size mattress. It offers more comfort and falls under the similar price range of a queen mattress.
| Parameters | Texas King | California King |
| --- | --- | --- |
| Length (in inches) | 66 inches | 60 inches |
| Width (in inches) | 80 inches | 80 inches |
| Surface Area | 5280 sq. inches | 4800 sq. inches |
| Recommended Room Size | 14 ft x 10 ft (can fit in a 10×10 ft room as well) | 10×10 ft room |
| Best | Used in Master Bedrooms | Guest Room/ Kids' Room |
| Ideal For | Couples | Preferably Singles |
| Price | $1000-$3000 | $1000- $1800 |
To know more about Sleep Science, sleep disorders and all things sleeps, visit Sleep Authority or click here.
What is an Olympic Queen size mattress?
The Olympic Queen size mattress dimensions are wider than different standard mattress sizes. The dimensions of Olympic Queen beds are 66 inches in length and 80 inches in width, making them more comfortable. Hence, the Olympic queen mattress offers 3 inches wider width than other standard queen-size mattresses, making it a more comfortable sleeping experience for couples. 
However, you may need a lot of open space to accommodate the Olympic Queen mattress because of its expansive dimensions. You can place it either in your bedroom or a large guest room if the area allows. The Olympic Queen bed is an excellent choice for couples against Queen size mattresses. 
However, the availability of the Olympic Queen size mattresses is pretty rare, given their size.
Very few online stores and physical mattress stores feature these mattresses. 
Very few manufacturers make this size available. Hence, finding compatible bedding accessories and frames can be a challenging task. It is also challenging To find your preferred mattress style and type in this range as it is rarely available. You may have to settle for whatever is available. 
For example, finding a memory foam mattress among Queen vs Olympic Queen is more accessible than finding a hybrid mattress in the same mattress range. 
Hence, even though you see an Olympic Queen size mattress, you will hardly find the right fit that you have always been searching for. Very few stores have these mattresses. You may find them in online stores, but only branded stores will make these big-sized beds available to you.
Benefits of Olympic Queen sized mattress 
The Olympic Queen size mattress is relatively 6 inches wider compared to a standard queen size mattress.
This mattress is comfortable for couples or families who share the same bed.
There is not much variation in price range, too, compared to other standard queen size mattresses.
They are a perfect fit for large master and guest bedrooms.
Downsides of Olympic Queen sized mattress 
It is tough to find an Olympic Queen size mattress. Not all manufacturers provide this size bed.
It may, sometimes, slightly overshoot your budget range. Hence, if you want other variations, it can cost you a lot.
It is also challenging to find suitable bedding accessories or bed frames for this mattress. 
What is a Queen size mattress?
Out of all standard mattress sizes, Queen size bed is the most often purchased big-size mattress. The dimensions of the Queen size mattress are 60 inches in length and 80 inches in width; a Queen mattress is a fantastic choice for people who occupy the bed for themselves. 
Queen beds are easy to carry and more around. You can place them in guest rooms or other small bedrooms for single sleepers, especially if there is not enough room for Olympic Queen beds. 
It can be a convenient choice for even couples if they are not taller. Queen size mattress is the best option for smaller rooms or apartments. It leaves significant space for other furniture and to walk around. 
Since the Queen size mattress is limited in size with 60 dimensions, it is relatively easier to find the bedding accessories and frames compatible with this size. Queen size mattresses are pretty popular in standard mattress sizes. 
Contrary to the Olympic Queen mattresses, it is not difficult to find standard Queen size mattresses. Almost all mattress manufacturers have queen size mattresses. So, you can choose the different styles and models you want.
They are available in different firmness levels and inner materials. You can even go for memory foam, latex, gel, innerspring, or even hybrid mattress type. This is not the case with Olympic Queen size mattresses. So, if you think Queen mattresses qualify your requirements, everything about them is easy, including shopping, installation, and moving them around your house.
Pros: Queen Mattress 
If you are an individual sleeper, there is no other best fit for you other than this. It can easily accommodate single sleepers and leave away extra space for a comfortable experience
The price of standard queen-sized beds is extremely affordable compared to other mattresses.
These beds can easily fit into small rooms and apartments. Hence, this is your perfect hit if you are short on space. 
Cons: Queen Mattress 
Size is the biggest downside of these mattresses. It is good enough for one single sleeper but cannot accommodate more. 
If you are a person with a heavy body weight and extensive height, you may ultimately feel the need of an Olympic queen size mattress. 
It may look small if you place it in big rooms. Hence, it is not a good appeal.
Factors to Consider While Deciding Between Olympic Queen vs Queen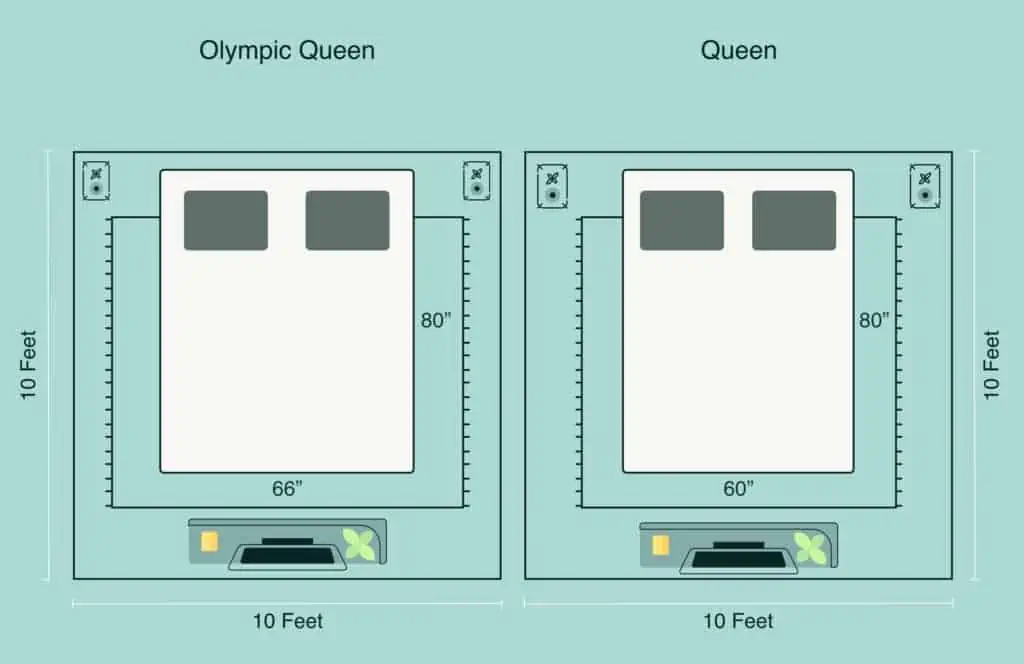 Before buying a mattress, one should always make sure that the chosen mattress fits well in the room you have planned for it. A standard Olympic queen and a Queen size bed require at least 10 feet x 10 feet of space, so be mindful about how many floors or other furniture will need to move out of the way before installing anything new.
There are many reasons why taller people can single-handedly go for a California queen mattress. This implies in cases where you're over 6 feet, and the standard size doesn't offer enough room to stretch out comfortably on it. In addition, California queens provide an extra 4 inches of length compared to standard ones, which can be perfect for you if your feet keep brushing against furniture while sleeping.
Given that both Olympic queen and a Queen size mattresses are usually around the same price range, their decision-making depends on the other aspects and not price independently. So if you're confused between these two options for your next mattress purchase, we've got good news! You can go with either one without breaking out in hives from spending too much money at once on bedding materials. A standard Queen Mattress starts at a range of $899.
When looking for the perfect mattress, it's important to consider who will be sharing your bed. Some people may want a solely- sleeping partner in their life, while others might enjoy having someone else around. In either of the cases, invest in a mattress that suits you and your partner's needs single-handedly. After all, everything boils down to a good night's sleep at the end of the day, and it should be as simple as this!
Other Queen Size Mattresses
Standard queen and Olympic queen aren't the only queen size mattresses available in standard queen size mattresses category. 
The California queen size mattress is 4 inches wider compared to standard queen size mattresses in contrast to the Olympic queen mattress. 
Short queen mattresses are available in 5 inches less wider surface area compared to standard queen mattresses. 
For single sleepers, Queen size mattresses are the best fit. On the other hand, the Olympic Queen size mattresses are a wise option for couples, master bedrooms or families who share a single bed. But you need to think about the budget, too, if you intend to opt for an Olympic Queen size mattress. Do not forget to consider your room and house dimensions before finalizing between the two. Until then–  Happy Sleeping!
No. Olympic Queen Mattress will fill out of the Queen bed frame because of the dimensional difference between queen and Olympic queen mattresses. 
The mattress will overflow out of the Queen bed frame because Olympic queen mattress' dimensions are wider compared to the standard queen size bed. 
No. Olympic Queen mattresses are wider compared to Queen beds. Hence, they will not fit the Olympic queen bed. 
Queen size bed covers will not completely cover the Olympic Queen size mattresses. But, it is difficult to find size compatible Olympic Queen size bed covers.
The Olympic Queen mattress is sometimes referred to as Super Queen. Hence, the Super Queen mattress is 6 inches wider compared to the standard queen size mattress. 
So, width is the major difference between Queen and Super Queen mattresses.
This website does not offer medical advice nor professional medical services; rather, it is provided solely for educational, informational, and/or entertainment purposes. Individuals seeking medical advice should consult a licensed physician. The information provided should not be used for diagnosis or treatment of any condition, disease, or injury. When you have a medical condition, you should always talk to licensed doctor or other certified medical professional.  You should never delay seeking professional medical advice or treatment based on the contents of this website.  Call 911 or immediately go to the nearest emergency room if you think you may have a medical emergency.  The contents of this website are provided "as-is", Sleep Authority and its parent, subsidiaries, affiliates, employees, contributors disclaim any warranty of the information contained herein. Please contact using contact form to report any errors, omissions, misinformation, or abuse.