Split King vs King: What Is the Difference?
Writers at Sleep Authority are supported by a research team conducting in-depth research about the topics. The editorial team reviews them for accuracy and facts to ensure the most authentic and accurate content is published. Sleep Authority does not offer any medical advice, and you should not rely solely on our content for your course of treatment. Consult your medical professional to discuss any health concerns, chronic conditions, treatment options, or diagnoses.
Imagine finally getting the sleep you deserve. You wake up feeling refreshed, with no sore muscles and no clogged sinuses. Isn't this a fantastic feeling! The key to this happiness may be as close as a Split King bed. However, a King size bed can do equally good to you and your partner, But how?
In this article, we will unfold the differences between Split King vs King mattresses and help you make a decision that's worth an investment for the two of you.
Split King vs King Mattress Comparison
There's not that much difference between Split King vs King mattresses, aka Eastern King beds. Split King and King mattresses are 76″ x 80″, and are about the same size as an average twin XL mattress, with 38 inches on each side. However, the split king mattress is downright split from the middle. Its price range starts from $1000-$1200. Whereas King size mattress ranges between $1100-$1300. Both the beds are ideal for couples as they offer more space and comfort.
Before you choose a bed and a mattress for you and your family, we would suggest you go through the following elements to make an informed decision before investing in one. Below is a comparison chart that would simplify the differences between the two.
Even though the dimensions are the same, both king vs split king have some unique features to offer. This table will help you with the same.
| Parameters | King Mattress | Split King Mattress |
| --- | --- | --- |
| Length | 76 inches | 38 inches |
| Width | 80 inches | 80 inches |
| Surface Area | 6080 sq. inches | 6080 sq. inches combinedly |
| Bed Size (Inches | 76″ x 79″ | 76″ x 79″ |
| Ideal Room size (Feet) | 12′ x 12′ | 12′ x 12′ |
| Best Suited | For Couples with a child or a pet / Adults who like space | Couples with different sleeping preferences / Tall people |
| Price | $800- $1199 | $700- $1299 |
Though a king size bed is a great option to accommodate family needs, a California king bed is ideal for tall sleepers. The dimension of a standard king size mattress or the adjustable split king mattress is 76 x 80 inches. And the dimension of a California king mattress is 72 x 84 inches, as Cal king beds focus more on accommodating the tall sleepers comfortably.
Many individuals prefer a split California king bed as it gives them the option of extra space while eliminating motion transfer between the two mattresses, allowing both partners a good night's sleep along with their personal preference of bed firmness. 
If you or your family members are about 7 feet tall, then buying a California king bed or a split California king bed would be the ideal choice. Such a bed with extra length will allow you to comfortably sleep or laze around in the bed while not having the discomfort of your feet dangling out of bed. 
However, the only problem with a California king bed or a split California king bed is that these beds and mattresses are a bit expensive as compared to the standard king size beds. However, you are the best judge of your requirements, so choose wisely and meet your comfort and convenience requirements.
What Is a Split King Bed?
A split king bed comprises two twin XL mattresses stacked in a single bed frame. In other words, it is a king size mattress that has been split longitudinally into two halves. The dimensions of a king mattress are 76 x 80 inches which are also the same in the case of two split king mattresses put together. So this means that a split king bed is the same size as that of a king size bed. 
The primary difference between king vs split king beds is that a split bed allows the sleeping partners to prioritize their sleep health while still sharing the bed. One partner may opt for a different elevation by tilting the adjustable bed frame and control their personal sleep setup.
Split King Bed: Pros and Cons
Let us discuss the benefits of a split king bed along with its drawbacks to help you make an informed decision while buying a mattress for your home. 
Split King Bed Pros
It offers a lot of space 
Ideal for couples with different sleeping preferences
You can have different bed firmness
Motion transfer is almost negligible
Convenient to move around two smaller (XL size – 38×80 inches) mattresses 
Split King Bed Cons
Not ideal for couples sleeping with children or pets
More expensive than a standard king mattress
Need separate bed sheets and covers
The visible line between the split mattress are aesthetically not so appealing
The split line offers discomfort to either partner if they roll over to the middle
A king bed, also known as eastern king bed, has a mattress size of 76×80 inches and is ideal for rooms with 12×12 feet dimensions. These are among the largest beds and are ideal for couples sharing their bed or cuddle with their children or pets. 
Buying a bed is a long-term investment, so you must know the features, comfort, and other specifications of a mattress before buying one. 
Many individuals find it confusing to choose between a king and split king bed. However, a thorough understanding of the difference between a split king vs king will help them make the right choice.  
Let us discuss the benefits and drawbacks of a king bed to help you understand the difference in their specifications and also help you to choose the right bed and mattress for yourself. 
King Bed Pros
Largest standard size bed
Ideal for couples who love more personal space
Can accommodate children and pets 
Can use it on single and adjustable bed frames
King Bed Cons
Difficult to move the mattress due to its size and weight
Not a good choice for rooms smaller than 12 x12 feet as the bed will take up a lot of space
Expensive compared to smaller variants
Factors to Consider While Deciding Between a Split King vs King?
Before buying a mattress, one must question themselves and ensure if the mattress of their choice lives upto these certain and unmissable factors. Here are some of them for you consider. Have a look: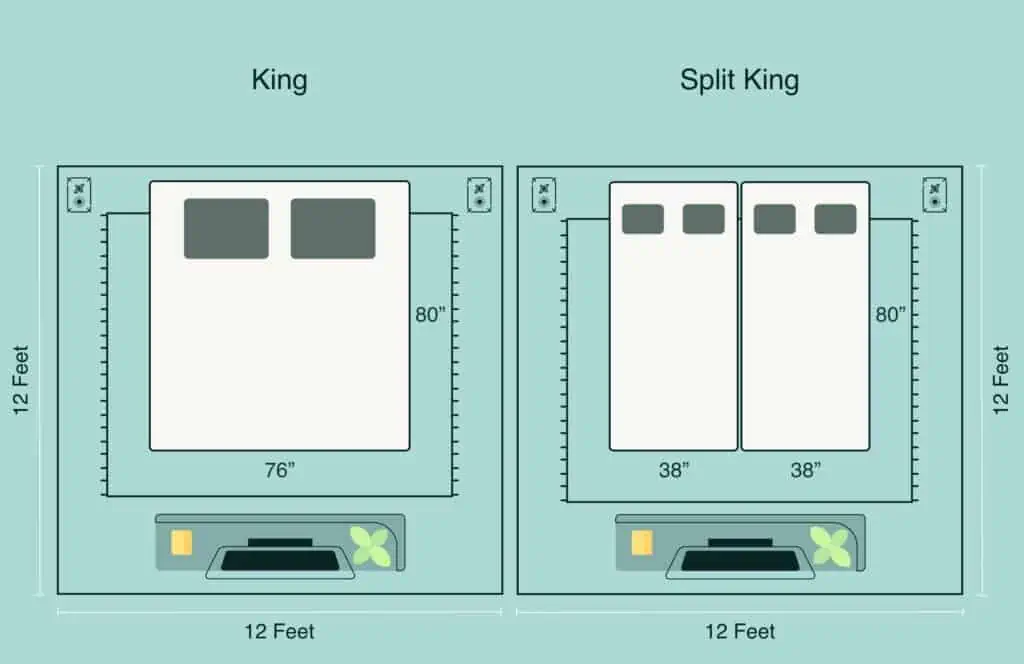 As much as a bed can add beauty and comfort to a bedroom, it can go wrong for you if the room size is not measured well. Therefore, room dimensions play a crucial role in mattress picking. A standard King Size and Split King size mattress, needs a minimum room space of 12 x 12 ft. Therefore, one must ensure that the room has a 3 ft open area from all the three sides of the bed. It is necessary to have that extra space to roam around in your room and add furniture if need be.
When it comes to the cost of Spilt King and King mattresses, the difference is barely there. Given that both the beds are alike only with a distinction of separation in Split King that is downright divided, one ought to choose from the features and the specification of these two. Elsewise, pricing shouldn't be an aspect to consider regarding the Split king and King size beds. 
Provided that both the mattresses are the same, be it a taller or a medium heightened person, both the beds offer their users the best of themselves. Taller people can have a sleeping retreat on the split king and king-size beds because of their size. In contrast, couples with a baby or a pet can even sleep comfortably without feeling cramped length or width-wise. Especially, duos with different sleeping needs will love Split King.
If you and your partner share the bed, then it's necessary to have a mattress that caters to the need of both individuals. This is exactly where Split King, unlike the traditional King mattress, takes the cake. Split king, because the split downright adjusts according to the sleeping preferences of different sleeping partners without having to switch the bed or the room.
Is Split King Better Than King?
Many individuals wonder if a split king is better than a standard eastern king bed. We would suggest they understand and analyze the difference between a king and a split king before investing. As we have discussed already that a king size mattress is the same size as that of a split king mattress, the differences are mainly on finer points. 
If your priority is to have a large bed in a spacious bedroom, then you can opt for either a king mattress or a split king mattress. However, if your sleeping partner prefers a different level of bed firmness and other personal preference while sleeping or relaxing, then buying a split king mattress would be a good decision.
This website does not offer medical advice nor professional medical services; rather, it is provided solely for educational, informational, and/or entertainment purposes. Individuals seeking medical advice should consult a licensed physician. The information provided should not be used for diagnosis or treatment of any condition, disease, or injury. When you have a medical condition, you should always talk to licensed doctor or other certified medical professional.  You should never delay seeking professional medical advice or treatment based on the contents of this website.  Call 911 or immediately go to the nearest emergency room if you think you may have a medical emergency.  The contents of this website are provided "as-is", Sleep Authority and its parent, subsidiaries, affiliates, employees, contributors disclaim any warranty of the information contained herein. Please contact using contact form to report any errors, omissions, misinformation, or abuse.