Texas King vs California King: What is the Difference?
Writers at Sleep Authority are supported by a research team conducting in-depth research about the topics. The editorial team reviews them for accuracy and facts to ensure the most authentic and accurate content is published. Sleep Authority does not offer any medical advice, and you should not rely solely on our content for your course of treatment. Consult your medical professional to discuss any health concerns, chronic conditions, treatment options, or diagnoses.
If you want your bed to make a big statement, you might be considering something beyond King sized beds. That's where oversized beds and mattresses come in. There are various kinds of oversized mattresses like the California king and the Texas King.
For couples, an oversized mattress can provide ample room to sprawl out and sleep comfortably without feeling cramped. Families with young children may also appreciate the extra space an oversized mattress provides, allowing everyone to pile in for family movie night or a cozy nap together. Therefore, in this article, we will discuss the differences be​​tween Texas King vs California King so that you're sure of your next oversized bed investment.
What is the Difference Between Texas King vs California King?
A Texas King mattress is 8 inches wider and 14 inches longer than a California King. It offers plenty of room to stretch out. Whether you're Tall or just looking for more space, a Texas King can give you the extra room you need. The Difference between Texas king vs California king lies in its dimensions. Texas king is longer and wider, with 98 inches long and 80 inches wide. In contrast, California king is 84 inches long and 72 inches wide.
Moving forward, below mentioned is a table for your reference to know the differences between the two oversized mattresses.
Texas King vs California King: Mattress Dimensions
| Parameters | Texas King | California King |
| --- | --- | --- |
| Length | 84 inches | 98 inches |
| Width | 72 inches | 80 inches |
| Surface Area | 6,048 square inches | 7,840 square inches |
| Recommended Room Size | 7,840 sq inches | 6,080 sq inches |
| Recommended For | Tall people (6ft below) / Good Fit for narrower room/ Couples | Tall people (6ft+) / Perfect Bigger rooms / Couples with kids (+2) |
| Price | $2000-$3500 | $600-$2000 |
What is a Texas King Mattress?
If you're looking for an oversized mattress that can accommodate your tall frame or provide plenty of space for you and your partner to sleep comfortably, a Texas king bed may be ideal. These oversized beds typically cost between $2000 and $3500, but they offer many benefits that make them worth the hefty investment. Additionally, if you sleep with a partner or with kids/pets and need extra space on the sides with more height between your head and the foot of the bed, these oversized mattresses can provide that additional comfort.
Pros
The size of Texas king beds is larger compared to the California king beds. The Texas king bed constitutes more surface area with an astonishing 7,840 square inches surface area.
Hence, it is comfortable to sleep on a spacious surface like the Texas king mattress. 
Do you have a larger bedroom? Do you want to fill your room up with a standard king size bed? Texas king mattress is probably the best option for you. Not only does it fill your entire room up, you will experience good support and comfort on it. 
Texas king bed can fill your room and give a cozy and always sleepy bedroom feel that you have been trying to recreate. 
Big families, who prefer to share their beds find it hard to adjust on standard size mattress. Texas king beds can accommodate your family. You can even combine two texas king beds, if you have commodious room, and happily share the bed with your whole family. 
Finding tall cars and beds for tall people is a challenging task. Texas king mattresses can easily accommodate tall people of 6 ½ height. Now you can sleep tight and cozy without stretching your legs out of the bed or tucking them too closer. 
Cons
If you do not have a spacious bedroom, Texas bed will take up the entire space of your room. Until and unless you do not have a large bedroom, you cannot have fun of your texas king beds. 
Considering the dimensions of texas king mattress, you will need a room of not less than 9 feet or 104 inches width. 
Texas king mattresses are big in dimensions and price range too. The quality of this mattress is generous as its size. However, you can still avail it and enjoy the benefits of commodious bed and sleep in comfort.
Hence, price is a great deterrent factor, if you are looking to buy a Texas king bed. 
Texas king beds are pretty wide in dimensions and the weight of the mattress too is quite heavy. Hence, installation and fitting it into the door ways can be difficult in the initial stages. 
Texas king mattresses are heavy in weight. Hence, if you want to rearrange and move it around your room to make changes, it is difficult. Due to extended dimensions and huge weight, it is not easy to move it around. 
It can only stay where it is installed. Else, you will need great manpower or additional help to move it.
What is a California King Mattress?
The California king mattress is one of the largest sizes available and is perfect for taller individuals or those who desire more foot space. These beds are best suited for larger rooms, with a surface area of 6,080 square inches. California king beds provide plenty of room to stretch out and sleep comfortably. So if you're looking for a bed that offers both space and luxury, a California king mattress is a perfect choice. However, California King is shorter than a standard Texas King bed; the former remains a popular choice amongst couples and people of average height and weight.
Pros
California king beds are larger in dimensions but they are best for smaller rooms. Texas king bed are excessively large. Hence, they cannot even enter comparatively smaller rooms. 
So, people who are out of space or space is their hindering factor, California king mattress should be their ideal choice. 
People who are 6 feet tall can still find California king beds feasible. If you have smaller room space but need a large enough bed to sleep comfortably that can fit your full body, California king mattress is the right choice. 
You no longer have to sleep with sticking your legs out or folding them like a frog because California king bed is good enough to accommodate tall people.
Compared to Texas kind beds, California kind beds are easier to find. They are relatively affordable and humble in dimensions. If you are looking to go easy on all of these aspects, California king mattress is the best bet for you. 
The installation of these beds is relatively easier. Texas beds are difficult to move around due to the height and weight but California king beds are generous in both these aspects. Hence, both installation and ease of moving around is easier for California king beds. 
Cons
Although California king mattress is bigger, it is not large enough to accommodate families who like to share their bed. It is good enough for two people of height 6-feet or 3 with lesser height. 
Hence, despite being a good choice and all the benefits, it is not a great pick for families. 
It is just sufficient for people, who are 6-feet height and not more than that. Even if people, who are 6-feet height like to buy this, it can only accommodate two people of this height. More people sharing it can make it difficult and not comfortable. 
Difficult to find accessories
If you want to find accessories for this bed, it is difficult. Some consumers like to accessorize their beds for various reasons. Are you one among them? then this is not the right fit for you. You should choose something else; rather a Texas size bed. 
If you do not have ample space for Texas king bed and pick this, you may have to add extra length to facilitate your legs or your tall height. Adding extra length is cumbersome and a pricey process.
Factors to Consider While Deciding Between Texas King vs California King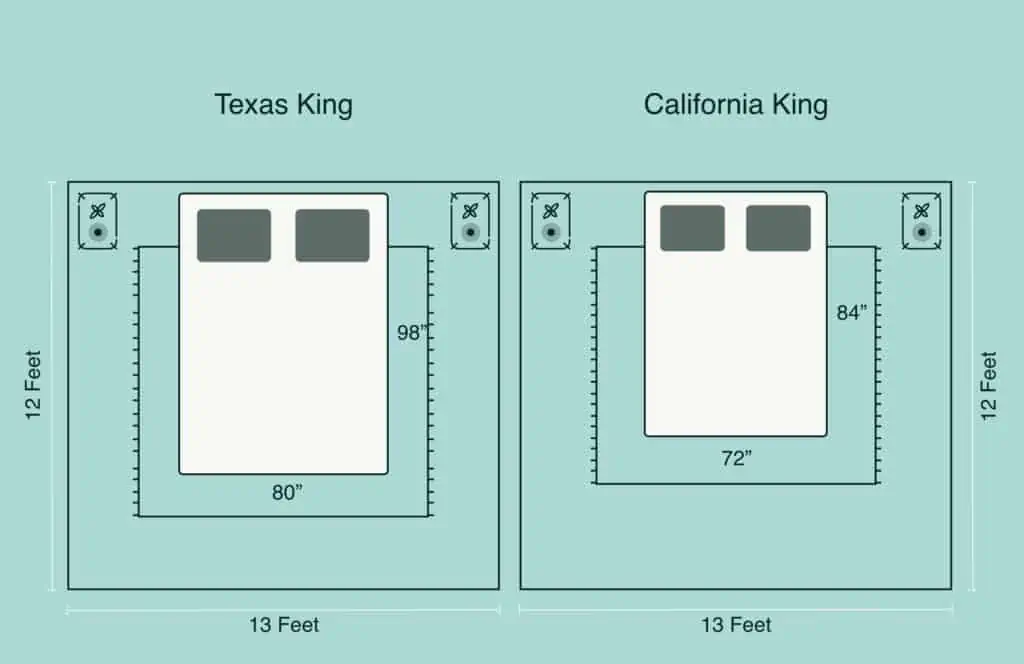 Height is one aspect you don't want to compromise upon. So if you're taller than 6 ft, then a Cal King is perfect for you as it offers 4 inches of extra length, ensuring that your feet don't hang off the bed at night.
Before you buy a mattress, you must ask these questions to yourself.
Who would be sleeping on it?
Are you sharing the bed with your partner?
Is the bed shared with your partner and the kids?
Are you alone, sleeper?
Once these questions are answered, invest in a mattress that satisfies the criteria that get fulfilled for you, your partner, and your kids/pets. Given the situation, a Texas King mattress would be ideal for co-sleepers as it is comparatively wider than the Cal King mattress.
Although standard king size bed is relatively easier to find, Texas king beds and California king beds serve unique purpose very well. Depending on the size, quality, and your requirements, pick the one that fits your needs. 
Weigh the pros and cons of both types of beds before finally picking one to make sure your choice is wise.
There are a lot more oversize mattresses compared to Texas sized bed. They are Wyoming and Alaskan king beds.
The largest bed size of all mattresses is 108 inches length and 108 inches wide, which is Alaskan king bed.
This website does not offer medical advice nor professional medical services; rather, it is provided solely for educational, informational, and/or entertainment purposes. Individuals seeking medical advice should consult a licensed physician. The information provided should not be used for diagnosis or treatment of any condition, disease, or injury. When you have a medical condition, you should always talk to licensed doctor or other certified medical professional.  You should never delay seeking professional medical advice or treatment based on the contents of this website.  Call 911 or immediately go to the nearest emergency room if you think you may have a medical emergency.  The contents of this website are provided "as-is", Sleep Authority and its parent, subsidiaries, affiliates, employees, contributors disclaim any warranty of the information contained herein. Please contact using contact form to report any errors, omissions, misinformation, or abuse.