Twin vs Full: What is the Difference?
Writers at Sleep Authority are supported by a research team conducting in-depth research about the topics. The editorial team reviews them for accuracy and facts to ensure the most authentic and accurate content is published. Sleep Authority does not offer any medical advice, and you should not rely solely on our content for your course of treatment. Consult your medical professional to discuss any health concerns, chronic conditions, treatment options, or diagnoses.
There's no sleep like the good old-fashioned kind. And we're not just talking about those fluffy down comforters either! A quality mattress will allow you to get your restful nights in peace so that tomorrow can come quickly with a fresh perspective on life. Unfortunately, mattress shopping can be daunting, but it doesn't need to feel like you're walking through an airport security check-in. With so many different options and every aspect of your purchase worth considering, this article is a complete guide on full vs twin size mattresses.
What is the Difference Between Twin Vs. Full bed?
A major difference between Twin vs Full bed lies in width. Twin mattresses are 75 inches long, with 16-inch wide mattresses on either side of an adult's body (53″ vs 38″). Both the beds offer different length proportions that favor situations like sharing your bed if you have children or pets at home. A Full mattress costs $899, whereas a Twin mattress costs $699.
| Parameters | Twin Mattress | Full Mattress |
| --- | --- | --- |
| Length | 53 inches | 38 inches |
| Width | 75 inches | 75 inches |
| Surface area | 2,850 square inches | 3,040 square inches |
| Recommended room size | 7 feet by 10 feet | 10 feet by 12 feet |
| Price | $699 | $899 |
What is a Twin-Size mattress?
The twin beds, also known as single beds, are 38 inches by 75 inches. The surface area of a twin-size mattress is 2,850 square inches. The twin XL dimensions are 38 inches by 80 inches, and the surface area is 3,040 square inches. These dimensions are mentioned in a brief format below for better understanding.
Twin (Standard) mattresses 
         Dimensions: 38" x 75"
         Surface area: 2,850 square inches
         Dimensions: 38" x 80"
        Surface area: 3,040 square inches
Pros
Dimensions of a twin bed make it simple to move, making more people prefer twin mattresses
Cost is the most important factor that we consider before buying anything. Twin mattresses are less expensive than full
Kids and toddlers can sleep comfortably on them without any hassle
Compatible for bunk beds which are in trend these days
Cons
Small for couples who want personal space
There is little space for teenagers, who sleep in more space and more comfortably 
Not comfortable for adults; they might have back issues sleeping on this type of mattress
Less handy than a full mattress and usually difficult to dust and vacuum
What Is A Full-Size Mattress?
The full-size mattress is larger in width as compared to the twin size. The width of a twin-size bed is 15 Inches shorter than the full mattress. The dimensions of standard full and standard XL are mentioned below for better understanding:
        Dimensions: 53" x 75"
        Surface area: 3,975 square inches
         Dimensions: 53" x 80"
         Surface area: 4,240 square inches
The dimensions of a full bed are 53 inches by 75 inches. The surface area is 2,850 square inches. The full XL dimensions are 53 inches by 80 inches, and the surface area is 3,040 square inches.
Pros
A full mattress is a good option for a taller person to sleep comfortably
A comfortable bed for younger adults as they grow, so they keep growing taller
Extra width offers more space leading to more comfort in tucking the bedsheets
All bedding accessories are available in the market, allowing you to make your beddings look beautiful
It is ideal for smaller rooms that require smaller bed sizes
Cons
Costlier than a twin mattress, making it less preferable 
Couples may not be comfortable in a full mattress due to the extra space. They usually prefer small and cozy beds and mattresses
It is hard to shift/relocate the mattress; hence, you may have difficulty cleaning or vacuuming it.
Factor Wise Differences between Full and Twin Mattress
Let us consider all important factors individually and discuss the significant differences between full and twin mattresses.
The price, availability of accessories, room size, and general uses of twin and full mattresses will provide you with a clear picture of what to choose and answer your question of whether I should get a twin or full bed?
Price
Some people may have the space for a full bed in their rooms. However, they still prefer twin standard or twin XL beds. Because they are more affordable than double beds and leave the space to move around in your bedroom, making the room look more open. Affordability is one-factor people consider while buying mattresses and choosing between twin and full mattresses.
Accessories
Twin beds are usually widespread, and people prefer them because their accessories are easily available. Most people today want their home to look beautiful, and they make sure that everything is accessorized well, including their double beds. That is a plus point for twin mattresses. Including more cushions, however, will look messy in twin size. For such decors on your bed, go for full mattresses. You will easily find these accessories in a bedding store near you. 
Room size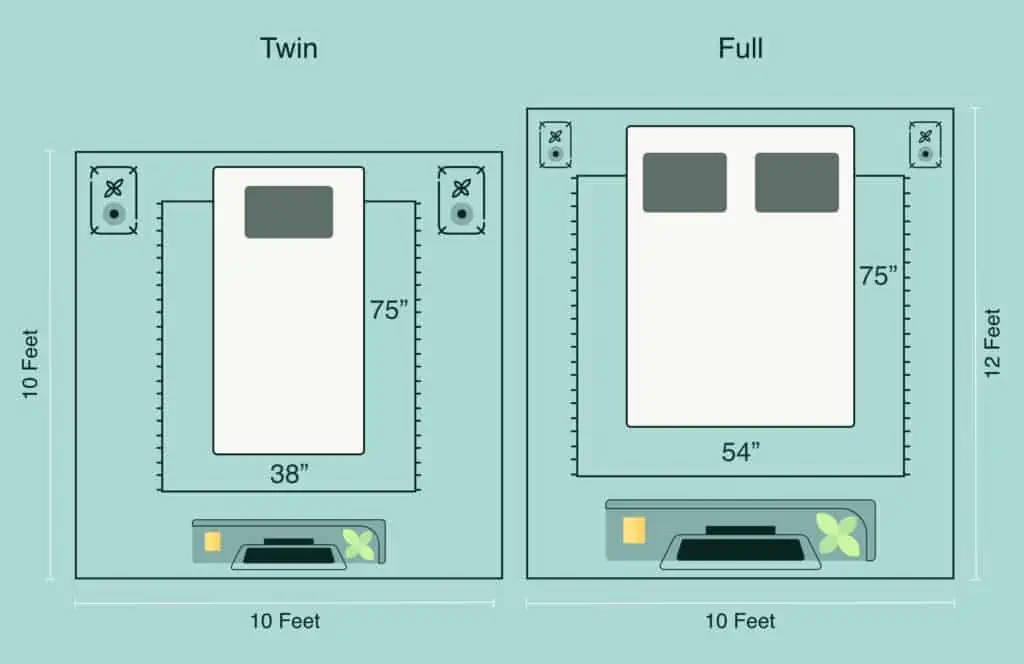 Choosing the correct mattress largely depends upon the size of your room. Huge mattresses look odd in small rooms, and very small ones do not look good in large rooms. In the case of full and twin mattresses, we need to take care of these points. People usually prefer twin mattresses in small rooms such as guest rooms or dorm rooms.
In contrast, full mattresses can be used in comparatively larger rooms such as kids' rooms, hostels, colleges, and larger dorm rooms.
Uses
The major use of standard twin mattresses is for children that move to big beds after sleeping on smaller single beds. The most important plus point for a twin-size mattress is its ability to be stacked for bunk beds, versatile for a child's room. Aso, the lifespan of twin mattresses is around 10 to 12 years, so there is no worry of changing it earlier.
In contrast, couples on a tight budget for single sleepers then go for standard full-size mattresses.
The primary use of a full mattress is in guest rooms or College Dorm rooms because these are the places they fit the most perfectly in.
Is a Full or Twin better?
Twin vs full is a great deal. As mentioned above, both twin and full mattresses have pros and cons. Now, we will discuss why we should choose a specific mattress as per our requirements to get a clear picture of which mattress will be the best choice for us, and the decision of choosing between twin and full mattresses becomes very easy.
You should choose a twin mattress if…
You are buying a bed for a younger adult, go for this one. 
You are looking for a bunk bed mattress, then the twin mattress is the best choice.
You are looking for a budget mattress that is comfortable too. Twin mattresses are the best choice for full comfort and appropriate space.
You should choose a twin XL mattress if…
The sleeper is very tall and can sleep comfortably. 
Your room size is very small, and you don't want your bed to cover most of the space in the room. 
You are setting up a bed for lodging or a hostel because you need a little extra space there to fit in your stuff. 
You should choose a full mattress if…
The sleeper is a younger adult and is likely to grow more. 
You want a bed for yourself alone; this will be the appropriate size to fit in any room. 
Your kid is a newborn, and you want him to grow in it over time.
You should choose a full XL mattress if…
You want to sleep with your partner, kid, or pet, this mattress is the best option. 
You need extra leg space and want to fit in comfortably in your bed. 
You cannot fit in a large-size mattress like a king or queen mattress.
A comfortable mattress helps you get a good quality sleep and lead a healthier lifestyle. Before buying a perfect mattress, you need to consider many parameters such as usage, surface area, price, ideal for, recommended room size, and dimensions. Hopefully, our guide will help you select the most comfortable mattress size for your sleep time.
Happy Sleeping!
This website does not offer medical advice nor professional medical services; rather, it is provided solely for educational, informational, and/or entertainment purposes. Individuals seeking medical advice should consult a licensed physician. The information provided should not be used for diagnosis or treatment of any condition, disease, or injury. When you have a medical condition, you should always talk to licensed doctor or other certified medical professional.  You should never delay seeking professional medical advice or treatment based on the contents of this website.  Call 911 or immediately go to the nearest emergency room if you think you may have a medical emergency.  The contents of this website are provided "as-is", Sleep Authority and its parent, subsidiaries, affiliates, employees, contributors disclaim any warranty of the information contained herein. Please contact using contact form to report any errors, omissions, misinformation, or abuse.