Twin vs Queen Size Mattress: What Is the Difference?
Writers at Sleep Authority are supported by a research team conducting in-depth research about the topics. The editorial team reviews them for accuracy and facts to ensure the most authentic and accurate content is published. Sleep Authority does not offer any medical advice, and you should not rely solely on our content for your course of treatment. Consult your medical professional to discuss any health concerns, chronic conditions, treatment options, or diagnoses.
Twin vs Queen Size Mattress Comparison
The difference between Twin vs Queen mattress is – A queen mattress is 22 inches wider and 5 inches longer than a standard twin mattress. An average queen size bed has measurements of 78 inches wide and 60 inches long, while the typical twin will measure 75 inches long and 38 inches wide. This means that you'll have more space for your headboard or other furniture on top. 
A queen bed has the ability to accommodate two sleepers, but the twin is only comfortable for children or one adult sleeper. 
People who tend to move around a lot in sleep have the probability of falling off from a twin bed. It is only recommended for people with a tight budget or limited space.
| Bed Size | Mattress Measurements | Comforter Width | Comforter Length |
| --- | --- | --- | --- |
| Crib | 28 inches by 52 inches | 28 to 36 inches | 48 to 52 inches |
| Twin | 38 inches by 75 inches | 66 to 68 inches | 86 to 88 inches |
| Twin XL | 38 inches by 80 inches | 68 inches | 90 inches |
| Full (Double) | 54 inches by 75 inches | 81 to 84 inches | 86 to 88 inches |
| Queen | 60 inches by 80 inches | 86 to 88 inches | 96 to 100 inches |
| King (Eastern King) | 76 inches by 80 inches | 102 inches | 86 to 88 inches |
| California King (Western King) | 72 inches to 84 inches | 107 to 110 inches | 96 to 98 inches |
What Is a Queen Size Mattress?
A queen size mattress measures 60 inches by 80 inches in dimensions and is well-loved by single adults and couples. This popular mattress allows them to sprawl around the safe and sleep comfortably as an adult. Whereas for couples, a queen bed is a more affordable and budgeted option. 
Relative to a twin, a queen size bed costs more as more materials and accessories go with it. Typically, the mattress can cost anywhere between $500 to $3000. Twin might be a better option for single sleepers as it is fairly cheap. This mattress might be a good idea for budgeted couples, albeit a tight fit. 
Moving and shifting the bed around can be pretty difficult as the bed's weight comes down to 80 pounds or even more. If one lacks the strength to lift heavy objects or lives completely alone, then moving around a queen mattress can prove difficult. 
If, as a couple, you're adamant about a queen, then split queen is also a good alternative. It splits the mattress in half, and the couple can decide each side's firmness level. Queen mattresses would fit right in with a room with 10 feet by 10 feet dimensions.
Pros
Best fit for guest rooms
Can easily fit two people/ couples
Also goes well with smaller guest rooms
Cons
Expensive
Harder to move around
What Is a Twin Size Mattress?
A twin size mattress comes in 38 inches by 75 inches dimensions and is one of the most compact mattresses available on the market. Hence, one can usually spot them in the children's room. 
Another factor that adds to its compatibility with kids' rooms is that it can also double as a bunk bed mattress. Parents with multiple children can give this a thought as it is cheaper and occupies less space, which leaves plenty of room to play. The twin bed size can also be used for smaller guest rooms but not for master bedrooms.
A single adult sleeper can try to utilize the twin mattresses if they're on a tight budget, but it'll be a very tight fit. These mattresses are not recommended nor feasible for couples, as it would be impossible to sleep comfortably. 
They're the most affordable option available on the market, and there are tons of options in terms of pricing options, accessories, and mattress types. It weighs just around 50 pounds and is fairly easy to move around. 
Pros
Light and easy to move around
Affordable
Great for children
Multiples twin beds can fit inside the room
Cons
Too little space for couples
Can throw off the balance of the room
Factors to Consider When Deciding Between a Twin or Queen Bed
While deciding between a queen or twin size mattress, there are certain factors that one needs to keep in mind. They are:
Price
First and foremost – the price of the mattress and the budget you're working with. Twin beds are more budget-friendly and cost very little. Their add-on accessories are fairly cheap as well, and the total cost of a single twin mattress might not extend to $100.
Comparatively, queen mattresses are more expensive, and their accessories are costly. A complete mattress with added sheets and mattress protectors would definitely extend way beyond what a twin mattress would do. 
Room Size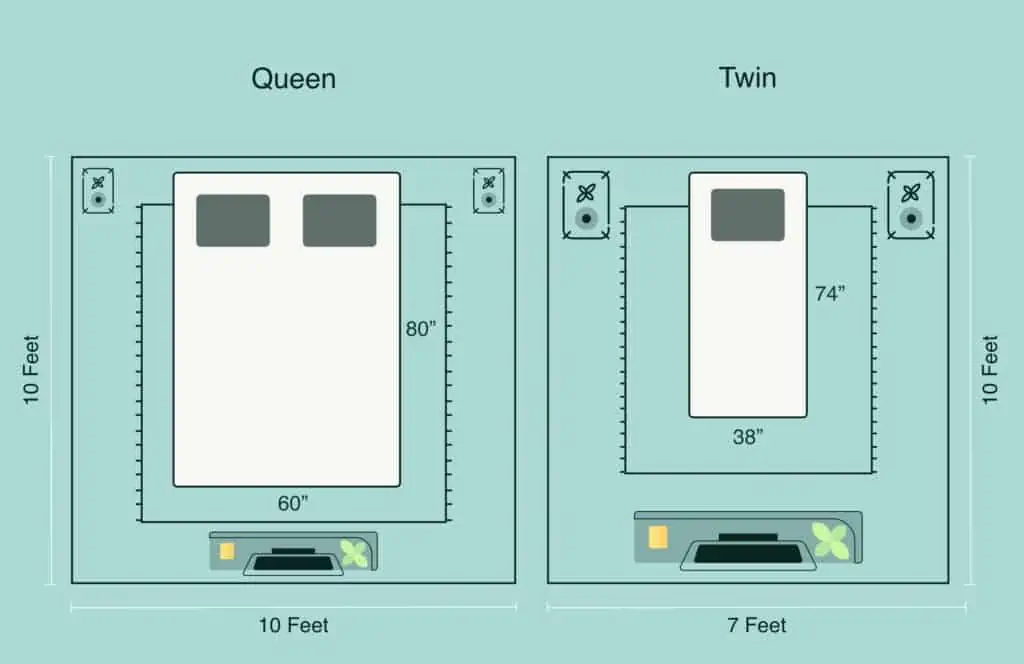 Another factor is your room size. Queen-sized mattresses are larger than twin size mattresses and occupy more space. So, if your room is small with many possessions, fitting a queen would only make it feel cramped and leave no space to move around. 
Between queen and twin beds, twins are a better choice for people with less space, while queens are for those who own at least 10 x 10 feet room. 
Sleeping Partner
The bed sizes also depend on whether you sleep with a partner or not. For couples, twin mattresses would be impossible to sleep in owing to their small space and no room to move around. However, for a single adult sleeper, a twin can be a very narrow choice. 
A queen is a better option for couples as it gives more area to sleep and does not intrude on the partner's personal space.
Should I get a Twin or Queen bed?
In all honesty, there is no correct answer – queen vs twin; the choice depends on your circumstances. A queen bed is the best option for couples with space and budget. But for single sleepers with limited space or children.
This website does not offer medical advice nor professional medical services; rather, it is provided solely for educational, informational, and/or entertainment purposes. Individuals seeking medical advice should consult a licensed physician. The information provided should not be used for diagnosis or treatment of any condition, disease, or injury. When you have a medical condition, you should always talk to licensed doctor or other certified medical professional.  You should never delay seeking professional medical advice or treatment based on the contents of this website.  Call 911 or immediately go to the nearest emergency room if you think you may have a medical emergency.  The contents of this website are provided "as-is", Sleep Authority and its parent, subsidiaries, affiliates, employees, contributors disclaim any warranty of the information contained herein. Please contact using contact form to report any errors, omissions, misinformation, or abuse.