Twin XL vs Full: What Is the Difference?
Writers at Sleep Authority are supported by a research team conducting in-depth research about the topics. The editorial team reviews them for accuracy and facts to ensure the most authentic and accurate content is published. Sleep Authority does not offer any medical advice, and you should not rely solely on our content for your course of treatment. Consult your medical professional to discuss any health concerns, chronic conditions, treatment options, or diagnoses.
The first step to buying a new mattress is to know your mattress needs. Those with large room spaces have options for a Queen or California bed size. Sleepers with smaller bedrooms or restricted budgets may prefer smaller variations such as twin or full. Now you might be wondering what is a twin or full? Well, we have your back!
A twin XL measures 38 inches and 80 inches with a surface area of 3040 square inches, a full mattress on the other hand is 54 inches wide and 75 inches long with a surface area of 3,975 square inches. A twin xl is best suited for single sleepers compared to full which is ideal for couples. 
So, through this blog, we will walk you through the major differences between twin XL vs full beds and the factors to consider when uncovering the bed sizes for your room. Keep reading for an in-depth understanding of twin XL mattress sizes and full bed size.
What Is the Difference between Twin XL vs Queen?
There is a difference of 22 inches between a traditional Twin XL vs Queen mattress. A Queen mattress measures 60 inches by 80 inches, whereas a Twin XL mattress measures 38 inches by 80 inches. Both the mattress share the same width however, it's the length that's the game changer amongst the two.
Below added is a table of comparison. Have a look to understand the fundamental difference between Twin XL vs Queen.
| Parameters | Twin XL | Full |
| --- | --- | --- |
| Length | 80 inches | 75 inches |
| Width | 38 inches | 54 inches |
| Surface Area | 3040 sq. inches | 4050 sq. inches |
| Recommended room | size 8 feet by 10 feet | 10 feet by 12 feet |
| Recommended for | Tall people / Single sleepers / Guest rooms | Tall people / Couples / Smaller bedrooms |
What Is a Twin Size Mattress?
Twin XL, as the name says, is longer than the standard twin by 5 inches. It measures 38 inches by 80 inches. The extra space makes it a fabulous option for growing teenagers or adults with longer legs. 
Twin XL mattress sizes are ideal for those looking out for compact bed options such as for children's rooms, college dorms, studio apartments, guest rooms, and spare bedrooms. This bed size can perfectly accommodate single sleepers over six feet, preferring sufficient legroom. 
If you have two or more children, you can even use twin XL for bunk beds, which also leaves space for furniture or maybe to allow them to make it a play area whenever needed.
What Is a Full Size Mattress?
Just in case you want a bed mattress for bigger rooms in your home, a full size mattress should be your go-to option. A full size or double mattress meets the needs of a single adult under 6 feet besides providing enough space for easy movements. Full beds also work for couples, although they may find it a little cramped. The length of a full bed mattress measures 75 inches, while the width of a full mattress is 54 inches, making it the most versatile option for bigger rooms or shared sleeping areas. 
A full mattress when compared to a queen mattress, is 5 inches shorter and 6 inches less wider. Queen mattress is best suited for couples who want a luxurious space when having some love moments. 
Plus, full beds are more common than twin XL beds, so you won't have any difficulty finding the right accessory for your bed.
Twin XL vs Full: Pros and Cons
Now that you know what Twin XL and Full-size mattresses are, it's time to look out for the pros and cons of each. 
Here it goes:-
Twin XL
As Twin XL beds tend to be longer than full-size mattresses, they can be the right choice for adults with longer legs or those looking for cost-effective solutions. 
Pros
Can accommodate in small or compact bedrooms 
Pricing is cheaper compared to other mattress types
More legroom for tall people
Cons
Less surface area than a full size
As it is uncommon to find twin Xl, bed accessories are difficult to get
Can only accommodate a single adult
For those with relatively few concerns about the surface area, buying a twin xl compared to a full mattress can be a super saver deal without compromising on the bedroom space. 
Full beds
Full beds have a larger surface area, so they are an out-and-out choice for those with bigger bedrooms or even shared sleeping arrangements. 
Full beds have a larger surface area, making them an excellent alternative for bigger rooms or shared sleeping arrangements. Since full beds are more common than twin XL beds, you won't have to hunt for sheet sets or other accessories.
Pros
Easily accommodate two adults 
Works well for larger bedrooms
Commonly available, so you won't have to hunt for bed sheets or other accessories
Cons
Price is a bit higher compared to twin XL
Offers restricted space to tall sleepers 
Full mattresses are a bit costlier than twin XL mattresses, but they offer more width and so more space for easy movement and positioning.
Factors to Consider When Deciding Between a Twin XL or Full Mattress
Before you choose between a twin XL or full, here are some pointers to consider:
Pricing
Buying a mattress is a huge investment, and many may have a restricted budget. If you want to go easier on the wallet, twin XL is the alternative. For the most affordable full mattress, you can expect to pay $200-$399, while luxurious fulls may cost you a bit more over the cost of a comparable twin XL. 
In short, a twin XL is the best pick for single sleepers with a finite budget. 
Your Height
Height is another condition that may alter your choice of full vs twin xl bed sizes. The length of the twin XL is 80 inches, while that of a full is 75 inches. So certainly, the 5 inches extra length can be an easy option for single sleepers over six feet. Using a full will feel cramped in terms of space for legroom. 
The twin XL offers room to spare for single adults or growing teenagers. 
For taller couples, upgrading to a queen or king mattress may be the option for more space with your partner. 
Room Size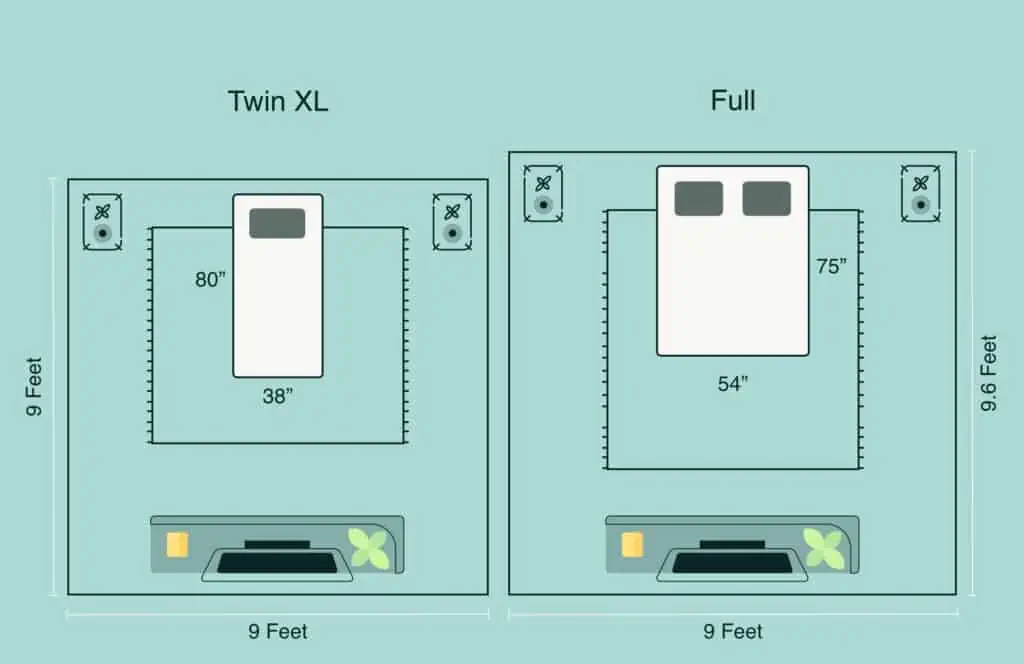 The size of your bedroom is yet another factor that helps decide the mattress size. The rule of thumb is that the breadth of your mattress should not be more than half of the breadth of your room. 
A twin XL mattress is best suited for rooms at least 8 feet by 10 feet. The breadth of twin XL is 38 inches, making it an apt option for narrow bedrooms 7 feet wide or more. 
On the other side, a full mattress works the best for a bigger bedroom, 10 feet by 10 feet or even larger. 
We recommend measuring the space before buying a bed and keeping around 24 inches of extra space on each side between the bed and wall or furniture. 
Twin XL: Studio apartments or narrow bedrooms
Full: Bigger rooms
Sleeping Partner
Do you share your bed with a partner or co-sleep with your child or pet? If so, consider a full between twin or full. A twin XL will likely be small for two sleepers. In fact, a full bed also feels pokey for some couples, but a good option for single parents with a child or pet otherwise. 
Plus, if you are a single sleeper but have a small pet who dozes off on the foot of a bed, twin XL can also solve your problem as it offers enough legroom. 
Depending on how much space you need, you can also go for variations of king or queen. 
Accessories
While considering the bed size, keep in mind the cost and availability of the bedding accessories. Just like the bed mattresses price, the Twin XL accessories are pricey and have less availability, so few choices in short. 
In addition, twin XL bedding accessories are uncommon, so you may have to juggle finding them in stores. Although the sheet sizes and costs may vary, the best part is that you can use the standard pillow size with both.
Should I get a twin xl or full bed?
A comfortable mattress is responsible for a good night's sleep and a better lifestyle. Before buying a perfect mattress, consider all the differences between a twin xl and full. Instigate by making a checklist of your requirements, such as usage, number of people with whom you need to share your bed, surface areas, room size, and budgetary restrictions of course! Just to ease out your process, we have shared everything above that will guide you to select the most comfortable sleep mattress size for you and your loved ones. 
Here is to wishing you a healthy night's sleep!
This website does not offer medical advice nor professional medical services; rather, it is provided solely for educational, informational, and/or entertainment purposes. Individuals seeking medical advice should consult a licensed physician. The information provided should not be used for diagnosis or treatment of any condition, disease, or injury. When you have a medical condition, you should always talk to licensed doctor or other certified medical professional.  You should never delay seeking professional medical advice or treatment based on the contents of this website.  Call 911 or immediately go to the nearest emergency room if you think you may have a medical emergency.  The contents of this website are provided "as-is", Sleep Authority and its parent, subsidiaries, affiliates, employees, contributors disclaim any warranty of the information contained herein. Please contact using contact form to report any errors, omissions, misinformation, or abuse.