Twin XL vs Queen Size Mattress: What Is the Difference?
Writers at Sleep Authority are supported by a research team conducting in-depth research about the topics. The editorial team reviews them for accuracy and facts to ensure the most authentic and accurate content is published. Sleep Authority does not offer any medical advice, and you should not rely solely on our content for your course of treatment. Consult your medical professional to discuss any health concerns, chronic conditions, treatment options, or diagnoses.
Mattress sizes can be confusing, especially when looking at the difference between a queen vs twin XL. But fret not! We've got all your needs covered in this blog post. The Twin mattress happens to be the smallest standard size mattress which is 22 inches narrower than a traditional Queen mattress and is 16 inches narrower than a full size mattress. To learn more about the differences between the two, check out our findings below.
Twin XL vs Queen: Mattress size comparison
The traditional Queen mattress is 22 inches wider than a standard Twin XL mattress. The queen size mattress measures 60×80 inches and best suits single sleepers or couples. Whereas the twin XL size mattress is 38×80 inches which is most favored by single sleepers. However, it is notable that queen mattresses are compatible with all types of sleepers.
Below added are some notable differences in a table between twin XL and Queen to resolve your mattress related woes.
| Parameters | Twin XL Mattress | Queen Mattress |
| --- | --- | --- |
| Length | 80 inches | 80 inches |
| Width | 38 inches | 60 inches |
| Surface Area | 3040 square inches | 4800 square inches |
| Recommended Room Size | 8 feet x 10 feet | 10 feet x 10 feet |
| Price | $1000-$2000 | $1100- $1300 |
To learn more about mattress guides and bed size selection, visit the link here for better understanding of what may suit your needs best. 
A study has found that most Americans spend half their life in bed doing a variety of things in addition to sleeping. Buyers today are spoilt for choice in terms of the diversity of materials, bed sizes, and mattress sizes. While both these aspects impact the comfort, durability, and cost of the bed, choosing a perfectly sized mattress is often a greater priority.
The key to selecting the mattresses with the most appropriate dimensions is understanding the differences between their sizes. This article will provide comprehensive details to help you learn about the difference between twin XL vs queen mattresses, the two most commonly used mattress sizes. 
What Is a Queen Size Mattress?
For a large section of people across various age groups in the USA, the queen is the most popular mattress size as it offers great versatility. The mattresses measure 60 inches by 80 inches, making them equally suitable for both individual sleepers and couples. A queen size mattress is also a good option for guest bedrooms and people with limited living spaces.  
The larger surface of a queen mattress provides enough space to ensure greater comfort and better support for the users. A queen size mattress also provides balance and safety for people while sleeping, enjoying a relaxing conversation with their loved ones, watching TV, reading, having fun with kids and pets, etc.
Pros
The relatively big size of the queen size bed makes it advantageous for users in the following ways.  
They provide enough space for individual sleepers who prefer a sprawled position or those living with pets.
These mattresses are suitable for couples without making the individual partners feel cramped.
The larger surface area of a queen mattress makes it extremely comfortable to sleep or lie down or chill out.
These mattresses have become the industry standard and are provided in a wide variety of options.
Cons
Although the queen bed does not have many drawbacks, the most important ones are given below.
The bigger size of these mattresses makes them unsuitable for bedrooms that are smaller than 10 square feet.
They are costlier than other smaller mattresses available in the market.
Variations in Queen Size Mattress
The two most common variations of the standard queen size mattress that buyers can choose from are given below.
Olympic Queen Mattress
The Olympic queen bed is 6 inches wider than a regular queen mattress, while the length remains unchanged. This extra width ensures that the users get a more spacious and luxurious feel, especially when used in RVs and trailers.
Split Queen Mattress
A Split queen mattress comprises two separate mattresses, with each mattress measuring 30 inches by 80 inches. These mattresses are suitable for couples with smaller bedrooms or partners with different sleeping habits.
What Is a Twin XL Size Mattress?
A twin XL mattress is a compact and small bedding option and measures 38 inches by 80 inches, making it suitable for taller people given the extra legroom it offers. A twin XL mattress is also a preferred choice for parents with growing children as it can handle the constantly changing space needs of such kids.
It is also a common sight in dorm rooms for twin XL beds. Besides this, they also prove a perfect fit for studio apartments where space optimization is a priority. These mattresses are easy to handle and move around compared to bigger-sized bedding options.
Pros
Below are some of the advantages of having a twin XL mattress:
Their longer length of twin mattresses makes them a great choice for people with more than average height and growing teenagers.
The ideal room size for twin XL mattresses is 8 feet by 10, making it suitable for college dorms and hospitals. 
The compact size of the mattress makes handling and moving them around relatively easier.
Cons
Below are some of the disadvantages of having a twin XL mattress:
The mattresses have a narrow width, making them too small for plus-sized individuals and combination sleepers.
A twin xl bed does not offer enough space for couples to sleep comfortably together.
Factors to Consider When Deciding Between a Twin XL or Queen
The choice between a queen and twin XL mattress should also be based on the following important factors.
Price
Since the price difference between twin XL and queen mattresses is quite high, buyers should conduct a thorough research about the same. Ideally, if budget is not a consideration, investing in a queen mattress is a better option for adults, irrespective of whether they sleep alone or with a partner.
Room Size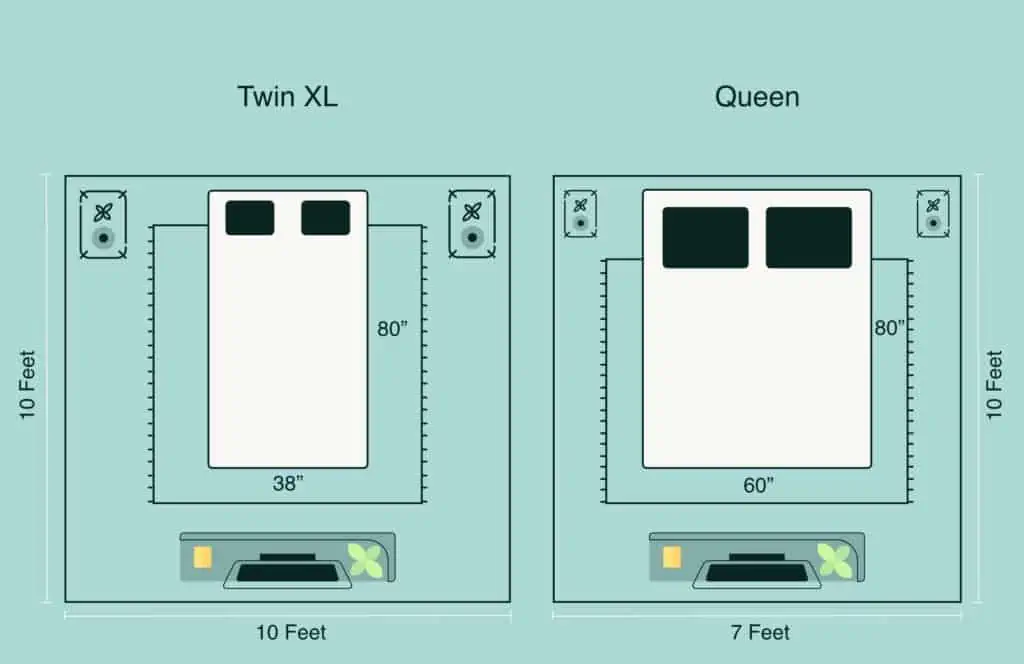 There is a considerable difference in the ideal room sizes of the queen and twin XL mattresses. The room size for a twin XL mattress should be at least 8 feet by 10 feet, while a queen mattress is a right fit for a room that is at least 10 square feet in size.
Sleeping Partner
The narrower width of twin XL compared to queen mattresses makes them good for individual sleepers with a pet. The queen beds, on the other hand, are a more suitable choice for couples or single parents with a small child and a pet.
To make the right choice between twin XL and queen bed, buyers should consider the pros and cons, user needs, price, available space, etc. We hope that the aforementioned information enabled you to compare twin XL vs queen mattresses and make an informed decision.
This website does not offer medical advice nor professional medical services; rather, it is provided solely for educational, informational, and/or entertainment purposes. Individuals seeking medical advice should consult a licensed physician. The information provided should not be used for diagnosis or treatment of any condition, disease, or injury. When you have a medical condition, you should always talk to licensed doctor or other certified medical professional.  You should never delay seeking professional medical advice or treatment based on the contents of this website.  Call 911 or immediately go to the nearest emergency room if you think you may have a medical emergency.  The contents of this website are provided "as-is", Sleep Authority and its parent, subsidiaries, affiliates, employees, contributors disclaim any warranty of the information contained herein. Please contact using contact form to report any errors, omissions, misinformation, or abuse.