Twin XL Vs Split King : What Is the Difference?
Writers at Sleep Authority are supported by a research team conducting in-depth research about the topics. The editorial team reviews them for accuracy and facts to ensure the most authentic and accurate content is published. Sleep Authority does not offer any medical advice, and you should not rely solely on our content for your course of treatment. Consult your medical professional to discuss any health concerns, chronic conditions, treatment options, or diagnoses.
While making up your mind to shop for a new mattress, one of the things you can't afford to mess up with is – the dimensions of your mattress. 
Now, if you observe, you'll notice that two twin XL mattresses, when put side by side, create the same space as a single king-size mattress does. Because of this, most mattress manufacturers come up with split king-size mattresses in their size charts to meet the specific requirements of some people. 
This sparks up the split king vs twin XL debate amongst sleepers, which is why we're here with this blog to tell you everything about the two mattress sizes and their purposes so that – you do you! 
What is the Difference between Split King vs Twin XL?
A standard Twin XL mattress measures 38 inches wide and is 80 inches long. In contrast, a Split King mattress measures 76 inches wide and is 80 inches long. In other words, when you put a Split King mattress together, it results in two twin XL mattresses.
| Parameters | Split King | Twin XL |
| --- | --- | --- |
| Length | 80 inches | 80 inches |
| Width | 76 inches | 38 inches |
| Surface Area | 6080 inches | 3040 inches |
| Recommended Room Size | 12 x 12 feet | 7 x 10 feet |
| Recommended For | Couples / Couples with a kid | Teenagers / Single sleepers |
| Price | $1200-1800 | $500- 1000 |
What Is a Twin XL Size Mattress?
A twin XL size mattress has by default a width of 38 inches and a length of 80 inches, which makes up an area of 3040 square inches. This means it offers the same width as a twin-sized mattress does, but is 5 inches longer than the standard twin. The additional length provides sufficient legroom for taller individuals and growing teenagers so that they don't have to squeeze up while going to bed. 
Twin XL mattresses usually come in handy in kids' rooms, college dormitories, guest rooms, smaller apartments, studios, spare bedrooms, or other compact spaces. These are also perfect fits for children's bunk beds since they utilize adequate space which in turn allows more play area. 
Pros

Below are some of the reasons why you should go for a twin XL size mattress:
Best-suited for taller sleepers, single adults, and growing teenagers. 
Cost-effective and widely available in the market. 
Lightweight and thus not difficult to carry. 
Ideal for compact spaces. 
Bedding and accessories are readily available. 
Cons

Below are some of the reasons why you should not go for a twin XL size mattress:
Cannot accommodate couples. 
Not suitable for active sleepers and individuals who spread out at night. 
Not appropriate for sleeping with a child or pet.
What Is a Split King Size Mattress?
A split king mattress is nothing but a standard king mattress (meaning 76 by 80 inches in dimensions) split into two halves – each providing a personal space of 38 by 80 inches. This implies that it offers a total area of 6080 square inches. 
But, what is a split king bed exactly? A split king bed is a set-up that's specifically designed for couples with different sleep preferences so that each partner can customize their side of the bed. For example, if one partner needs a firm surface while the other prefers a plusher surface to sleep, they can have their personalized materials stuffed into their bedsides. 
Split king mattresses are suitable options for couples who use adjustable bed frames since these enable both partners to separately adjust their bedside. This means one of them can sit upright and work on their laptop, while the other one can go off to sleep in the zero gravity position at the same time. 
You can pick a custom-made split king sheet set to make your bed look even. But, since it's not that easily available, you may have to go for a combination of two individual twin XL fitted sheets along with a king-size flat sheet to cover your mattress. 
Pros

Below are some of the reasons why you should go for a split king size mattress:
Can easily accommodate couples along with their pets or children.
Provides customizable personal space for exclusive comfort and support. 
Almost zero motion transfer to isolate movements for people sharing their beds.
Easy to transport owing to their split designs. 
Cons

Below are some of the reasons why you should not go for a split king size mattress:
More expensive than a single twin XL mattress.
Not as widely available and comes with limited options. 
Complicated to assemble due to hard-to-find sleeping accessories.
Factors to Consider While Deciding between Twin XL and Split King
The decision to go with a split king mattress or twin XL Mattress often comes down to personal preference. The most common question people ask themselves when deciding between Twin XL and Split King is which type of bedding set or bed frame will fit their needs well enough and if not, then what other factors might influence that choice? Let's explore them below: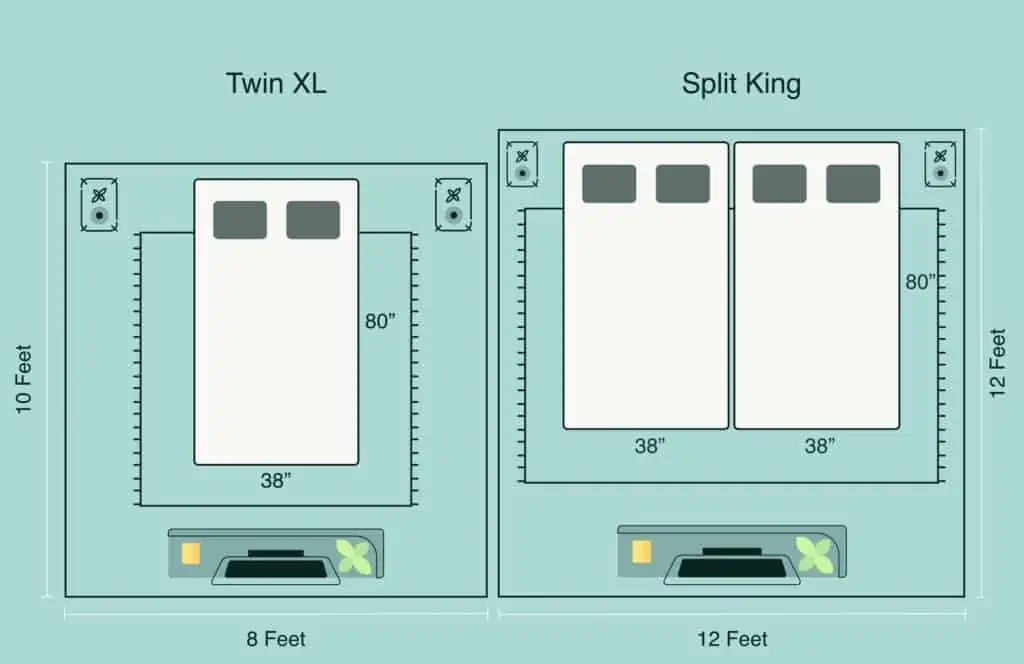 The size of your bedroom has a lot to do with which type you should get. If it's smaller than 7 feet by 10 feet, go for the twin XL bed; but if 12 feet by 12 feet, consider getting a Split King mattress that fits small and large spaces.
Height
If you are taller than 5ft 10 inches, a Twin XL bed would be ideal. However, if you are heavy (obese) and tall, a Split King bed will make the most sense.
Budget
A Split King mattress is an excellent choice if you can afford the best things out of this mattress comparison guide. But if there are space and budget constraints, then a Twin XL would be ideal for you.
Sleeping Partner
With the split king mattress, you can comfortably sleep side by side with your partner. However, on twin XL-sized beds, more than one person can't enjoy this luxury!
How Does a Twin XL Size and a Split King Size Are Related?
Now that you know both about split kings and twin XL beds, you'll want to know how the two are related and what's this discussion all about. So, here's the key relationship between a split king and a twin XL size – a split king is twice as wide as a twin XL size mattress, which means two twin XL mattresses put next to each other essentially make up for a split king mattress. 
Split kings are best-suited for couples who require personalized sleeping areas, while a twin XL size is meant for single teens and adults, people living in smaller spaces, or sleepers with taller heights. 
What to Consider When Choosing Between a Split King or Twin XL?
When choosing between a twin XL or split king mattress, you are to consider certain factors to determine which mattress size should be the best pick for you. The two most important things to take into account are the size of the room you're planning to fit in the mattress and your individual sleep preferences if you're part of a couple. 
A split king mattress would require at least 12 by 12 feet dimensions, while a twin XL mattress can fit in rooms with dimensions of 8 by 10 feet. Next, if you have a sleeping partner whose sleep preferences don't match with yours, you both can opt for a split king mattress and enjoy customized individual sleeping spaces. However, if you are an alone sleeper, a twin XL mattress would provide sufficient space for you to be comfortable.
| Mattress Size | Mattress Dimensions (in inches) | Compatibility |
| --- | --- | --- |
| Twin | 38 inches by 74 inches | Children and teenagers of average heights. |
| Full/ Double | 54 inches by 75 inches | Single adults and college dorm rooms. |
| Queen | 60 inches by 80 inches | Both single sleepers and couples who like to sleep closer. |
| King | 76 inches by 80 inches | Couples who prefer a more personal sleeping space or the ones who sleep with their children or pets. |
| California King | 72 inches by 84 inches | Longest available mattress size to accommodate overly tall people. |
Your mattresses are an integral part of your daily life – right from comforting you as you work from home to all those random jumping sessions which nobody knows. That's why you simply can't go wrong when purchasing a new one!
Speaking of twin XL vs split king mattresses, all you need to truly care about is – your comfort. With the differences outlined in this guide, we hope you'll be able to easily choose the ideal mattress size to cater to your specific requirements as well as vamp up your bedroom.
This website does not offer medical advice nor professional medical services; rather, it is provided solely for educational, informational, and/or entertainment purposes. Individuals seeking medical advice should consult a licensed physician. The information provided should not be used for diagnosis or treatment of any condition, disease, or injury. When you have a medical condition, you should always talk to licensed doctor or other certified medical professional.  You should never delay seeking professional medical advice or treatment based on the contents of this website.  Call 911 or immediately go to the nearest emergency room if you think you may have a medical emergency.  The contents of this website are provided "as-is", Sleep Authority and its parent, subsidiaries, affiliates, employees, contributors disclaim any warranty of the information contained herein. Please contact using contact form to report any errors, omissions, misinformation, or abuse.