Can Two Adults Sleep on a Full Mattress?
Writers at Sleep Authority are supported by a research team conducting in-depth research about the topics. The editorial team reviews them for accuracy and facts to ensure the most authentic and accurate content is published. Sleep Authority does not offer any medical advice, and you should not rely solely on our content for your course of treatment. Consult your medical professional to discuss any health concerns, chronic conditions, treatment options, or diagnoses.
As far as buying a new mattress is concerned, there are plenty of things to weigh up. And one significant factor that you cannot ignore is the size! Well, that's what they say– Bigger the Better! So naturally, you want something that fits well into your space and allows both partners in the relationship to get their fair share of restful sleep each night. So while considering this option– investing in a full size mattress may seem like the best bet possible.
And if you are wondering if two adults can sleep on a full size mattress?
The answer is Yes, two adults can sleep on a full bed. However, it depends upon multiple factors and personal preferences that vary from couple to couple.
Let's dive deep into this article and discuss the many facets of a full size mattress.
The History Behind Mattress Sizes
Mattress sizes used to be inconsistent and confusing until the late 1800s. They would come in different builds and were not standardized, making it harder for the consumers to know what size mattress they needed or wanted. This is where manufacturers came in and tried redefining the dynamics of the mattress industry.
Here is a brief history of original mattress sizes and what they looked like.
The Actual aka Original Mattress Sizes
The late 1800s were a simpler time. The two most prominent mattress sizes in the market were the infamous:
Double or Full Mattresses (measuring 54 inches wide and 75 inches long)


Single Mattresses (measuring 38 inches wide and 75 inches long) 
So it was simple back then – single mattresses (today's twins) were meant for one person who could sleep comfortably by themselves, while double or full size beds took up two people together as they are today.
The history of the mattress is a long and winding road that began with humans growing bigger. Yes, you read that right! People were significantly smaller before the mid-20th century, so modern mattress measures were needed to keep up with the growing support needs. And that's how the king and queen mattresses were invented to meet the markets' demands.
Mattresses that offered extra sleeping spaces for a family of 3 and more to accommodate a single bed instantly became a rage amongst people. This substantially replaced full size mattresses. But, a full size mattress, even to date, remains an infamous choice for couples who like to sleep cozy and closer to their partners or for single adults who desire more space in their beds. 
Given the popularity of all bed sizes, the queen size undoubtedly remains the most sought-after choice for couples with king and full mattresses withstanding as runner-ups.
Who Are Full Size Mattresses Best For?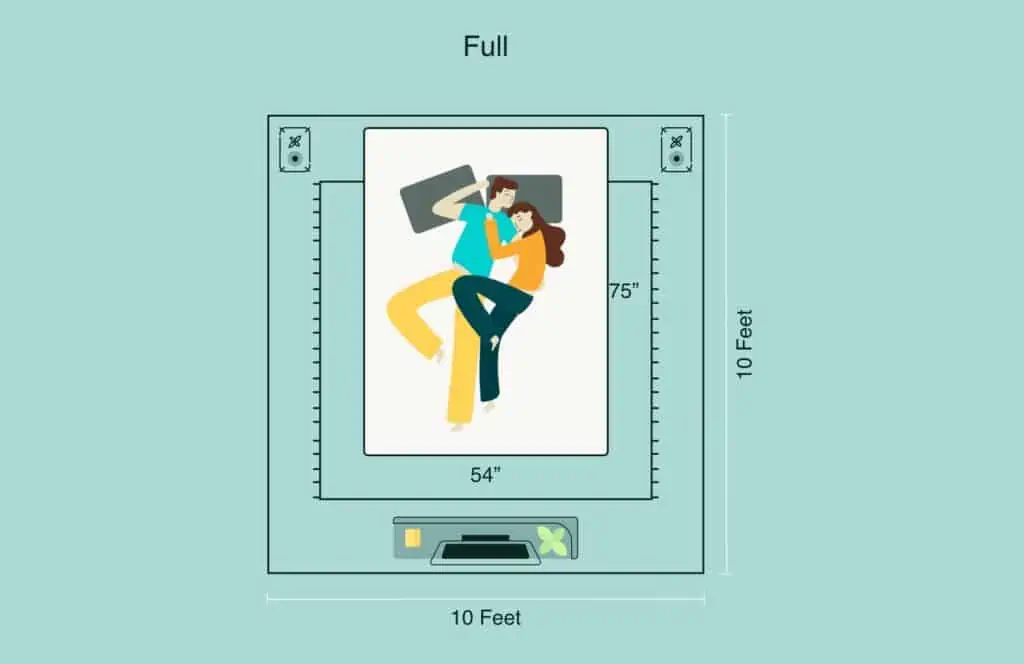 Can my partner and I sleep on a full bed comfortably? Yes! You can. At least, this is what it was initially meant for. Notably, it's a double bed, which makes an ideal choice for the following sleepers. Have a look:
Petite or Tight Couple Sleepers
If you and your partners like nestling alias snuggling more than often and are comparatively average heightened, a full size mattress will be ideal for you.
People With Compact Spaces
Full size beds are ideal for small rooms and compact spaces. It provides sufficient space to roam around and add some furniture and decor pieces to your bedroom.
The Budget-Conscious Sleepers
If you're still comparing the rates between a full vs queen vs king mattress that too price-wise – then a full mattress will cost you much lesser than a standard king or a queen bed. It is the right bet to place your money on.
People Who Prefer Memory Foam or Pocketed Coils
People with memory foam or pocketed coils needs can still opt for full size beds as it helps in reducing motion transfer. This suggests that if any of you moves on the bed or change sides, the other person won't feel shaky or affected.
People who're on the lookout for a mattress that suits their guest room perfectly can also go for a full mattress. In regard to its compact size and dimensions, the bed fits perfectly inside most consolidated spaces.
For someone who lives for home decor and all things fancy, trendy and neat, a full-size mattress makes it relatively easy to find distinguished bed frames, headboards, and other bedding accessories. A queen size headboard also complements a full size mattress.
When Should You Upgrade To Larger Mattress Sizes?
If you didn't reverberate with the aforementioned tips, you might want to upgrade to a bigger mattress. Here are some of the reasons why you may end up looking for one:
You or your partner are either 6 feet tall or above. 
You both sleep actively or use your bed extensively for everyday chores, so you often switch sleeping positions.
You need extra space for your kid or the pet. 
You need more room to spread and stretch while sleeping.
You suffer night sweats and need space from your partner. 
Reasons could be many, but if a full bed size isn't working well for you, it's time for a mattress upgrade. A few extra inches of a queen-sized mattress can make all the difference for the right reasons!
You can also opt for a king-size mattress if a queen bed isn't favoring you and your needs.
If you ask us, "Can Two Adults Sleep on a Full Size Mattress?" The answer is Yes! But it comes with a twist. While preferences and needs of people sharing the beds may differ, it's always up to the user and their requirements that make a bed ideal. For example, if you cuddle or curl up against your partner and sleep, then full-sized beds are perfect. But if your room and your partner or you– none are small, it should ideally be a queen or a king-sized bed. 
We hope that our guide answers all your questions and helps you purchase the right mattress size for both of you! Unfortunately, the right mattress size can be a tricky decision. But don't fret- we're here with everything you need for selecting an excellent full bed option that's sure not only meets but exceeds all expectations – check out our mattress sizes and dimensions guide today!
This website does not offer medical advice nor professional medical services; rather, it is provided solely for educational, informational, and/or entertainment purposes. Individuals seeking medical advice should consult a licensed physician. The information provided should not be used for diagnosis or treatment of any condition, disease, or injury. When you have a medical condition, you should always talk to licensed doctor or other certified medical professional.  You should never delay seeking professional medical advice or treatment based on the contents of this website.  Call 911 or immediately go to the nearest emergency room if you think you may have a medical emergency.  The contents of this website are provided "as-is", Sleep Authority and its parent, subsidiaries, affiliates, employees, contributors disclaim any warranty of the information contained herein. Please contact using contact form to report any errors, omissions, misinformation, or abuse.